A meaningful milestone for a racialized woman leader who is moving forward change and creating impact in BC and Canada
DIVERSEcity Community Resources Society is pleased to announce we are celebrating the 10-year anniversary of our Chief Executive Officer, Neelam Sahota, FCPA, FCGA. At a time when women's representation in leadership positions, especially racialized women's, is rare, it's important to celebrate the role models like Neelam who are leading the way.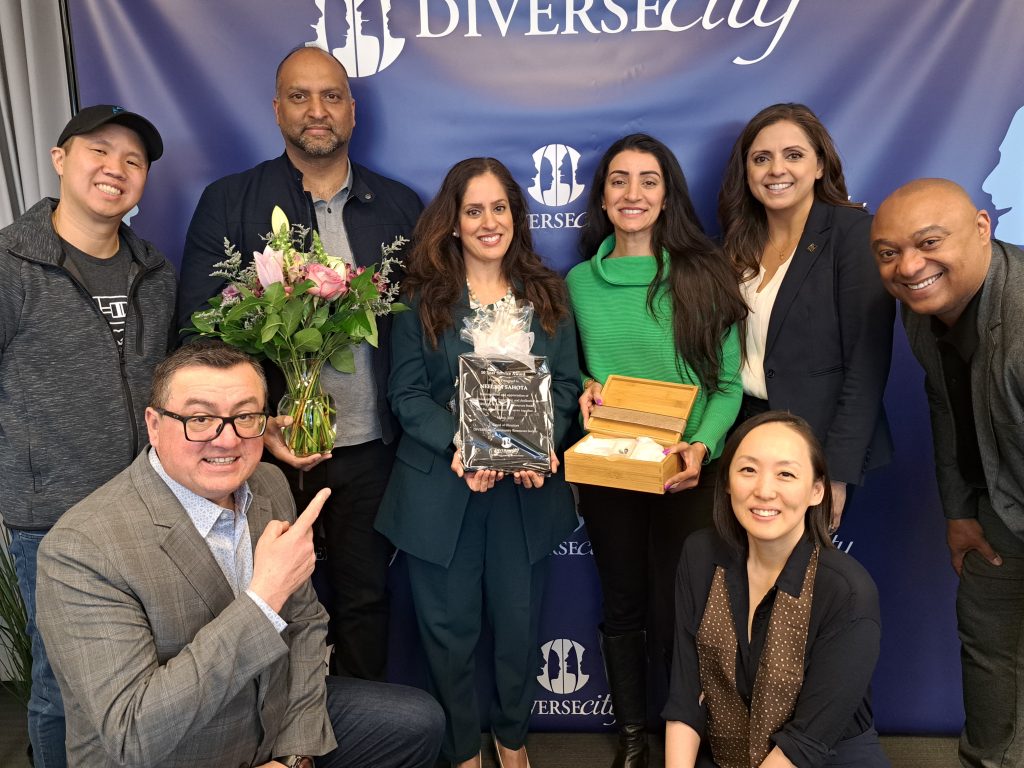 Under Neelam's transformational leadership, DIVERSEcity has seen tremendous growth and evolution since its inception almost 45 years ago as the first immigrant settlement organization in Surrey, BC. Today, as Surrey becomes the fastest-growing city in the province, Neelam is leading the BIPOC-led registered charity with a forward-thinking vision to serve diverse and under-represented groups amongst the community with impactful, equitable and culturally safe programs and services, while pushing forward systems change overall.
At the same time, Neelam's business acumen and financial background has allowed her to build the non-profit's capacity and reach through innovative community and business partnerships, as well as the development of DIVERSEcity's social enterprises — DIVERSEcity Interpretation & Translation Services and DIVERSEcity Skills Training Centre. DIVERSEcity is also leading important capacity-building initiatives scaled across the province such as the Surrey Local Immigration Partnership, the South Fraser and Cariboo North Refugee Readiness Teams and the C.A.R.E. Project for Migrant Workers.
"We have been inspired by Neelam's extraordinary leadership, dedication to DIVERSEcity and the positive impact her work has had on people's lives in the region," said DIVERSEcity's Board Chair Upkar Singh Tatlay. "For the past decade, we have witnessed Neelam's unwavering determination to create an organization and board that truly reflects and embodies the communities we work alongside. So, on behalf of DIVERSEcity's Board of Directors and the wider community, we congratulate Neelam on this important 10-year milestone."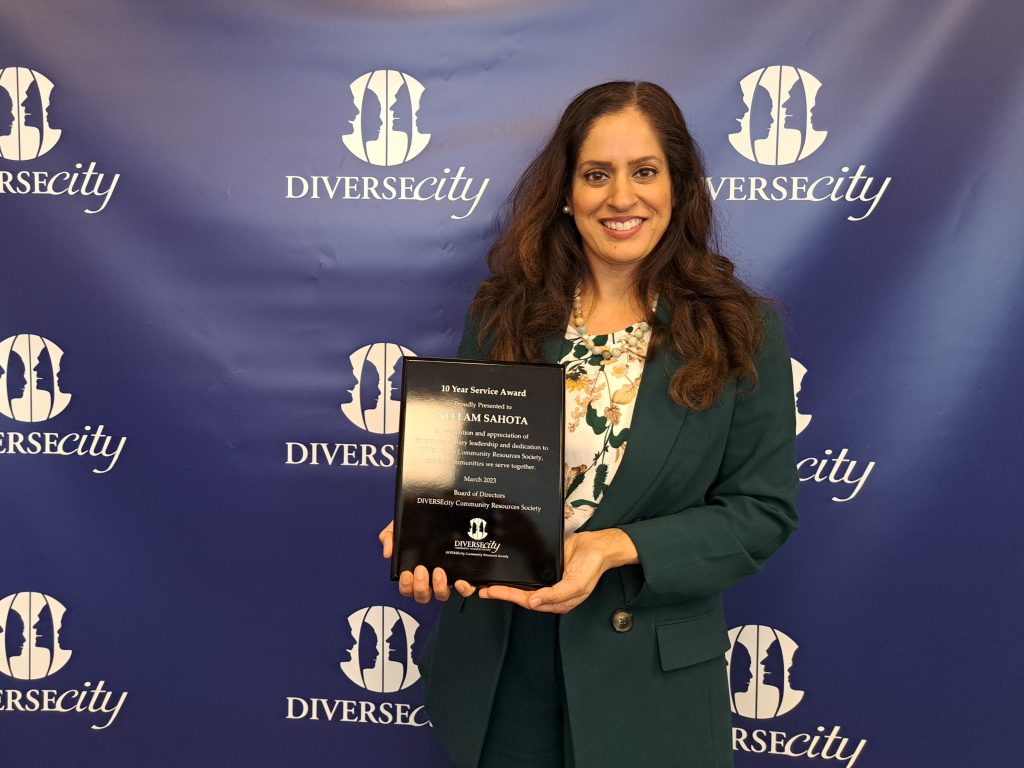 Named the 2022 BC Business Woman of the Year in the non-profit category, Neelam was born in Vancouver, raised in Burnaby and has been a resident of Surrey for nearly 25 years. She has more than 20 years of progressive experience in spearheading financial management, strategic planning, risk and operations management within the private, public and non-profit sectors. Taking a strategic approach to developing innovative business strategies to maximize collective impact has been the cornerstone of her career.
"Ten years ago, I came into this opportunity far from the 'typical' profile of a CEO. I was a 39-year-old racialized woman and a mother of three young children, but I was equipped with the privilege of being a first-generation Canadian with education and experience. This opportunity was more than just a title or job, but rather the bridge to build upon the dreams and hopes for the future that so many immigrant parents, elders and ancestors have for their children when they migrate to Canada. So, while I knew the road ahead was not going to be an easy one, I knew it was the right one to take to lead authentically from the intersectionality of who I was and who I represented because these opportunities to this day are still rare for racialized women," said Neelam Sahota.
"The past 10 years leading DIVERSEcity have seen highs and lows, learnings and unlearnings for which I am so grateful. And this energizes me when I see the potential of how leadership can be the agent to moving toward caring and regenerative futures when we move from a transactional mindset to one that is rooted in reciprocity and mutual benefit. My experiences remind me that we are only as strong as the community that holds us — that this work is ours, collectively," added Neelam.
Leading in the community, too
A sought-after speaker and community collaborator, Neelam uses her voice and platform to advocate for and create systems change to make things better for diverse people, including other racialized and women leaders.
Neelam is an alumna of Simon Fraser University from the Beedie School of Business and is a Chartered Professional Accountant. The Chartered Professional Accountants of BC (CPABC) has honoured her with a fellowship designation (FCPA) for her outstanding contributions to the CPA profession, her career achievements and community contributions.
Neelam gives generously of her time and experience, while serving on a number of boards. She is currently an order-in-council appointed Board Governor of Simon Fraser University (Chair of the Finance and Administration Committee), Co-Chair of the Surrey Local Immigration Partnership, Board Director for the Association of Canadian Studies, an Advisory Board Member of OMNI TV at Rogers Sports & Media and for Solid State Industries. She has been the past Board Chair of Surrey Libraries and past Treasurer of the Immigrant Employment Council of BC.
Her work in governance has led to Neelam being awarded the provincial BC Libraries Trustees Association's (BCLTA) Trustee of the Year in 2021 and under her leadership as Co-Chair, the Surrey Local Immigration Partnership won the BC Reconciliation Award in 2022. She is a past recipient of the Surrey Board of Trade's Nonprofit Leader of the Year award, a past finalist of the YWCA Women of Distinction Awards as well as the Surrey Community Leader of the Year Award.
Neelam joined DIVERSEcity Community Resources Society in 2008 and was appointed the Chief Executive Officer in spring 2013.