Media Stories Featuring DIVERSEcity
October 10, 2023
Surrey charity celebrates 45 years of helping newcomers to Canada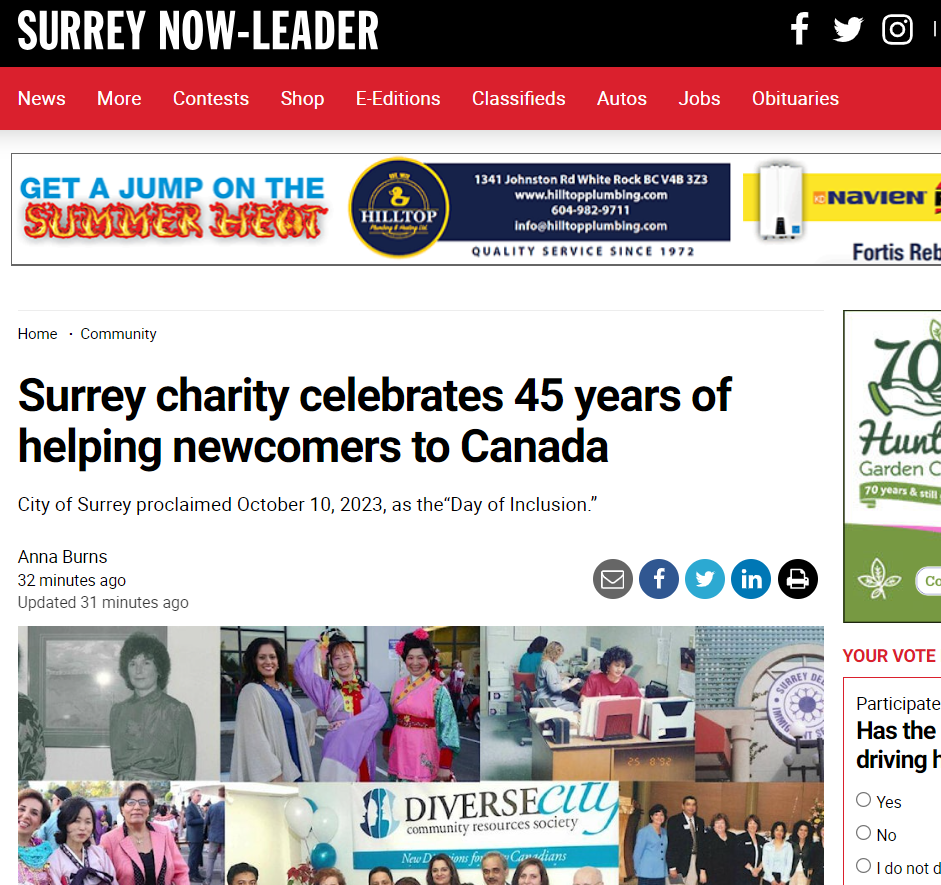 Surrey-based charity DIVERSEcity Community Resources Society is celebrating 45 years of helping newcomers to Canada. The organization first opened its doors on October 10, 1978, as the Surrey Delta Immigrant Services Society and re-branded in 2007 as DIVERSEcity. To coincide with its anniversary, the City of Surrey proclaimed October 10, 2023, as the"Day of Inclusion." This day serves as a reminder of the need for diversity and inclusion in Canada, Neelam Sahota, CEO of DIVERSEcity, said.
---
June 18, 2023
Blaming immigration for the country's housing crisis disguises the real problem, analysts say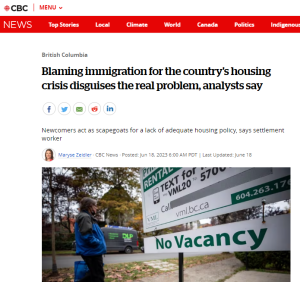 Meheret Bisrat, Senior Manager of Community Development at DIVERSEcity, is featured on an article on immigration and housing on CBC News. Meheret emphasizes that the criticism of newcomers as the cause of the housing crunch is misguided. "It is disheartening to hear those kinds of comments because I feel like it lacks a bit of compassion and understanding of … the realities of new immigrants," says Meheret. "They don't fully know their rights, and they're taken advantage of," she says. "They are new members of our community. And we need them, actually, to be here."
---
May 24, 2023
Newcomers, non-profits praise major funding boost for migration settlement services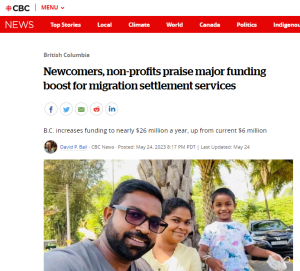 DIVERSEcity client Rukshani shares her settlement story with CBC News, who says DIVERSEcity has "made a huge impact" in her life. "I was feeling isolated when I first arrived in Canada," she says. "I was provided with resources to help me find affordable housing for my family in Surrey. DIVERSEcity has helped in preparing me for success in Canada in all aspects."
---
May 9, 2023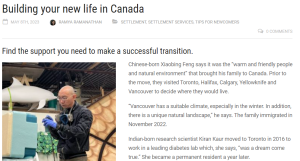 Building your new life in Canada
DIVERSEcity client is featured in a story on settlement challenges in Canadian Immigrant magazine.
Chinese-born Xiaobing Feng says it was the "warm and friendly people and natural environment" that brought his family to Canada. Prior to the move, they visited Toronto, Halifax, Calgary, Yellowknife and Vancouver to decide where they would live. "Vancouver has a suitable climate, especially in the winter. In addition, there is a unique natural landscape," he says. The family immigrated in November 2022.
---
February 19, 2023
Jacky Essombe and Lenya Wilks on Surrey's inaugural "Black in BC" event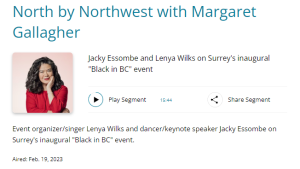 CBC Radio host Margaret Gallagher meets with event organizer Lenya Wilks, Manager of Surrey Local Immigration Partnership, and dancer/keynote speaker Jacky Essombe on Surrey's inaugural "Black in BC" event.
Listen to the full segment here.
---
January 4, 2023
Surrey's DIVERSEcity settles in with a new incubator program for BIPOC and immigrant entrepreneurs
BC Business features a story on DIVERSEcity's revamped Diverse Entrepreneurs Business Incubator.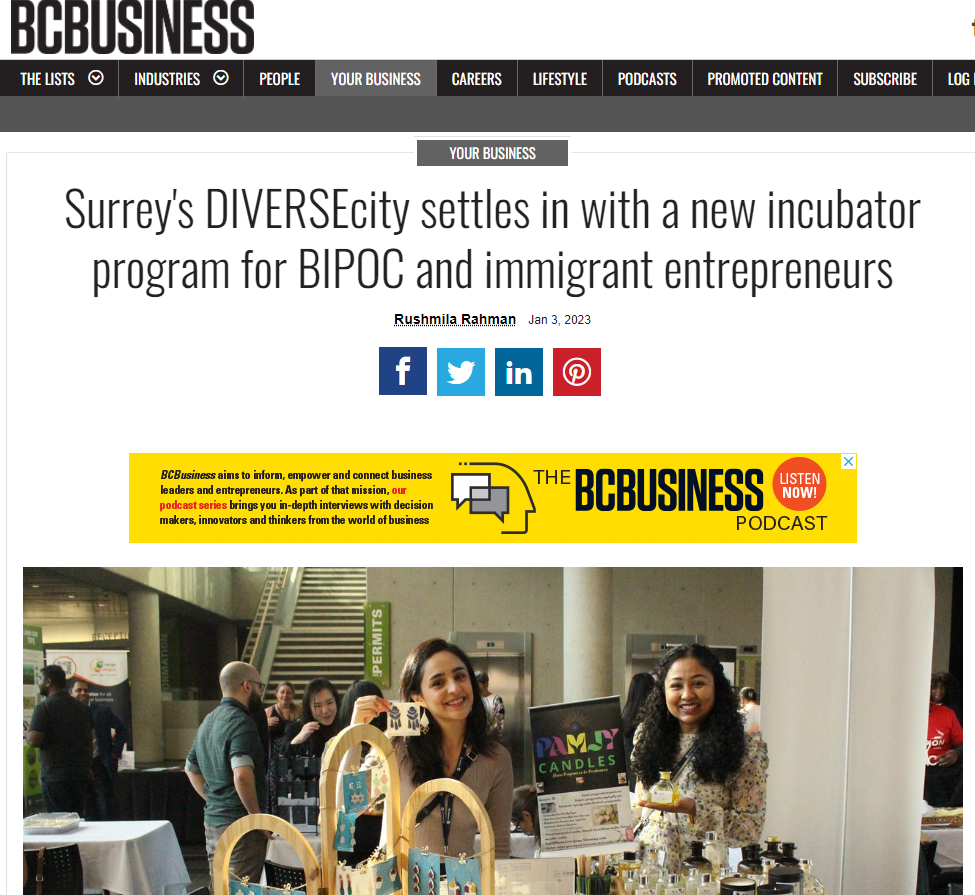 ---
October 6, 2022
'Awards of Impact' for 5 people who help Surrey's DIVERSEcity help newcomers to Canada
Five DIVERSEcity 'Awards of Impact' winners, making an impact through leadership, community building, innovation or inspiration, featured in Surrey-Now Leader.
---
September 13, 2022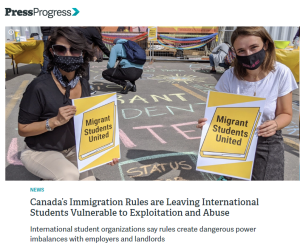 Canada's Immigration Rules are Leaving International Students Vulnerable to Exploitation and Abuse
Richa Karkee, manager of Violence Prevention Services and Neeru Muker, Sexual Assault Response Coordinator, address complex issues like sexual violence among international students.
---
August 23, 2022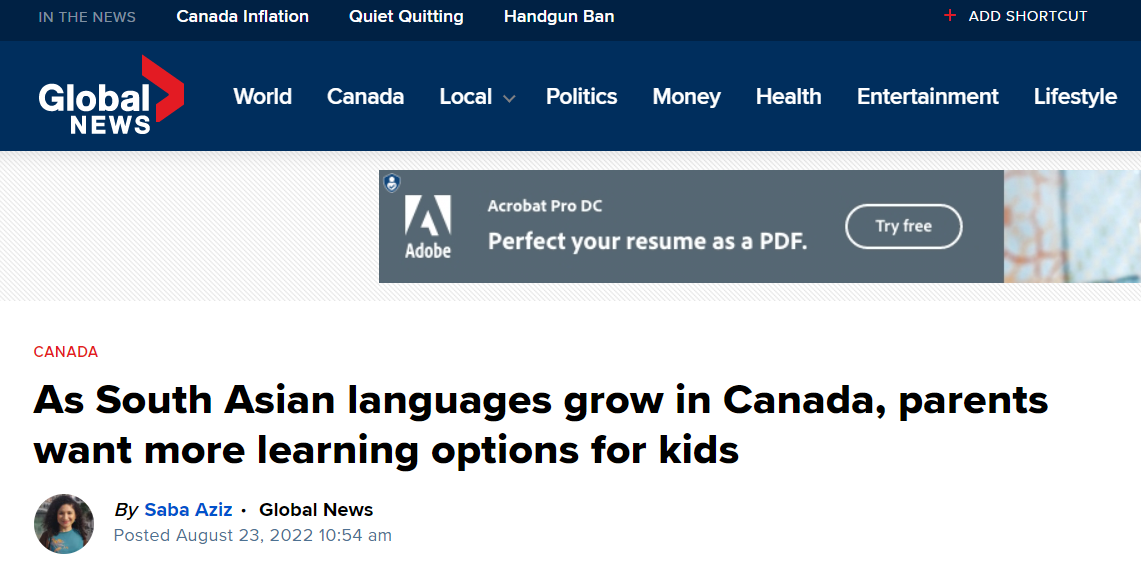 As South Asian languages grow in Canada, parents want more learning options for kids
DIVERSEcity's Richa Karkee is interviewed in a Global News piece around South Asian language and identity for immigrants in Canada.
---
KPU announces first Community Impact Award winners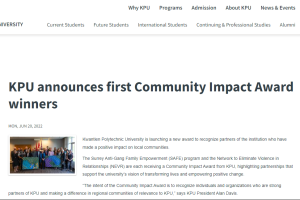 DIVERSEcity is proud to partner with Kwantlen Polytechnic University to receive the Community Impact Award each to the Surrey Anti-Gang Family Empowerment (SAFE) program and the Network to Eliminate Violence in Relationships (NEVR).
---
To retain immigrants, decision-makers must address systemic failures
Neelam Sahota, DIVERSEcity CEO, spoke at the 24th Metropolis Canada Conference on migration, integration, and inclusion.
---
New grant program for credentialing in British Columbia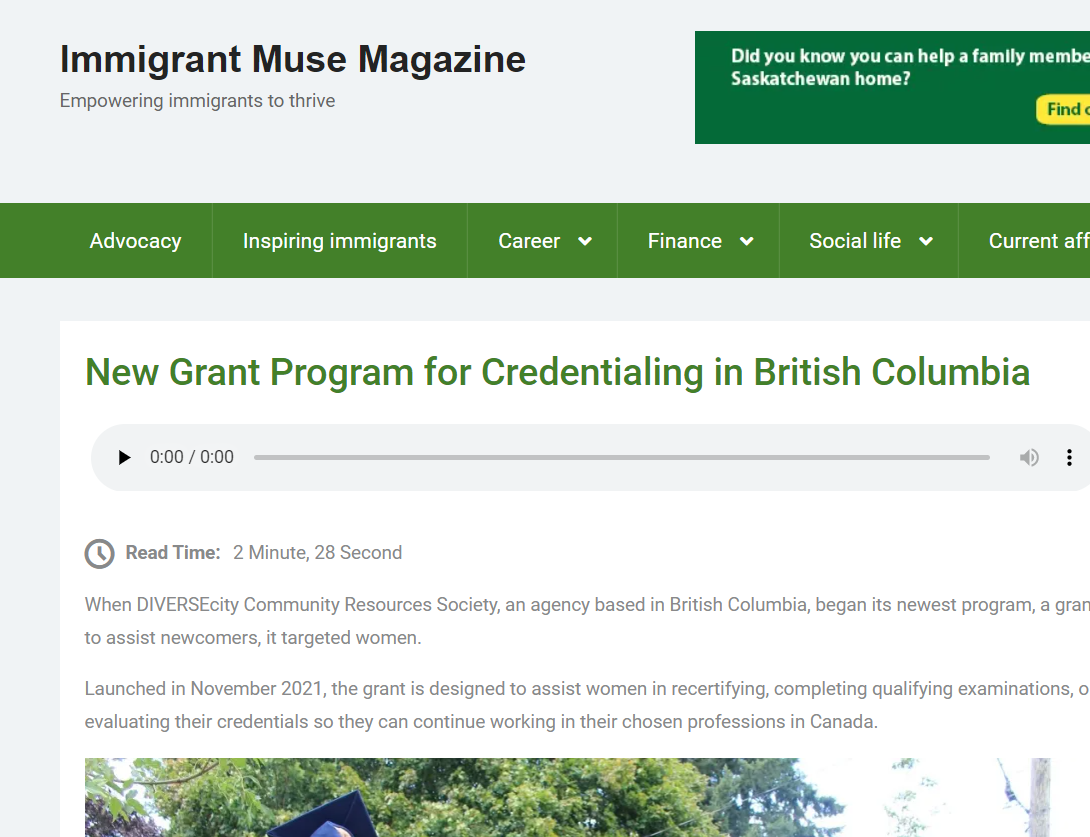 Tina Balachandran, DIVERSEcity manager, employment programs, spoke with Immigrant Muse Magazine about DIVERSEcity's new Express Grant for Foreign Credential Recognition for Women.
---
February 12, 2022
Multi-generational households face the next phase of the pandemic with care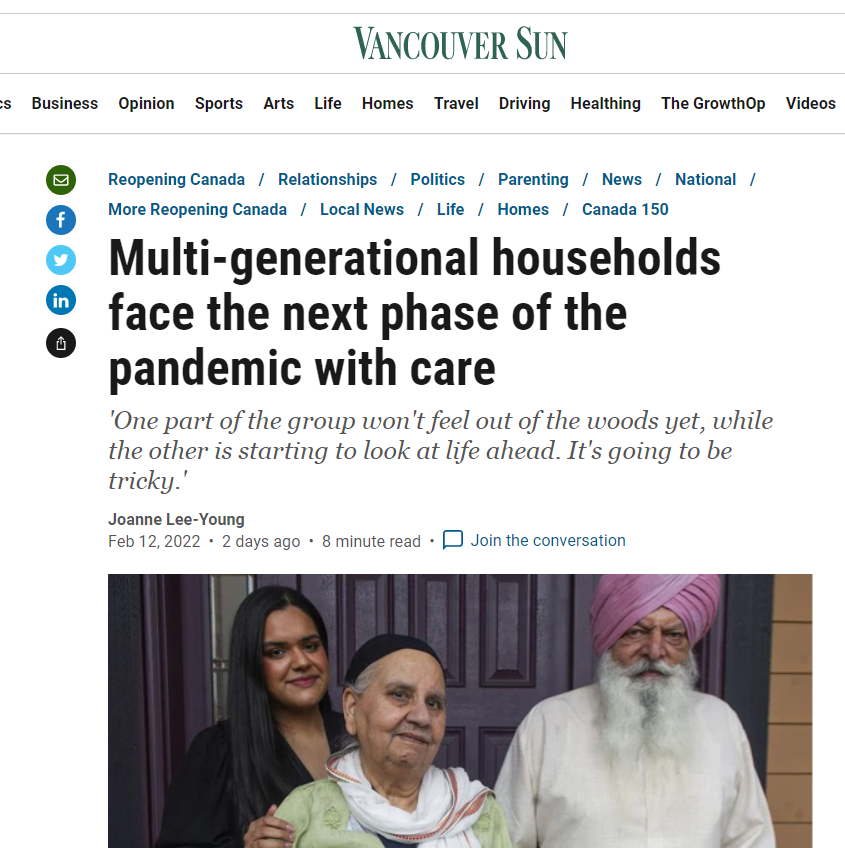 Neelam Sahota, DIVERSEcity CEO, spoke with the Vancouver Sun about the struggles multi-generational households may face as COVID-19 pandemic ease for some.
---
February 4, 2022
Recording hate to fight hate — racism mapping tool launched in Surrey to help newcomers feel safe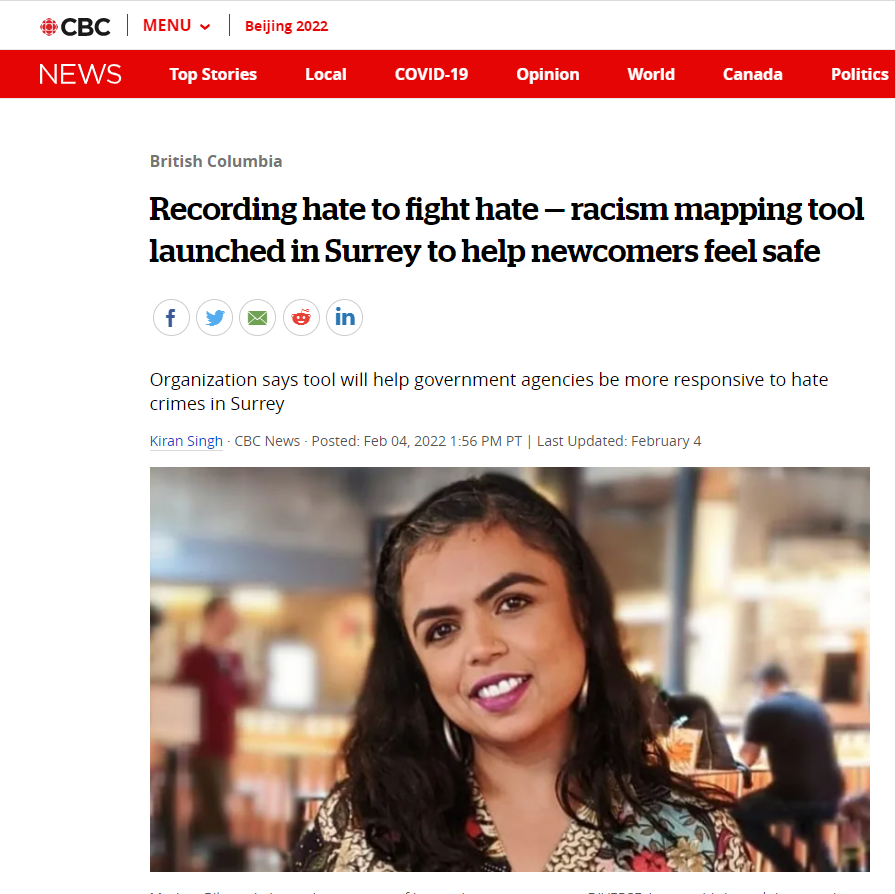 Mariam Bilgrami, senior manager of innovation engagement at DIVERSEcity, and Neelam Sahota, DIVERSEcity CEO, speak with CBC about the Surrey Local Immigration Partnership's new Racism Mapping Project (RAMP), a community-led research project tool that gathers anonymously shared data around racism and hate incidents taking place in Surrey, BC.
---
February 3, 2022
Not 'something you shake off': Surrey Local Immigration Partnership launches racism-mapping tool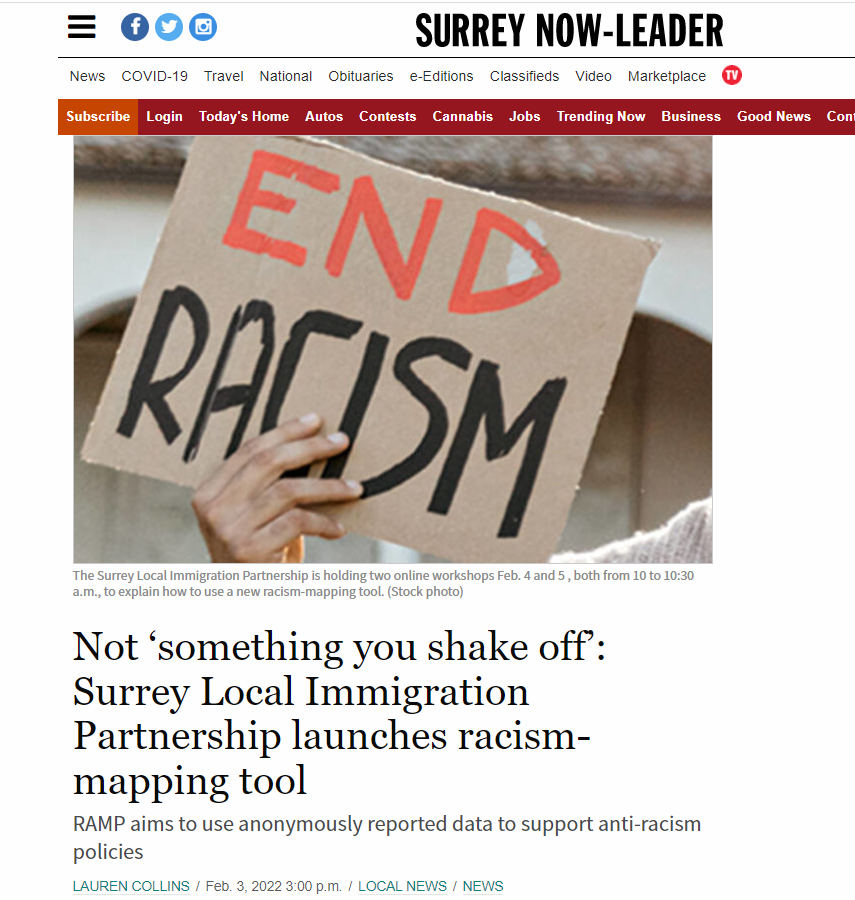 "Surrey LIP co-chair Neelam Sahota, who is also CEO of DIVERSEcity Community Resources Society, said the project has been in the works for several years after hearing anecdotal evidence from social service organizations and surveys in the community."
---
November 12, 2021
DIVERSEcity CEO Neelam Sahota wins the Trustee Excellence Award from the B.C. Library Trustees Association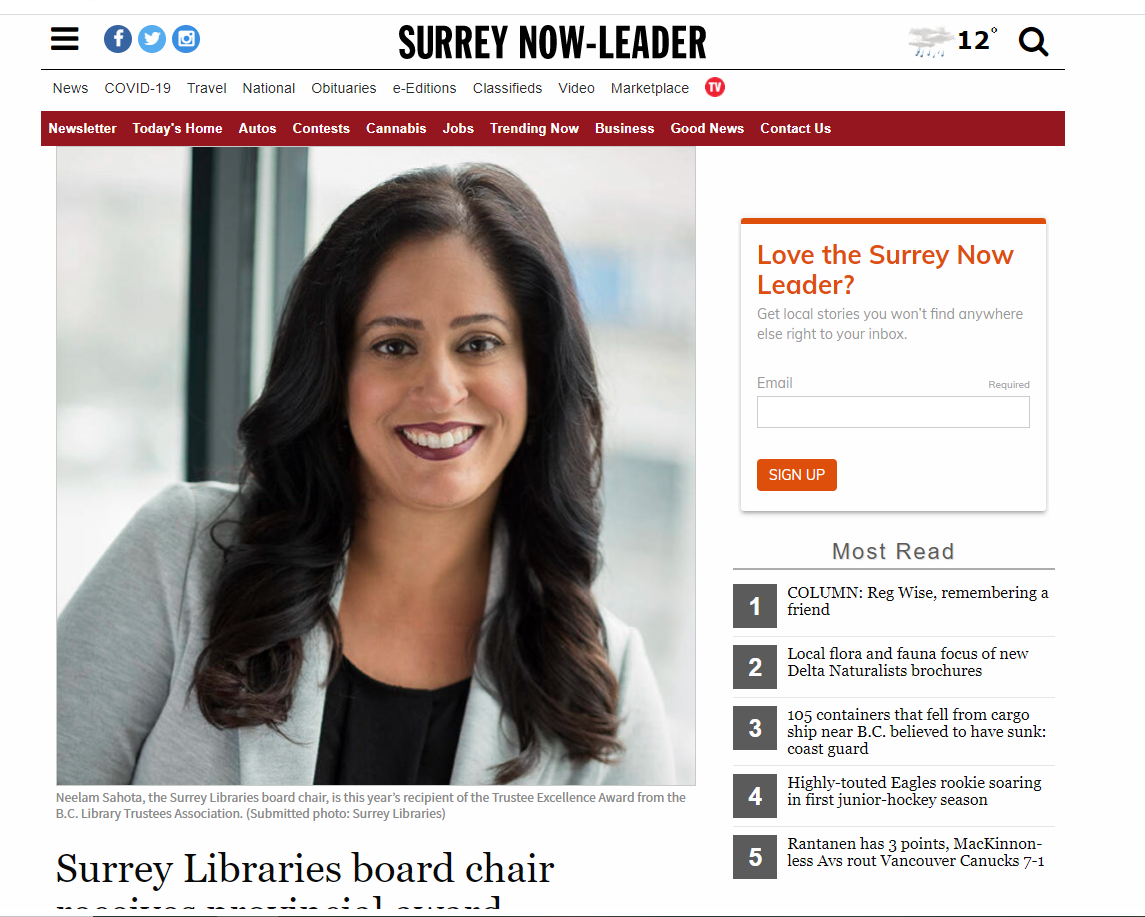 Neelam Sahota, DIVERSEcity CEO and the Surrey Libraries board chair, is the 2021 Trustee Excellence Award recipient.
The annual award, chosen by the B.C Library Trustees Association, "recognizes a trustee who has made a major contribution to their public library and community through governance excellence."
---
August 31, 2021
Surrey-born Olympian Wodak runs with immigrant/refugee youth at Green Timbers Park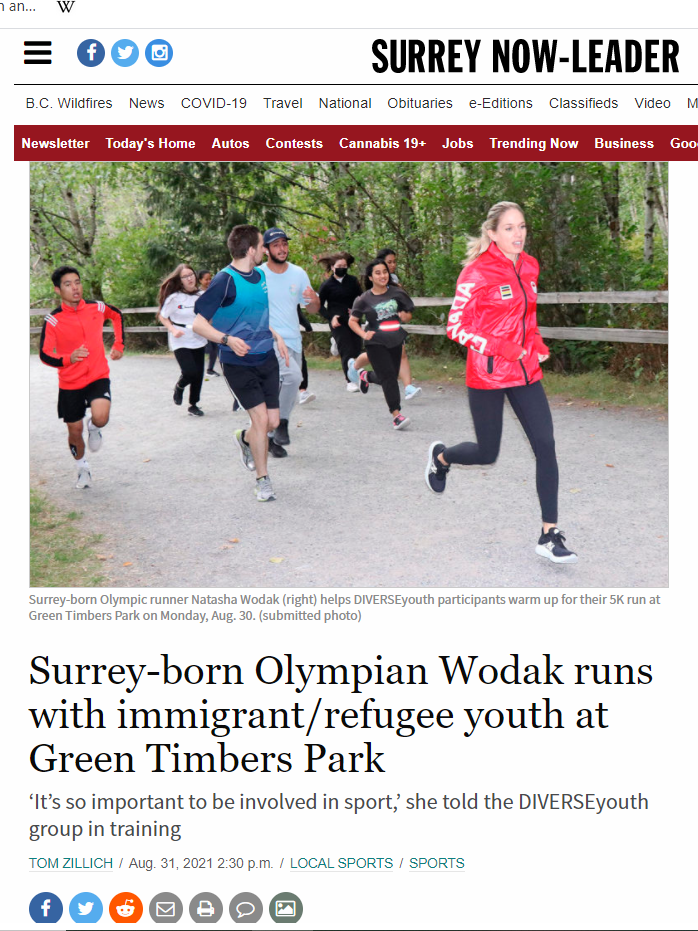 Newcomer youth in Surrey got some tips from Olympic long-distance runner Natasha Wodak at Green Timbers Park during the finale event of DIVERSEyouth's Run 5K program, planned in partnership with SportMedBC.
The Surrey-born Wodak placed 13th in the marathon at the recent Tokyo Olympics, becoming the second-fastest female marathoner in Canadian history.
At Green Timbers Park on Monday, Aug. 30, she surprised local immigrant and refugee youth with a visit and warm-up lesson, for an event they'd been training for since June 21.
---
August 19, 2021
Meheret Bisrat, Manager, Refugee & Specialized Programs, DIVERSEcity spoke with CBC News about the settlement process and challenges faced by Afghan refugees as they come to Canada.
Some organizations in B.C. will be among those stepping up to welcome Afghan refugees fleeing the Taliban. Our @DanBurritt spoke with Meheret Bisrat, manager of refugee and specialized programs at DiverseCity about what the group is doing to prepare. pic.twitter.com/cm6g09Qujb

— CBC British Columbia (@cbcnewsbc) August 19, 2021
---
August 18, 2021
Saleh Altaf, manager, Community Programs, DIVERSEcity spoke with CBC News for an article on avoiding politicizing vaccines in the upcoming election
Canada's political leaders could do serious damage to the country's vaccination efforts if they engage in a charged and polarizing debate over vaccines during the federal election campaign, say people on the frontlines of outreach work and other experts. …
---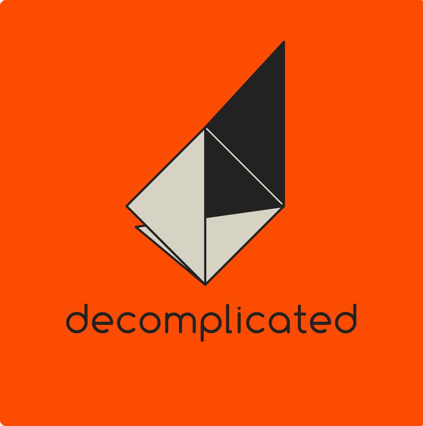 DIVERSEcity clinical counsellor, Surrey Anti-Gang Family Empowerment Program (SAFE), explains what questions we should be asking around gang violence in B.C.
Pamela Sangha, a clinical counsellor with DIVERSEcity's SAFE program, sat down with Carol Eugene Park and Rumneek Johal, the hosts of the Decomplicated Podcast, to discuss the current gang violence in B.C.
---
May 13, 2021
Saleh Altaf, manager, Community Programs, DIVERSEcity on CBC Early Edition with Stephen Quinn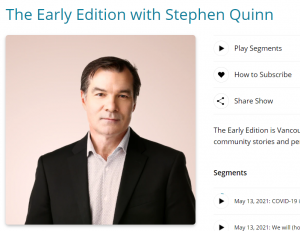 Saleh is interviewed about how DIVERSEcity is helping seniors and vulnerable communities in Surrey get accurate information on COVID-19 vaccines and access a free transportation shuttle service, a partnership between Translink and Fraser Health.
Listen to the full interview here …
---
April 21, 2021
Social prescriptions connect Surrey seniors to activities and other services they need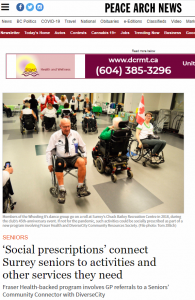 Fraser Health-backed program involves GP referrals to a Seniors' Community Connector with DiverseCity
We're used to getting prescriptions for illness, but how about a prescription for wellness? Fraser Health is working with physicians and community stakeholders to ensure seniors stay healthier longer through social prescribing, a concept that connects seniors to community resources for exercise, socialization and improved nutrition.
Here's how it works: Family physicians and nurse practitioners identify seniors who could benefit from a social prescription involving increased activity, social engagement, caregiver support and/or food security. The prescribing physician then connects the senior to a Seniors' Community Connector with DiverseCity, to work with them on a wellness prescription. Just like a typical prescription, the dosage and amount is tailored to the individual's needs.
Read more here :
'Social prescriptions' connect Surrey seniors to activities and other services they need
---
March 25, 2021
The Power of Women: Neelam Sahota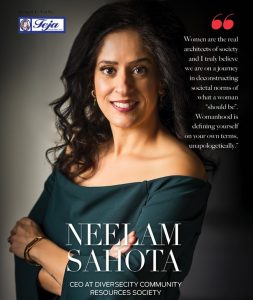 "Women are the real architects of society and I truly believe we are on a journey in deconstructing societal norms of what a woman 'should be.' Womanhood is defining yourself on your own terms, unapologetically." — Neelam Sahota, CEO, DIVERSEcity. Neelam was featured in Darpan Magazine's International Women's Day cover story, "The Power of Women" with seven other inspirational South Asian Women leaders in BC.
The other women featured are: Juggy Sihota, Vice President – TELUS Health; Dr. Madhu Jawanda,MD, CCFP,Co-founder of BC's South Asian Covid Task Force; Dr Navdeep Grewal, MD, FCFP, CCFP(EM), Co-founder of BC's South Asian Covid Task Force; Rachna Singh, MLA for Surrey-Green Timbers and Parliamentary Secretary for Anti-Racism Initiatives; Sonia Virk, Lawyer at Virk Viyas & Associate Lawyers; Robin Gill, BC Correspondent/Weekend Anchor at Global National; and Rabiah Dhaliwal, Mental Health Activist & Founder-Director at Voices for Hope Foundation.
Read the interviews with Neelam and the other women leaders here.
---
March 26, 2021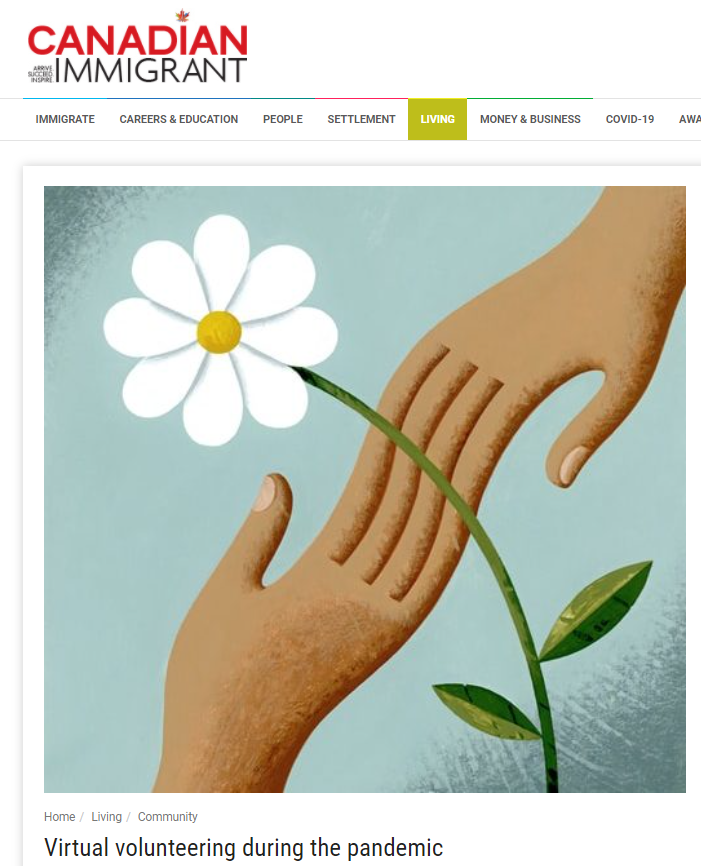 Virtual volunteering during the pandemic
For Vancouver resident, Faheem Shah, his volunteering experience with DiverseCity, a registered charity that provides settlement services to newcomers was a source of great satisfaction. A senior, who had his own long-drawn struggles as a new immigrant in 2004, Shah is doing his part in pandemic times. He's been part of food distribution programs and driving other seniors to and from appointments among other volunteering roles "Volunteering during COVID gave me a chance to explore the needs of the vulnerable members of our community – particularly seniors from different backgrounds, cultures and languages. I am also hoping to secure a permanent position and this experience will definitely help in that," he says. …
---
March 4, 2021
The Filipino Edition Show featuring DIVERSEcity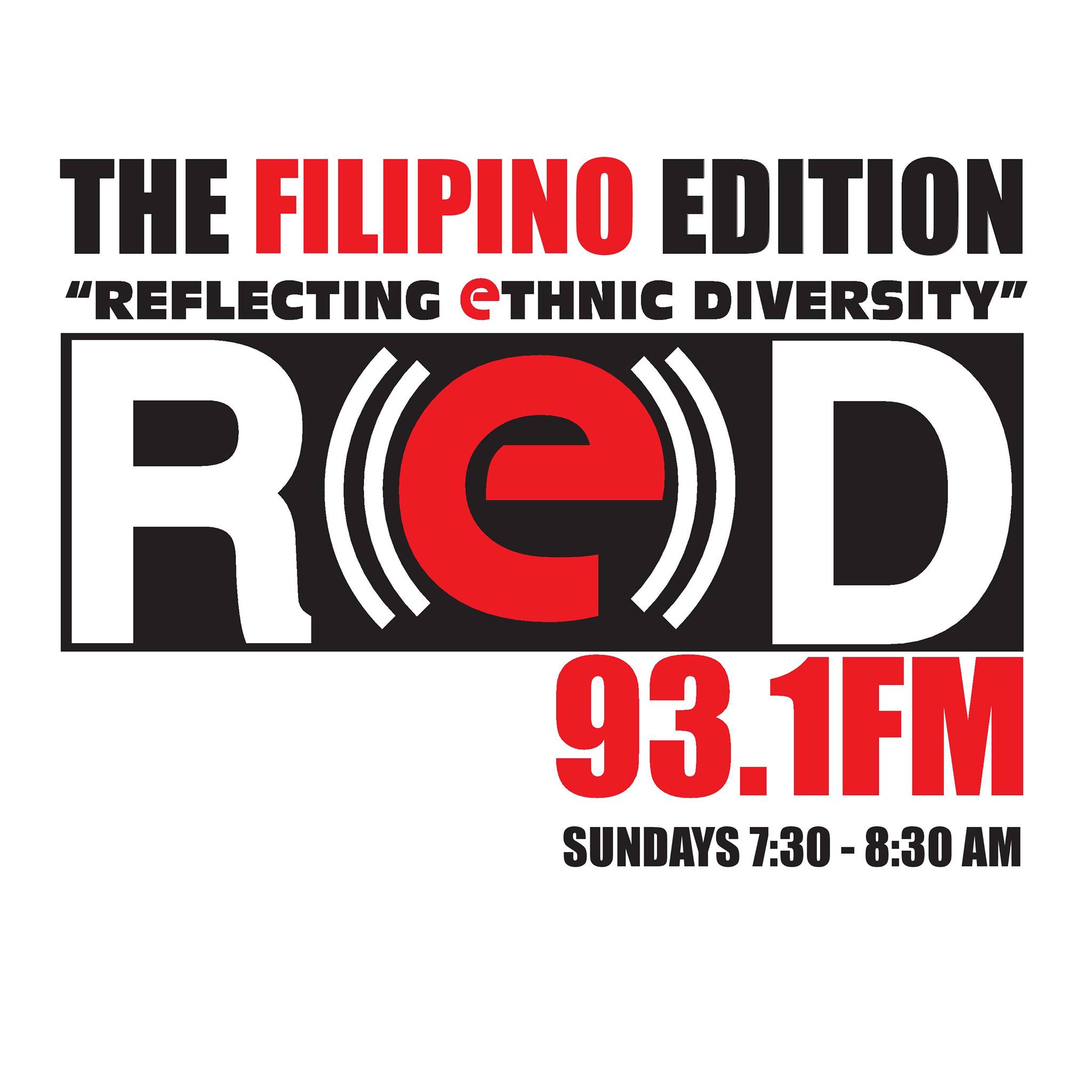 Listen to DIVERSEcity self-employment specialist Florence Kao and DIVERSEcity client, Rhona Doria, as they discuss the Small and Medium Sized Business Recovery Grant and the CWB Business Incubator for Women Makers and Creators. The Filipino Edition is a one hour weekly radio program that discusses relevant topics in the community. …
---
March 1, 2021
'Complex barriers': Spreading COVID-19 messaging to Canada's non-English speakers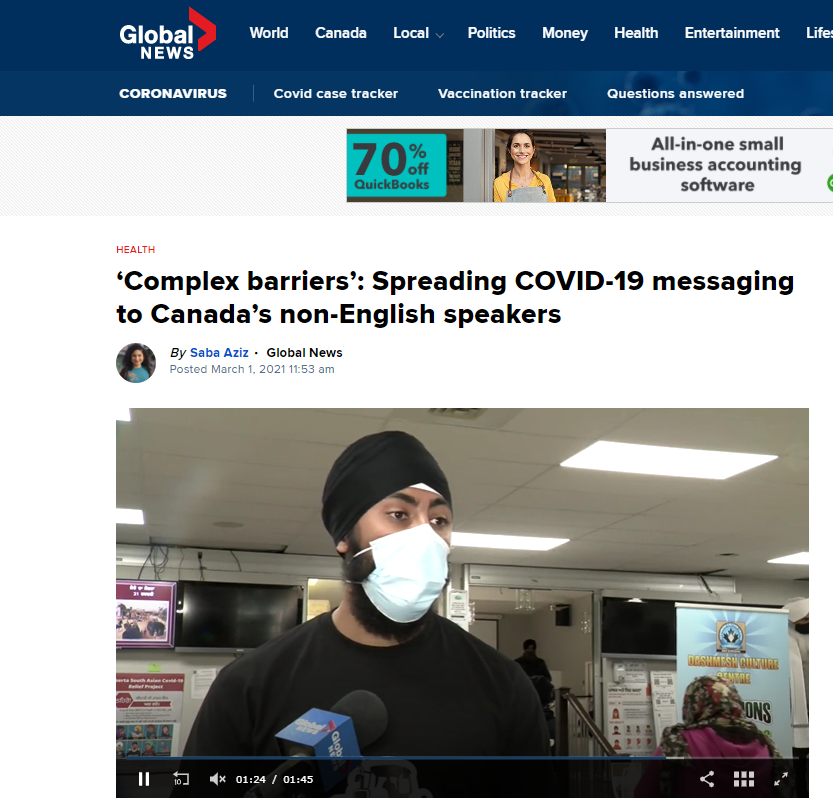 From ever-changing COVID-19 guidelines and new research to misinformation and conspiracy theories, it has not been easy keeping up with the coronavirus infodemic.
As most of us attempt to navigate through the scientific jargon and make sense of what a variant is, how mRNA vaccines work, or which mask to wear, getting the right word out is important.
While provinces have made their announcements and public health guidelines available in various languages to cater to those populations that don't speak English or French, some feel governments could have done more to get that messaging out sooner to racialized communities, which are bearing the brunt of the pandemic.
"Communication with the so-called ethnic groups has to be a proactive process — it can't be reactive," said Balpreet Singh, legal counsel and spokesperson for the World Sikh Organization of Canada.
A Statistics Canada report published in October 2020 found that in Quebec, Ontario, Alberta and British Columbia, there was additional burden from the COVID-19 disease in neighbourhoods with higher proportions of population groups designated as visible minorities. …
---
January 22, 2021
Communication and other soft skills for skilled immigrants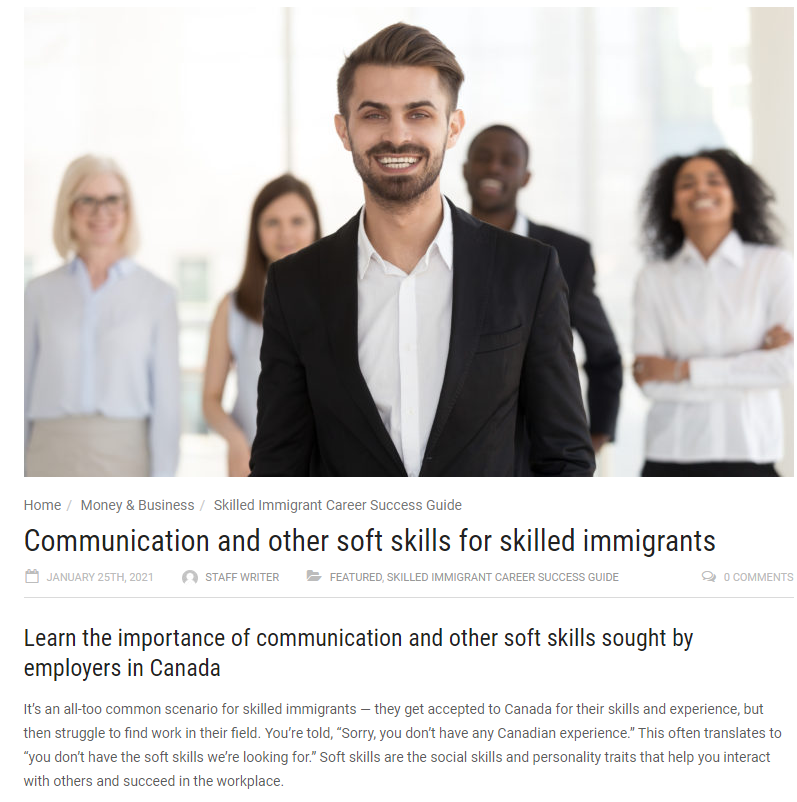 It's an all-too common scenario for skilled immigrants — they get accepted to Canada for their skills and experience, but then struggle to find work in their field. You're told, "Sorry, you don't have any Canadian experience." This often translates to "you don't have the soft skills we're looking for." Soft skills are the social skills and personality traits that help you interact with others and succeed in the workplace.
"Many skilled immigrants come here knowing the language and with expertise in their field. But they often lack the soft skills Canadian employers want," says Rose Weiler, manager of specialized employment programs at DIVERSEcity Community Resources Society in Surrey, B.C. Weiler has more than 20 years of helping immigrants, youth and mature workers find their place in the labour market.
In contrast to technical skills, soft skills are more about "how" you work, rather than "what" you do, and effective communication skills are at the heart of it all.
Let's not confuse communication skills with English or French language literacy skills, though. It goes without saying that good verbal and written language skills are critical for your career success in Canada. …
---
September 22, 2020
CommuniCreate builds newcomer youths' confidence and community connections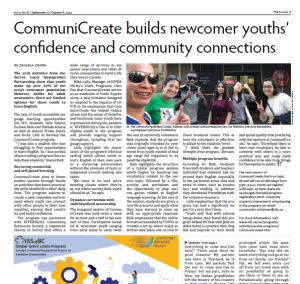 The 2018 statistics from the Surrey Local Immigration Partnership show that youth make up over 60% of the area's newcomer population. However, unlike for adult newcomers, there are limited options for these youth to learn English.
The lack of youth-accessible language learning opportunities led SFU students Saba Fatemi, Eunbee Baik and Rufaida Kheraj as well as alumni Trisha Dulku and Ricky Lalli to develop the CommuniCreate program.
"I was also a student who was struggling to find opportunities to learn English. So I was excited about creating a program that can help these students," shares Baik.
Nurturing connection and self-paced learning CommuniCreate aims to foster youths' success through hands-on activities that teach practical life skills beneficial in their daily lives. The program aspires to create a safe, enjoyable environment where youth can connect with other people in their communities, express their creativity and build confidence.
The program has partnered with DIVERSEcity Community Resources Society, a registered charity in Surrey that offers a wide range of services to empower newcomers and other diverse communities to build a life they love in Canada. …
---
August 19, 2020
Food hamper group effort helps feed Surrey newcomers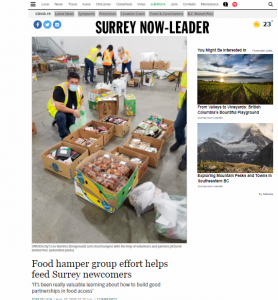 Food hampers are being assembled for Surrey families in need, thanks to a co-ordinated effort among several partner organizations in the city.
DIVERSEcity's Newcomer Food Hamper program was recently given a $35,000 boost from the United Way's Local Love Food Hub funding, and works in partnership with a nutrition coupon program for produce from Surrey Urban Farmers Market. The fresh produce is then organized into hampers, along with additional food supplied from Sources Food Hub.
The hampers are put together by DIVERSEcity staff and volunteers in partnership with Seeds of Change, at a City of Surrey-operated parkade in the City Centre area.
Staff and volunteers came together on Aug. 8, to sort, fill and distribute hampers. Serious co-ordination was needed to ensure each hamper was filled correctly, including abiding by any food restrictions the clients may have, according to Leo Ramirez, DIVERSEcity's Community Kitchen Co-ordinator …
---
March 18, 2020
Women in Business, Surrey Now-Leader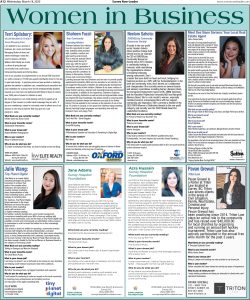 Neelam Sahota: DIVERSEcity Community Resources Society
A leader in the non-profit sector, Neelam Sahota drives positive change both directly and as an example. As CEO of DIVERSEcity Community Resources Society since 2013, Neelam is continually looking to innovate, while maintaining the organization's mission of inspiring belonging among newcomers. She's a leader that uses both her head and heart, bridging her business acumen as a CPA, with her humanitarianism. In her work and community roles, she's known as a collaborator and changemaker. She currently serves on several boards and advisory committees, including Surrey Libraries (chair), the Immigrant Employment Council of BC, OMNI Television, and the Kwantlen Polytechnic University NGO and Nonprofit Advisory Board. She's a role model to women, especially racialized women, encouraging them with her support, mentorship and inspiration. She's currently a finalist for the 2020 YWCA Women of Distinction Awards in the non-profit category, and recently won the 2020 Shakti Award for Leadership Excellence.
What book are you currently reading? In Pursuit of Empire by Davinder Toor
What is your favourite movie? Thelma and Louise
What is your dream job? Interior designer
Who is your mentor? I have many mentors for the different qualities they have. Professionally, I've been inspired by icons like Sheryl Sandberg.
Why do you do what you do? I like being able to apply solid business skills to the non-profit world to create maximum impact.
---
December 10, 2019
Everyone Belongs Here: charity advocates for newcomers, La Source newspaper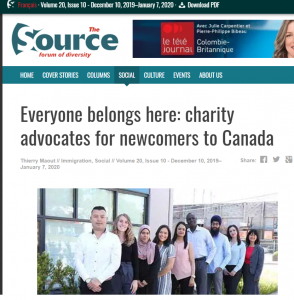 With a history dating over 40 years in Surrey and the Lower Mainland and a promise to welcome newcomers with open arms, DIVERSEcity has been offering free, multilingual services in language, settlement, employment and counselling, with initiatives such as the RISE program. Standing for "Refugee & Immigrant Specialized Experience," the RISE Program is close to "a mentoring program" explains Hermon Lay, case counsellor at DIVERSEcity.
It provides support to adult and youth newcomers who are experiencing complex and multiple challenges in settling into their new community: "We advocate for them. We go out with our clients, teaching and supporting them on how to do things on their own."
A former refugee from Burma himself, Lay was exiled in Thailand where he spent some of his childhood years before immigrating to Canada at a young age. Working for the past 10 years with DIVERSEcity serving vulnerable populations and refugees, he is fluent in four languages and breaks down some of the services the RISE program provides: "Disability, mental health, access to healthcare, school, landlords, legal issues, a little bit of everything. We are a voice for our clients," he says. "We refer them to experts and support them with their needs" …
---
November 25, 2019
DIVERSEcity winter campaign helps Surrey newcomers 'Bundle Up', Surrey Now-Leader
DIVERSEcity hosts annual donation drive for warm clothes, food hampers, hygiene products …
---
August 1, 2019
Child & Youth Empowerment Camp Abbotsford, Shaw Multicultural
Our clinical counselor, Jasmine Atwal, and program coordinator, Ahmad Naji, talks about how our Child & Youth Empowerment Camp program empowers youth to learn about emotional regulation, stress, tolerance, mindfulness and more.
Presented by Shaw and in partnership of Big Brothers Big Sisters of the Fraser Valley.
---
July 19, 2019
Skills for New Immigrants, ZEE TV
A Conversation with Ish Kumar, assistant manager, DIVERSEcity's Skills Training Centre with ZEE TV's BC Roundup.
---
June 13, 2019
Let's Talk! Mental Health & Substance Use in our Communities, Omni TV
DIVERSEcity's Varinder Kamboj from our Counselling Services and the Roshni Clinic,  was interviewed by Omni TV as part of a story on a recent event in Surrey called Let's Talk! Mental Health & Substance Use in our Communities, focusing on the South Asian community.
---
April 20, 2019
Debate on mental health services for newcomers, Global National
DIVERSEcity's Zainab Ibrahim, who works with refugee youth as a program coordinator, counselling services, is interviewed in this Global News piece about refugee mental health.
---
April 2019
House hunting hurdles for newcomers, Canadian Immigrant magazine
Samar Kassem, who works with the immigrant community in Surrey, B.C. on settlement and housing issues, says finding a home for newcomers is a tedious process. And particularly for those who face difficulties communicating in English or who are of a certain race and colour. "Immigrants are vulnerable with added challenges when it comes to renting and buying. The families I work with have limited financial resources, they have big families, some of them are availing of government support and they have languages barriers. All these factors work against them when looking for a home. It's heartbreaking" …
---
March 12, 2019
International Women's Day theme this year: 'You got this', Asian Pacific Post
With a theme of #balanceforbetter, and Neelam Sahota, CEO of not-for-profit DIVERSEcity Community Resources Society, says it takes planning and confidence — and a little risk-taking for women professionals to take their equal place at the table. She was speaking an International Women's Day gathering at DIVERSEcity's Community Campus …
---
March-April 2019
In January, a Swedish delegation studying the Canadian model of immigrant integration, visited DIVERSEcity Community Resources Society in Surrey, BC …
---
March 1, 2019
Immigrant women find "Sewmates" in new VCC business program, Vancouver Community College News 
Shiva Kharajiani immigrated to Vancouver from Iran in January 2017. Even though the city was beset by ice and snow, she was thrilled to be here. "It felt good. Very good," she says. In Iran, Shiva ran her own dressmaking business. She was eager to continue her profession but didn't know where to begin.  It was through her daughter's school that Shiva learned about the Make It! Sewing Business Program, a new, no-cost opportunity delivered jointly by Vancouver Community College (VCC) and DIVERSEcity Community Resources Society …
---
February 9, 2019
Minister Bruce Ralston was on hand at the Community Campus of DIVERSEcity Community Resources Society to announce the provincial government's increased investments to expand settlement services for newcomers …
---
February 8, 2019
Services to help new immigrants settle throughout B.C. will be expanded by 45 per cent, the provincial government has announced. Minister of Jobs, Trade and Technology Bruce Ralston, NDP MLA for Surrey-Whalley, revealed the news at DIVERSEcity Community Resources Society in Surrey Friday …
---
February 8, 2019
Immigrants will get more help settling in B.C. and finding careers in their fields as a result of additional funding from the provincial government that expands settlement services by more than 45 per cent — the highest level since 2014 …
---
February 7, 2019
Roshni Clinic recently moved to a location across from Surrey Memorial Hospital …
---
January 22, 2019
Bill Blair, federal minister of border security and organized crime reduction, and Harjit Sajjan, Defence minister, on Tuesday announced $7.5 million in federal funding for the Surrey Anti-Gang Family Empowerment (SAFE) Program. Meanwhile, DIVERSEcity Community Resources Society said it will be providing clinical counselling services to vulnerable youth …
---
January 17, 2019
A Swedish delegation of politicians and government officials working on immigrant integration in Sweden came to B.C. this week to study the Canadian model of immigrant integration …
---
January 11, 2019
Rasiklal Joshi never took the bus. He always drove — until he reached his 80s and his doctor told him to stop. "I tried to persuade my doctor, but he said not now, not now," said Joshi. "I missed it a lot." Joshi and his wife live in the sprawl of Surrey. The city's population is growing fast, and it's densifying in pockets and on some arterials. But on the whole Surrey still suffers from suburban low density and car dependence …
---
November 15, 2018
Neelam Sahota, the chief executive officer of Surrey-based non-profit DIVERSEcity Community Resources Society, says the car-oriented city is a challenge for locals and newcomers …
---
October 10, 2018
An Academy Awards-style event on Nov. 6 will celebrate the best of Surrey's business community. Nominees for the 20th annual Surrey Business Excellence Awards were announced Tuesday, four weeks ahead of the gala at Sheraton Vancouver Guildford Hotel …
---
September 29, 2018
To mark the society's 40th anniversary, CEO Neelam Sahota along with board chair Shara Nixon welcomed supporters to the society's celebration dinner staged at Eagle Quest Golf Course in Surrey …
---
April 20, 2018
B.C.'s public safety minister is pledging more provincial money to fight crime, with a focus on preventing gender-based violence …
---
January 2, 2018
Canada has welcomed more than 40,000 Syrian refugees since November 2015 across 350 communities, according to the federal government. And Surrey has become home to the largest number of Syrian refugees over the past five years. Feras Nejebagh, who left Syria with his family in 2011, is among them …