Media Stories Featuring DIVERSEcity
March 18, 2020
Women in Business, Surrey Now-Leader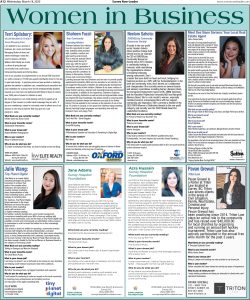 Neelam Sahota: DIVERSEcity Community Resources Society
A leader in the non-profit sector, Neelam Sahota drives positive change both directly and as an example. As CEO of DIVERSEcity Community Resources Society since 2013, Neelam is continually looking to innovate, while maintaining the organization's mission of inspiring belonging among newcomers. She's a leader that uses both her head and heart, bridging her business acumen as a CPA, with her humanitarianism. In her work and community roles, she's known as a collaborator and changemaker. She currently serves on several boards and advisory committees, including Surrey Libraries (chair), the Immigrant Employment Council of BC, OMNI Television, and the Kwantlen Polytechnic University NGO and Nonprofit Advisory Board. She's a role model to women, especially racialized women, encouraging them with her support, mentorship and inspiration. She's currently a finalist for the 2020 YWCA Women of Distinction Awards in the non-profit category, and recently won the 2020 Shakti Award for Leadership Excellence.
What book are you currently reading? In Pursuit of Empire by Davinder Toor
What is your favourite movie? Thelma and Louise
What is your dream job? Interior designer
Who is your mentor? I have many mentors for the different qualities they have. Professionally, I've been inspired by icons like Sheryl Sandberg.
Why do you do what you do? I like being able to apply solid business skills to the non-profit world to create maximum impact.
---
December 10, 2019
Everyone Belongs Here: charity advocates for newcomers, La Source newspaper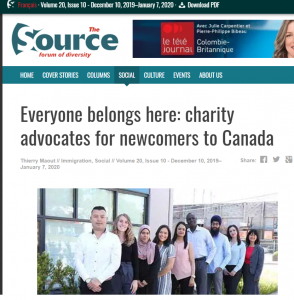 With a history dating over 40 years in Surrey and the Lower Mainland and a promise to welcome newcomers with open arms, DIVERSEcity has been offering free, multilingual services in language, settlement, employment and counselling, with initiatives such as the RISE program. Standing for "Refugee & Immigrant Specialized Experience," the RISE Program is close to "a mentoring program" explains Hermon Lay, case counsellor at DIVERSEcity.
It provides support to adult and youth newcomers who are experiencing complex and multiple challenges in settling into their new community: "We advocate for them. We go out with our clients, teaching and supporting them on how to do things on their own."
A former refugee from Burma himself, Lay was exiled in Thailand where he spent some of his childhood years before immigrating to Canada at a young age. Working for the past 10 years with DIVERSEcity serving vulnerable populations and refugees, he is fluent in four languages and breaks down some of the services the RISE program provides: "Disability, mental health, access to healthcare, school, landlords, legal issues, a little bit of everything. We are a voice for our clients," he says. "We refer them to experts and support them with their needs" …
---
November 25, 2019
DIVERSEcity winter campaign helps Surrey newcomers 'Bundle Up', Surrey Now-Leader
DIVERSEcity hosts annual donation drive for warm clothes, food hampers, hygiene products …
---
August 1, 2019
Child & Youth Empowerment Camp Abbotsford, Shaw Multicultural
Our clinical counselor, Jasmine Atwal, and program coordinator, Ahmad Naji, talks about how our Child & Youth Empowerment Camp program empowers youth to learn about emotional regulation, stress, tolerance, mindfulness and more.
Presented by Shaw and in partnership of Big Brothers Big Sisters of the Fraser Valley.
---
July 19, 2019
Skills for New Immigrants, ZEE TV
A Conversation with Ish Kumar, assistant manager, DIVERSEcity's Skills Training Centre with ZEE TV's BC Roundup.
---
June 13, 2019
Let's Talk! Mental Health & Substance Use in our Communities, Omni TV
DIVERSEcity's Varinder Kamboj from our Counselling Services and the Roshni Clinic,  was interviewed by Omni TV as part of a story on a recent event in Surrey called Let's Talk! Mental Health & Substance Use in our Communities, focusing on the South Asian community.
---
April 20, 2019
Debate on mental health services for newcomers, Global National
DIVERSEcity's Zainab Ibrahim, who works with refugee youth as a program coordinator, counselling services, is interviewed in this Global News piece about refugee mental health.
---
April 2019
House hunting hurdles for newcomers, Canadian Immigrant magazine
Samar Kassem, who works with the immigrant community in Surrey, B.C. on settlement and housing issues, says finding a home for newcomers is a tedious process. And particularly for those who face difficulties communicating in English or who are of a certain race and colour. "Immigrants are vulnerable with added challenges when it comes to renting and buying. The families I work with have limited financial resources, they have big families, some of them are availing of government support and they have languages barriers. All these factors work against them when looking for a home. It's heartbreaking" …
---
March 12, 2019
International Women's Day theme this year: 'You got this', Asian Pacific Post
With a theme of #balanceforbetter, and Neelam Sahota, CEO of not-for-profit DIVERSEcity Community Resources Society, says it takes planning and confidence — and a little risk-taking for women professionals to take their equal place at the table. She was speaking an International Women's Day gathering at DIVERSEcity's Community Campus …
---
March-April 2019
In January, a Swedish delegation studying the Canadian model of immigrant integration, visited DIVERSEcity Community Resources Society in Surrey, BC …
---
March 1, 2019
Immigrant women find "Sewmates" in new VCC business program, Vancouver Community College News 
Shiva Kharajiani immigrated to Vancouver from Iran in January 2017. Even though the city was beset by ice and snow, she was thrilled to be here. "It felt good. Very good," she says. In Iran, Shiva ran her own dressmaking business. She was eager to continue her profession but didn't know where to begin.  It was through her daughter's school that Shiva learned about the Make It! Sewing Business Program, a new, no-cost opportunity delivered jointly by Vancouver Community College (VCC) and DIVERSEcity Community Resources Society …
---
February 9, 2019
Minister Bruce Ralston was on hand at the Community Campus of DIVERSEcity Community Resources Society to announce the provincial government's increased investments to expand settlement services for newcomers …
---
February 8, 2019
Services to help new immigrants settle throughout B.C. will be expanded by 45 per cent, the provincial government has announced. Minister of Jobs, Trade and Technology Bruce Ralston, NDP MLA for Surrey-Whalley, revealed the news at DIVERSEcity Community Resources Society in Surrey Friday …
---
February 8, 2019
Immigrants will get more help settling in B.C. and finding careers in their fields as a result of additional funding from the provincial government that expands settlement services by more than 45 per cent — the highest level since 2014 …
---
February 7, 2019
Roshni Clinic recently moved to a location across from Surrey Memorial Hospital …
---
January 22, 2019
Bill Blair, federal minister of border security and organized crime reduction, and Harjit Sajjan, Defence minister, on Tuesday announced $7.5 million in federal funding for the Surrey Anti-Gang Family Empowerment (SAFE) Program. Meanwhile, DIVERSEcity Community Resources Society said it will be providing clinical counselling services to vulnerable youth …
---
January 17, 2019
A Swedish delegation of politicians and government officials working on immigrant integration in Sweden came to B.C. this week to study the Canadian model of immigrant integration …
---
January 11, 2019
Rasiklal Joshi never took the bus. He always drove — until he reached his 80s and his doctor told him to stop. "I tried to persuade my doctor, but he said not now, not now," said Joshi. "I missed it a lot." Joshi and his wife live in the sprawl of Surrey. The city's population is growing fast, and it's densifying in pockets and on some arterials. But on the whole Surrey still suffers from suburban low density and car dependence …
---
November 15, 2018
Neelam Sahota, the chief executive officer of Surrey-based non-profit DIVERSEcity Community Resources Society, says the car-oriented city is a challenge for locals and newcomers …
---
October 10, 2018
An Academy Awards-style event on Nov. 6 will celebrate the best of Surrey's business community. Nominees for the 20th annual Surrey Business Excellence Awards were announced Tuesday, four weeks ahead of the gala at Sheraton Vancouver Guildford Hotel …
---
September 29, 2018
To mark the society's 40th anniversary, CEO Neelam Sahota along with board chair Shara Nixon welcomed supporters to the society's celebration dinner staged at Eagle Quest Golf Course in Surrey …
---
April 20, 2018
B.C.'s public safety minister is pledging more provincial money to fight crime, with a focus on preventing gender-based violence …
---
January 2, 2018
Canada has welcomed more than 40,000 Syrian refugees since November 2015 across 350 communities, according to the federal government. And Surrey has become home to the largest number of Syrian refugees over the past five years. Feras Nejebagh, who left Syria with his family in 2011, is among them …