DIVERSEcity Community Resources Society is pleased to announce the recipients of our 2023 DIVERSEcity Awards of Impact, held at our 45th Annual General Meeting on September 28, 2023.
The annual DIVERSEcity Awards of Impact recognize and celebrate inspiring clients, volunteers, community members or community partners, who are making or have made a lasting impact through leadership, community building, innovation or inspiration.
"I am so pleased to carry on our tradition of presenting annual awards. This year we've expanded and grown the awards to shine a light on the transformative work being done in our community at large and the business community, including our award sponsors," said Neelam Sahota, Chief Executive Officer, DIVERSEcity.
The award recipients of the 2023 DIVERSEcity Awards of Impact in 10 categories are as follows.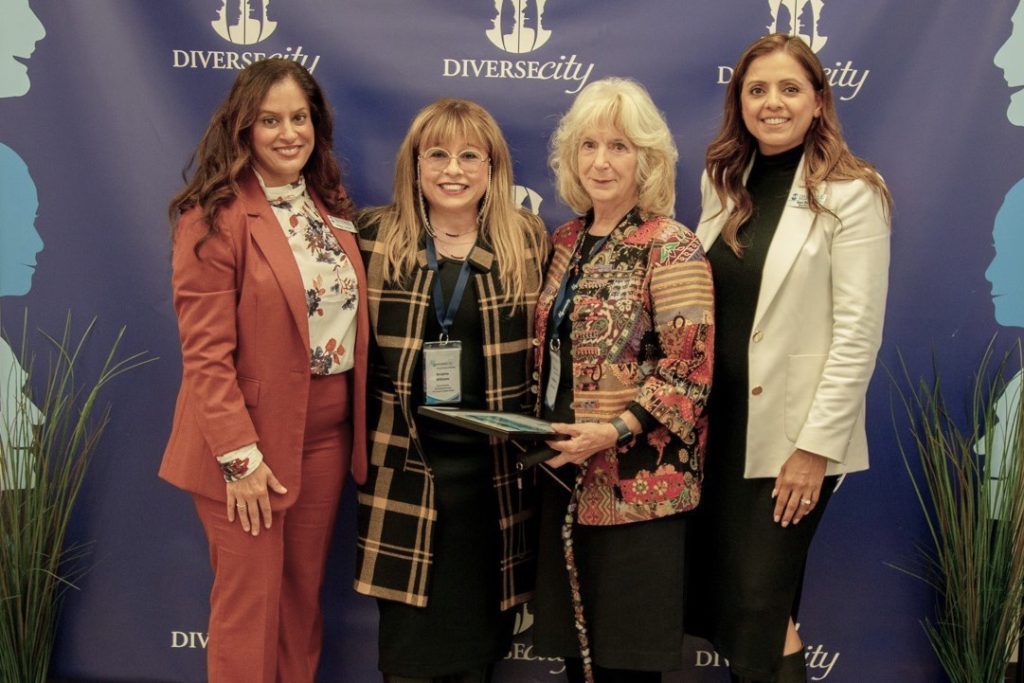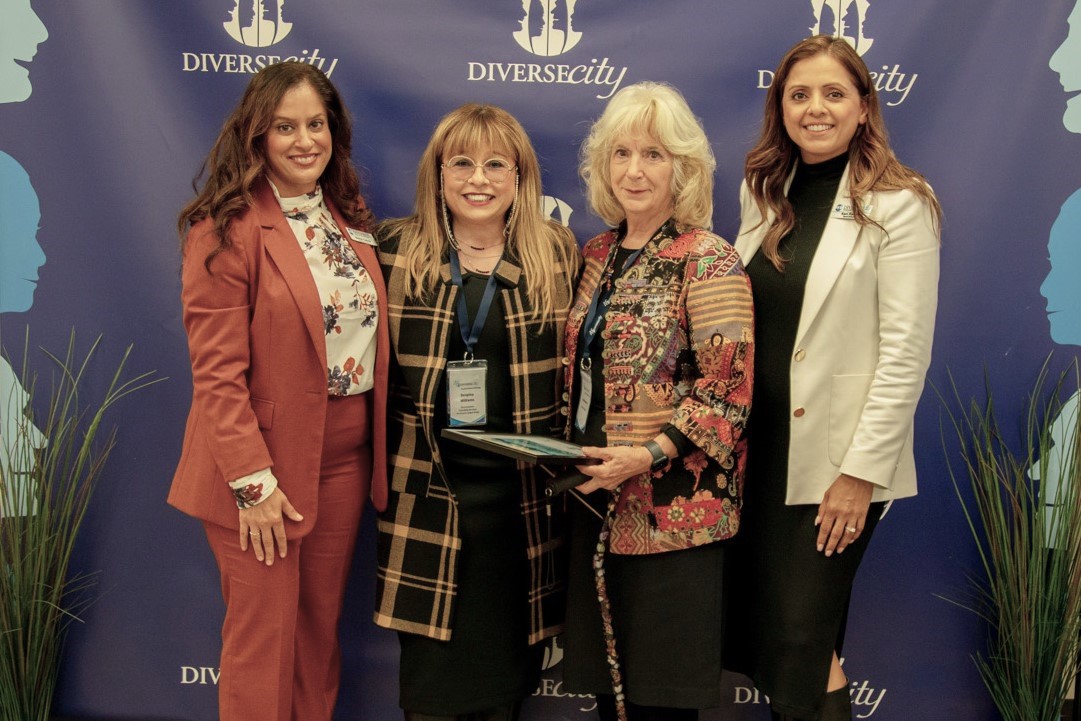 Award recipient: Sue Hammell
Sue Hammell has built a legacy as a political leader and women's rights advocate, including as longtime MLA for Surrey-Green Timbers and in her role as Minister of Women's Equality for the Province of BC. She was also a founding member of the Minerva Foundation for B.C. Women, initiated in 1999 to provide funds for projects that will assist women to realize their potential. She is now retired.
"I want to talk about one piece of my activism. In the BC Legislature, there is 50 per cent women, 50 per cent men and in Cabinet there is 50 per cent women and 50 per cent men, and that's a first for around the world. That was a consequence of an equity-mandate that was passed by the party, so when a woman stepped down, she had to be replaced by a woman. So, when I stepped down, I had to be replaced by a woman and [Minister] Rachna Singh became the MLA for Surrey-Green Timbers," said Sue Hammell upon accepting the award.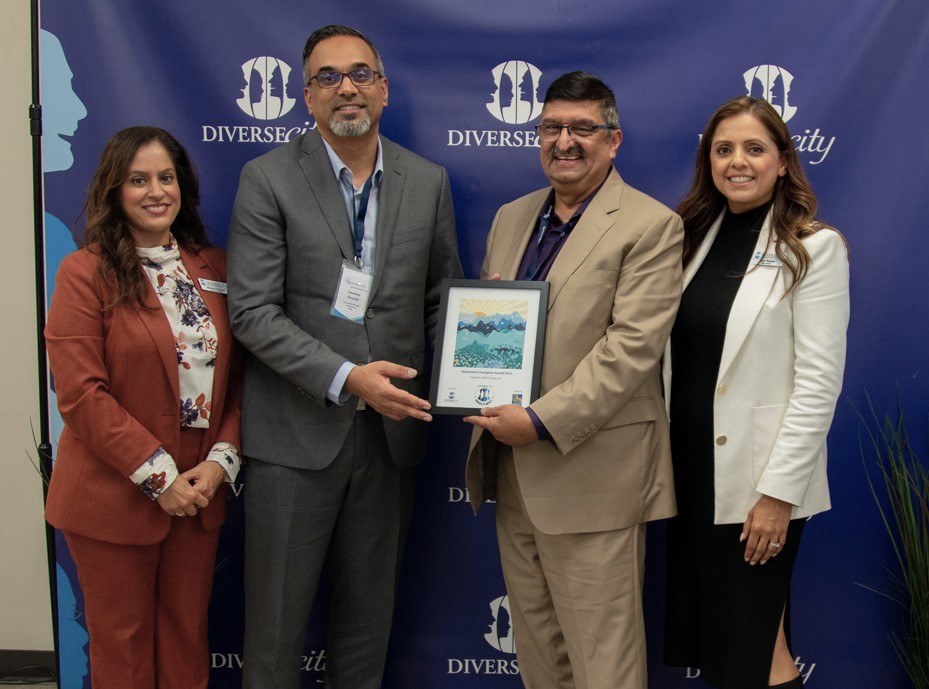 Newcomer Champion Award Sponsored by RBC 
Award recipient: Naeem Nick Noorani
Nick Noorani came to Canada as a skilled immigrant from India and noticed that newcomers needed more information, education and motivation to be able to succeed in their home country. After authoring his bestselling book Arrival Survival Canada, he founded Canadian Immigrant magazine and the Top 25 Canadian Immigrant Awards. He's an author, a sought-after motivational speaker and today is the founder of Immigrant Networks, a professional network of immigrants that help newcomers in their career journey.
"The skilled immigrant is critical to us in Canada. We have to do the right thing. I came here with 23 years of experience in advertising, but when I came here, I was told I didn't have any Canadian experience. I wanted to talk to someone from the advertising profession who had successfully moved from being an immigrant to being employed here. It just took me 22 years to make that, and that's what Immigrant Networks is," said Nick Noorani, upon accepting his award.
Len Pierre Consulting offers meaningful learning experiences to educate the heart, mind, and spirit of everyday professionals. Led by Len Pierre, the firm is a multidisciplinary team of consultants and facilitators who advise and train teams/organizations on Indigenous cultural safety, reconciliation, decolonization and anti-racism.
They have worked with DIVERSEcity in several ways, including training sessions for staff, and working with the Surrey Local Immigration Partnership on various projects, including the Surrey First People's Guide for Newcomers.
"Our team understands that meaningful reconciliation first comes from awareness, understanding and education about colonialism in Canada. That's why we support over 200 corporate clients in every sector of Canadian society on their learning journey to reconciliation with First Nations, Métis and Inuit communities through education and training. One thing we can all do [toward reconciliation] is to make a commitment to lifelong learning. Reconciliation is a marathon, not a sprint. Develop a healthy habit of seeking further education opportunities to learn about Indigenous peoples and our shared colonial history in this country," said Ashley Pierre, representing Len Pierre Consulting at the awards.
Community Changemaker Award Sponsored by TD Bank 
Award recipient: Annie Ohana
Annie Ohana teaches social justice, law, social sciences, humanities and French, is an anti-oppression and equity curriculum specialist, based at LA Matheson Secondary School in Surrey, BC. She founded and directs Mustang Justice, an anti-oppression and justice oriented youth service leadership group. She also works with businesses and community groups to produce social justice-based events with her students. Annie has received many awards for her work and community impact, and was recently announced as a finalist for the $1 million Global Teacher Prize from the Varkey Foundation.
"Diversity includes everyone. Diversity is about identity in a positive way. Diversity should allow for safety. If you believe in safety, but not for everybody, then that's not safety. It may make you feel a little bit uncomfortable when someone is different from you, but in no way shape or form are they trying to hurt you by just being themselves. So, I will continue to change things and continue to fight. Activism can be hard. But nothing we're talking about is dangerous. It's different. It transforms. It asks us to be better," said Annie Ohana, upon accepting the award.
Featured photo above (from left): DIVERSEcity CEO Neelam Sahota; TD's Sarb Johal; winner Annie Ohana; DIVERSEcity Board director James Delorme.
Food Justice Advocate Award Sponsored by Nanak Foods 
Award recipient: Ben Liegey
Ben Liegey is a graduate of our self-employment program and is the founder of BetterTable.ca. Since he arrived as an immigrant to Canada in 2018, he was shocked to learn that 58 per cent of food produced is wasted, worth $49 billion. He created BetterTable.ca to help commercial kitchens prevent food waste. He has also been involved in various working groups such as the Vancouver Food Policy Council, the Metro Vancouver Waste Working Group and the National Zero Waste Council. He is also producing a documentary called the Food Synergy Movie, which shares different solutions across the food supply chain.
"Food waste is a big issue and food security as well. Fifty-eight per cent of food produced is wasted in Canada, yet one in seven people are still hungry. With all the food being wasted in Canada, we could actually feed the whole population for five months. So, working on sustainable development goals such as zero hunger is very key," said Ben Liegey at the awards ceremony.
Award recipient: Yousif Shaboo
Yousif Shaboo is an outreach worker with Surrey Schools. He's inspiring youth leader who goes over and above the call of duty to support newcomer youth and students in Surrey schools and as a volunteer in the community. He has a particular focus on supporting the Arabic-speaking population with programs, supports, resources and more, creating a sense of community for youth and their families.
"I came to Canada about 10 years ago from Iraq and Syria and as a youth myself I struggled. So, helping all the youth that we have in our schools, I see myself. So, when I see someone that needs help, I will be there for them … You will never walk alone," said Yousif Shaboo at the awards ceremony.
Award recipient: Atania Kharma
Atania Kharma is a Surrey-based youth outreach worker for Pacific Community Resources Society. She is originally from Syria who has selflessly worked to support Syrian newcomers in her community. Beyond the local impact she has in her job role, Atania has been working to support the victims of the catastrophic earthquake in Syria by creating a grassroots system to connect with the families on the ground and connect them to help from North America.
"Giving back is in my core value and I believe it's my responsibility to make a positive impact in my community and the people around me. Giving back is not just an obligation, but a source of fulfillment and purpose and a way to connect with my community," said Atania Kharma at the awards ceremony.
Strengthening Safety Award Sponsored by Jane Shin, in honour of her mother Michelle Lee.
Award recipient: Ziagul Shahrad
Originally from Afghanistan who came to Canada as a refugee, Ziagul Shahrad is a Stories of Strength client at DIVERSEcity. Back home, she advocated for Afghan women, including by teaching literacy classes, and later joined two Canadian-based NGOs supporting women. Having left an unsafe relationship, she is restarting her life in Canada with her three children, in addition to having an online design business and doing post-secondary studies, inspiring others in the process.
"I'm a recent refugee from Afghanistan. We came to Canada for starting a new life and enjoying freedom as we deserve. In all my life, I advocated for Afghan woman and rights because they have no right to go to school, to go to work or to have custody of their children. I'm happy I have provided a safe opportunity for my children to achieve their aims and goals, but sad for the women and girls in my home country," said Ziagul Shahrad at the awards ceremony.
Award recipient: Grateful Fugar
Grateful Fugar is retired nurse who works with various non-profit organizations to support the needs of seniors, including at the Head Heart Hand Foundation, where she runs a monthly seniors programs.
Award recipient: Prosper Pharmacy
Prosper Pharmacy is a full-service pharmacy in Surrey, BC. Prosper Pharmacy has been an employment partner of DIVERSEcity, giving newcomers and youth their first work experience in Canada. For newcomers facing barriers to employment, this first work experience in Canada is crucial for their career journey.
Featured photo above (from left): DIVERSEcity CEO Neelam Sahota, TD's Sarb Johal, winner Annie Ohana and DIVERSEcity Board director James Delorme.
More photos to come.