Here's what you need to know about becoming a citizen in Canada
It's Citizenship Week, a week set aside each year in May to celebrate the rights and responsibilities of Canadian citizens.
Making the decision to apply for citizenship can be exciting, but also emotional and even overwhelming. The process of applying for citizenship isn't easy either. There are application forms, fees, a test and an interview. Then, only after months of planning, studying and waiting will you be able to take your oath of citizenship.
In the meantime, let's cover some of the basics of becoming a Canadian citizen.
The rights and responsibilities of a Canadian citizen
Permanent residents in Canada enjoy most of the same benefits that Canadian citizens have, such as:
the ability to work and study anywhere in Canada
access to health care coverage
all the freedoms secured by Canada's Charter of Rights and Freedom
However, as a permanent resident, you are not able to vote in elections or run for office, and there may be some employment restrictions for high-security roles. As a citizen, you have no such restrictions and can also get for a Canadian passport.
Who is eligible to apply for Canadian citizenship?
Adult permanent residents can apply for Canadian citizenship if they have been physically in Canada for at least 1,095 (three years) during the five years prior to your application date. The federal government has an online calculator to help you make sure you have spent enough days in Canada before you apply.
You also have to show that you:
have filed your income taxes
have English or French speaking and listening skills at a minimum of CLB Level 4 (for people aged 18–54)
To prove your English language ability, you can take a CELPIP Language Test.
If you're eligible to apply, you can get an application package on the Immigration, Refugees and Citizenship Canada website here. You can also reach out to DIVERSEcity's Newcomer Information and Support Workers who can assist your settlement needs as a permanent resident, including helping you understand how to apply for citizenship. Learn more about DIVERSEcity's Settlement Services here.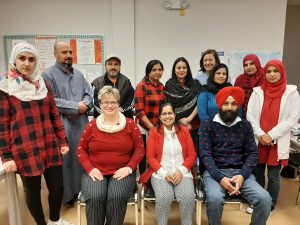 Next comes the citizenship test
If you're between the ages of 18 and 54 on the day you sign your application, you will need to take a citizenship test and then attend an interview with a citizenship official. Permanent residents aged 55 and up, and minors under 18, do not have to take the test, but may have to go to the interview.
The test itself covers questions about: citizens' rights and responsibilities, as well as Canada' history, geography, economy, government, laws and symbols. A study guide called Discover Canada is available online here.
"The test covers a lot of information and can be challenging, so DIVERSEcity created its Canadian Citizenship Preparation and Civic Engagement Course to help permanent residents study and prepare for the test, while also helping them to become active and engaged members of the community," said Rola Nasreddine, past assistant manager, Volunteer & Civic Engagement at DIVERSEcity. "We want to support the newcomers we help at DIVERSEcity to not only become citizens, but to truly find a sense of belonging. This popular course is a big part of that."
In addition to the citizenship preparation course, DIVERSEcity also offers weekly drop-in Conversations for Citizenship to practise speaking and listening skills.
Taking your oath of citizenship
Once your citizenship application has been approved and you've passed the citizenship test, you have one more step: the citizenship ceremony. This is your exciting last step in becoming a Canadian citizen.
While ceremonies and other parts of the process were delayed by COVID-19 restrictions for, things are ramping up again, at least virtually for now.
DIVERSEcity client Emma has passed her citizenship test and is looking forward to taking her oath. "I would like to thank you for providing the resources and the opportunities for me to learn about Canada and its history. I participated in your program and have had conversational practice, which really boosts my confidence in speaking. I also had the chance to learn about Discover Canada thoroughly in class and hear many interesting stories regarding the book, which was very helpful for my citizenship test. Staff from your program were very helpful and supportive in my learning journey. I really appreciate their patience when teaching me and are always available when I needed help."
Derar from Syria, another course participant, shared what all the effort to become a Canadian citizen means to him: "To become a Canadian, it means a lot for me, due to fair enough rights and responsibilities under the fair Canadian law, that I have lost previously, away from my occupied homeland. Canada is my new homeland, too."
Photo above: The current students of DIVERSEcity's Canadian Citizenship Preparation and Civic Engagement Course, via Zoom.