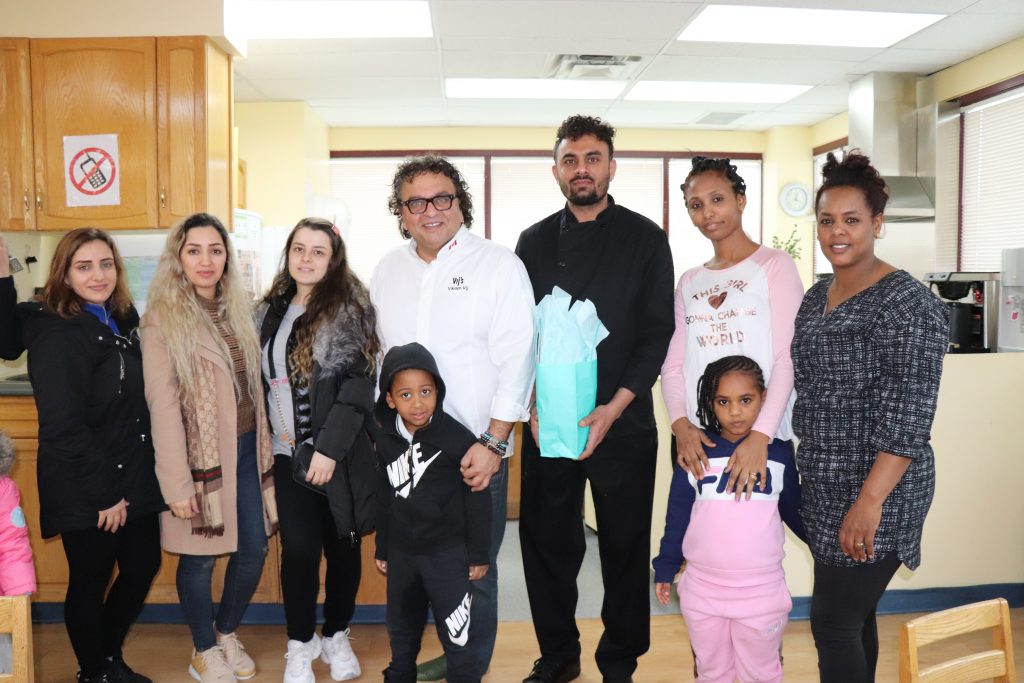 First Steps welcomes restaurateur Vikram Vij for a cooking session
Celebrity chef and restaurateur Vikram Vij is a busy guy. When not running his restaurants like Vij's in Vancouver and My Shanti in South Surrey, he's appearing on TV, travelling and cooking for VIPs around the world, and sharing his love of Indian cuisine with Canadians.
Born in India, his journey to Canada is a story he's quick to share with others, especially recent newcomers. He shared his story and his delicious food yesterday afternoon with a group of refugee women and children at First Steps Early Years Refugee Program in Surrey, BC.
Invited by one of First Steps funders, the City of Surrey, Vikram and one of his chefs from My Shanti, stopped by First Steps to teach the group about Indian spices and cooking, flavours unfamiliar to many of the women and children who largely hail from the Middle East and Africa. Many were also unaware of Vikram's celebrity chef status!
Before the cooking began, Vikram asked questions about the women's immigration stories and opened up about his own journey.
"My name is Vikram Vij," he started. "And I was born in India. "I went to Germany and Austria to study to become a chef. From Austria, I came to Canada in 1990 and worked at the Banff Springs Hotel. This is all I wanted to do, I always wanted to be a chef," he said. "Actually, no," he added with a chuckle, explaining that he first wanted to become a Bollywood actor, but his father forbade it. But being a chef is perhaps close enough. "When you open the doors at 5 pm at the restaurant, you are on stage, you are performing."
Vikram then recalled more about his journey, becoming a bit emotional. "I'm as much of an immigrant as you are — just the timings are a little different. I have utmost respect for you as we've all gone through this stuff," he said to the women. "When I left India, I was homeless and I didn't know where I belonged. In Austria, I was the brown guy; I wasn't allowed to be in the front of the kitchen. So I said if I ever get to a country where I would be allowed to be who I am [like Canada], I promise myself that I will never allow anybody to be discriminated against because of the colour of their skin."
To this, the women and the First Steps program facilitators (who are from DIVERSEcity Community Resources Society, Options Community Services and Umoja Operation Compassion Society) gave a round of applause.
Together, Vikram and the group prepared an Indian vegetarian meal of tomato and cucumber salad, Indian rice, a vegetarian curry, and a spicy cauliflower and carrot dish, topped with Indian yogurt to cool the palette.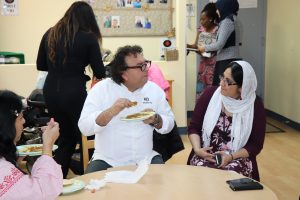 "When you eat and break bread with people from different cultures … we build tolerances toward each other," Vikram said, sitting down at a kid's table to eat along with everyone else. "When you're eating together, it doesn't matter what differences you have."
"It was a privilege to have Vikram with us here at First Steps to teach us about Indian cooking and to share his personal experience and message to stay true to who you are and where you have come from," said Jessica Forster Broomfield manager, Children's Programs, at DIVERSEcity. "It was an amazing experience with great food and excellent company."
The First Steps program offers drop-in play-based early childhood education, parenting workshops, home visits, crisis counselling and cooking sessions. Learn more about First Steps at www.dcrs.ca.