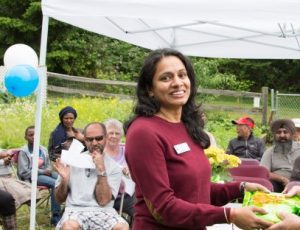 While growing food at home hasn't necessarily been top of mind for most Canadians, the COVID-19 pandemic shows that embracing sustainable living and being self-sufficient is a good thing. With spring upon us, DIVERSEcity's Community Gardens Coordinator Sasikala Sridar is here to provide us with some home gardening tips, whether we have a big backyard or just pots on our patios.
Sprouting seeds at home
Sprouts are inexpensive healthy green super-foods that you can make at home. At this time of food scarcity, making your own healthy salad is a wise decision as you can skip a trip to the grocery store. Sprouts are rich in digestible energy, vitamins, minerals, amino acids, proteins and phytochemicals. You can sprout almost any legume, seed or nut. Everything from chickpeas to alfalfa to kale to onions to clover.
Sprouting for beginners
Materials:
Glass or canning jar
Seeds
Water
Tissue paper or cheesecloth
Step 1: Select your sprouting seeds and fill one-quarter of the jar with the seeds. Wash and drain with cold water two to three times.
Step 2: Soak the seeds with double the amount of water. Cover it will cheesecloth or with tissue paper for 24 hours.
Step 3: Drain off the water and rinse again a couple of times and leave the jar slanting to drain the excess water. Do this every eight to 12 hours.
Step 4. You will start seeing the seeds sprouting in a day or two depending on the type of the seed. Sprouts can be from quarter of an an inch to two inches.
Step 5: Once ready, wash the sprouts thoroughly and store in the refrigerator. Consume it in about three days.
Want to learn more about growing sprouts. Here's a video on how to sprout just about anything: https://www.youtube.com/watch?v=1mbR5xcO8aI