DIVERSEcity's Community Kitchen coordinator Leo Ramirez shares how the program helps newcomers and low-income residents overcome food insecurity and connect to their community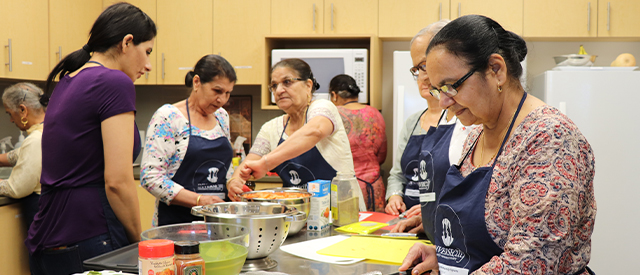 Sony and his mother, Shahnaj, who arrived in Surrey only two months ago from Bangladesh, have consistently attended DIVERSEcity's Community Kitchen on a weekly basis. "I bring my mother here because it is a great place for her to learn healthy Canadian cooking, good for her English and meet lots of different people here," says Sony.
DIVERSEcity's Community Kitchens, held at different locations around Surrey including DIVERSEcity Community Campus in Surrey, BC, are part of the non-profit organization's food security program.
Fiona Stevenson, manager, Volunteer & Community Programs, at DIVERSEcity, oversees the program that includes the community kitchens and community gardens for new immigrants and refugees and low-income Surrey residents. "The cultural, linguistic, systemic, income and resource-related barriers that new immigrant and refugees are confronted with when immigrating to Canada can make them especially vulnerable to food insecurity," says Fiona.
Sony adds that finding ingredients from their homeland can be expensive. "The Community Kitchen helps us find healthy, cheaper food and teaches us how to cook them."
Food security concerns in BC
However, it is not just newcomers who are likely affected by food insecurity. A co-produced report by researchers from the University of Toronto and the BC Centre for Disease Control (BCCDC) found that one out of every 10 households (11.8 per cent), about half a million people, in British Columbia could be considered food insecure.
The BCCDC report, which defines food insecurity as the lack of the financial means to buy healthy, safe, personally acceptable food, also highlights that households with children have higher rates of food insecurity compared to those without. It found that one in six (15.6 per cent) BC children under the age of 18 lived in households experiencing some level of food insecurity.
"When it comes to food insecurity, income is the biggest systemic barrier," explains Fiona.
Leo Ramirez, DIVERSEcity's Community Kitchen coordinator, echoes this statement. "The main issue with people becoming food insecure is income. If you are a family with limited income it is really important to find ways to save money," says Leo.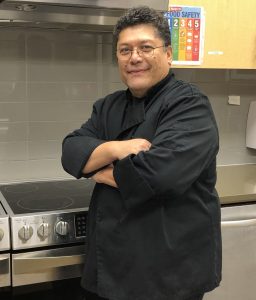 New country, new food
Leo, who himself immigrated to Canada from El-Salvador, knows well the financial and settlement challenges of adapting to a new country, culture, language and way of living.
"I really enjoy working and helping newcomers and people of all backgrounds. It reminds me of myself when I came to Canada 30 years ago and had to learn to adapt to a new country," says Leo.
"Probably the countries where they came from have different food items than what we have here," he adds. "We teach them the Canadian food guidelines. Also, how to read product labels, some tips for when they go to the supermarket, how to follow recipes and how to measure ingredients."
"The kitchen is a very welcoming place," says Peter, a senior from the Chinese community, who has been a participant of DIVERSEcity's Community Kitchen programs for more than four years.  He says he started coming to the kitchen to meet new people and cook different kinds of food.
DIVERSEcity's Community Kitchen program provides a place for refugees, immigrants, seniors, parents of young children and low-income Surrey residents to not only connect to the community, but also to get acquainted with healthy Canadian food and ways of cooking.
This winter, two six-session sets of community kitchens are running on Monday afternoons starting February 10 at Newton Seniors Centre , and on Tuesday afternoons starting February 11 at the Chuck Bailey Recreation Centre in Surrey, BC.  Learn more at dcrs.ca/food.