Happy Canadian Multiculturalism Day!
This day is always very special to celebrate as Canada was the first country in the world to adopt a multiculturalism policy. Since then, Canada's diversity has only become more essential to the foundation of our national identity.
While we celebrate the ideals of diversity in Canada today, we can't overlook the systemic racism and inequities in this country historically and to the present day. As immigrants and settlers from cultures of the world in Canada, we can work together toward a more just society for all.
Check out our infographic series snapshot of Canadian multiculturalism today.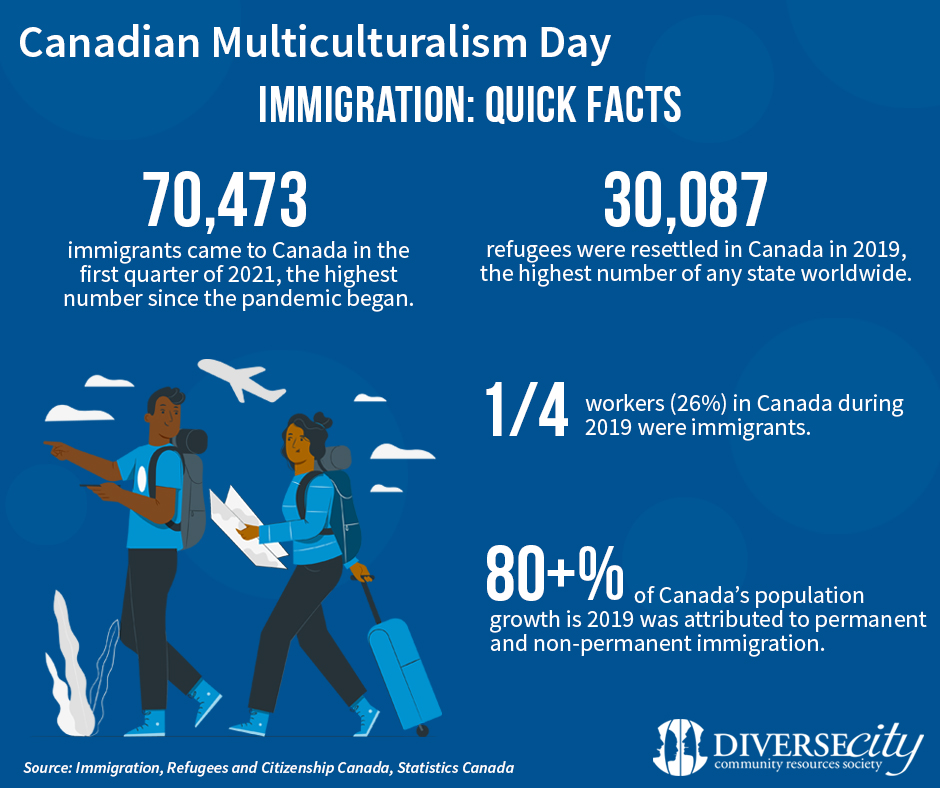 In the past several years, immigration has been on the rise. In 2019, Statistics Canada reported that 30,087 refugees resettled in Canada. This is the highest number of any state around the world. The same year, 26 per cent of workers were reported as immigrants to Canada. In fact, more than 80 per cent of Canada's population growth in 2919 was attributed to permanent and non-permanent immigration. While the pandemic did not help immigration, according to data released by Immigration, Refugees and Citizenship Canada, 70,474 immigrants came to Canada in the first quarter of 2021. This is the highest number of immigrants since the COVID-19 pandemic began.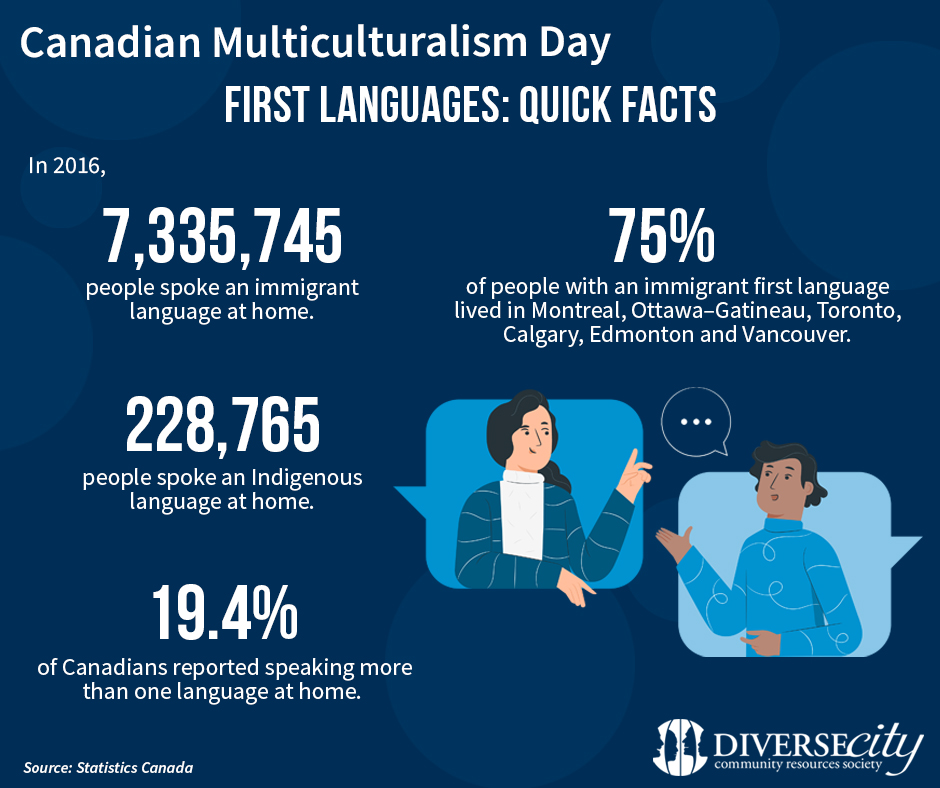 Although English and French are the official languages of Canada, our diverse populations speak a variety of other languages. According to 2016 census reported by Statistics Canada:
7,335,745 people spoke an immigrant language at home
228,765 people spoke an Indigenous language at home
19.4 per cent reported speaking more than one language at home
75 per cent of people with an immigrant first language lived in Montreal, Ottawa-Gatineau, Toronto, Calgary, Edmonton and Vancouver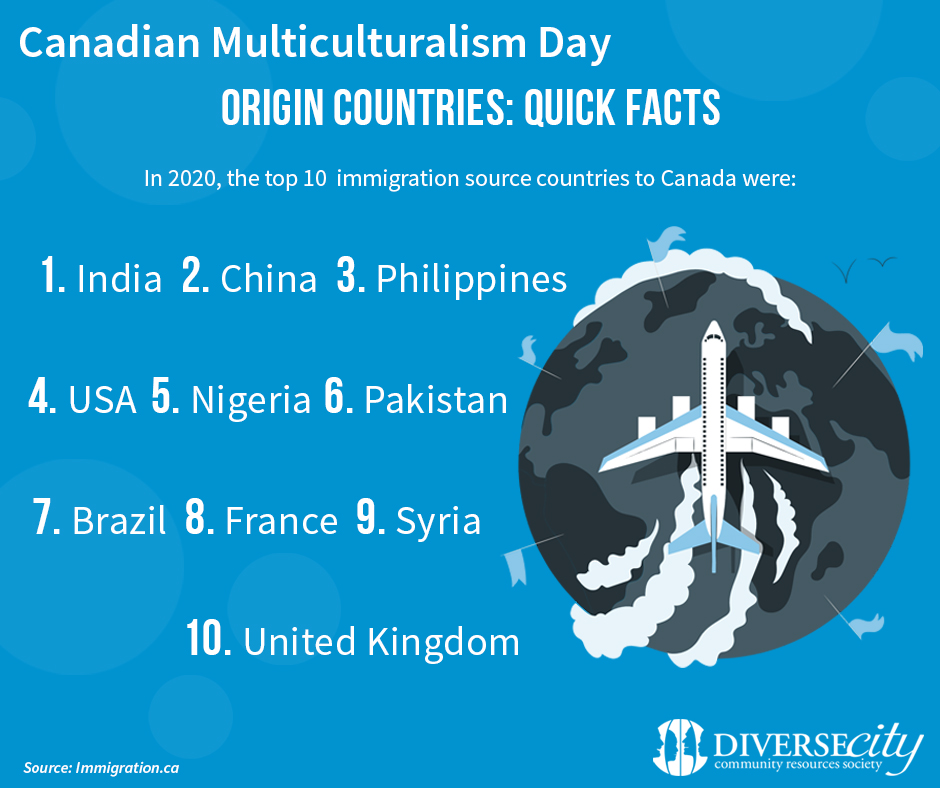 While newcomers come from all over the world to settle in Canada, the top 10 origin countries, as of 2020, are India, China, Philippines, USA, Nigeria, Pakistan, Brazil, France, Syria and the United Kingdom.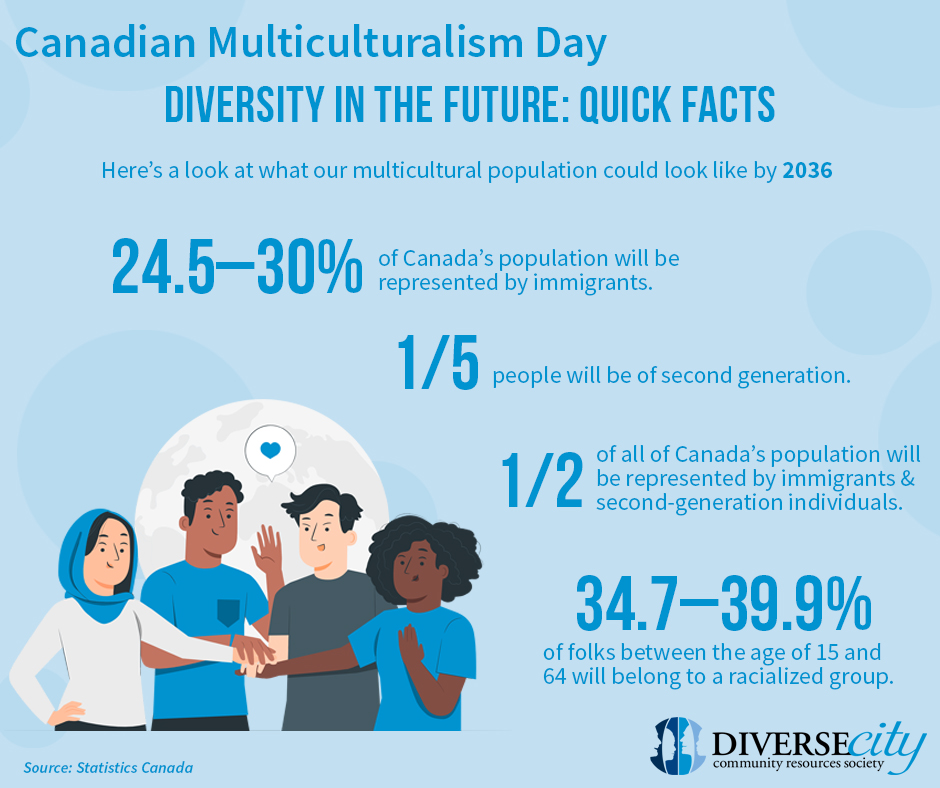 Immigration continues to grow and Canada becomes more and more diversified. Based on projections by Statistics Canada, here's a look at what Canada's multicultural population will look like by 2036. Highlights from their research include:
Immigrants representing between 24.5 and 30 per cent of Canada's population
Nearly one in five people would be of second generation
Together, immigrants and second-generation individuals could represent nearly one person in two
Working folks (15–64) would belong to a racialized group