Fraser Health has expanded the hours and services provided by the Roshni Clinic to better support people in South Asian communities who are struggling with substance use. The first of its kind in the province when it opened in 2017, the clinic, which recently relocated to Surrey Substance Use Services at Quibble Creek, will now have the ability to connect people to first line treatment for opioid use disorder using medications such as Suboxone and methadone.
"I am so proud of the work the Roshni Clinic is doing to provide culturally-safe and language-specific supports for people in South Asian communities who are seeking help for substance use challenges," said Minister of Mental Health and Addictions Judy Darcy. "By doubling its hours of operations, and expanding the services it provides this clinic will help us connect more people to the treatment and recovery supports they need when they need them."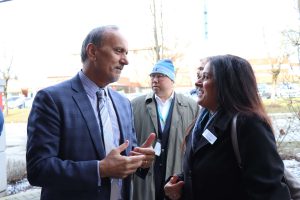 The South Asian communities are one of the largest ethno-cultural groups in Fraser Health, and tend to access mental health and substance use services less often than the general population. The Roshni Clinic is Fraser Health's culturally-tailored, evidence-based response to this need. All services are provided in Punjabi, Hindi, and English.
The clinic recently relocated to Surrey Substance Use Services at Quibble Creek and has expanded its hours of operation to include Mondays to Wednesdays from 4:30 to 8:30 pm and Sundays from 10:30 am to 2:30 pm. With the relocation of the clinic, new staff hires, and expanded hours of operation, the clinic is now able to support an additional 75 to 100 active clients and reduce wait times for new referrals. In total, there are currently more than 350 active clients at the Roshni Clinic.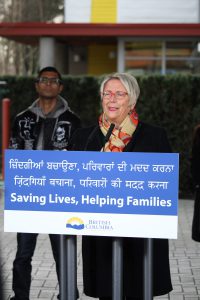 In partnership with DIVERSEcity Community Resources Society, the clinic has also enhanced its ability to provide one-on-one and group counselling, as well as psycho-education services. Additionally, the clinic provides access to safe supplies and Take Home Naloxone to people who need them.
"We know that a one-size-fits-all approach to addressing substance use does not effectively support people, which is why the Roshni Clinic has already seen tremendous uptake in services since it opened in 2017," said Dr. Roy Morton, Fraser Health vice president, medicine. "By moving the clinic and increasing services, we have increased our capacity to provide culturally-tailored care to people in the South Asian community, helping to connect more people to the support and treatment services they need."
The Roshni Clinic is designed to support a person at any point in their recovery journey, and while a person can access services simply by referring themselves, they can also be referred by their family physician, detox/daytox centre, sobering centre, hospital, or other community-based agency. Working together, physicians and staff provide a number of services, including:
Intake and assessment
Medical management of withdrawal symptoms
Connection to opioid agonist treatment
Individual counselling
Group counselling
Provision of harm reduction supplies
Recovery management
Education groups focused on sharing information about substance use
Family education and support
Referrals to other community-based services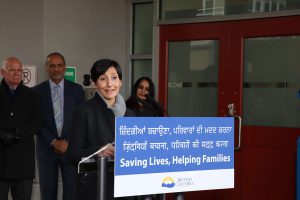 "We know that in the diverse South Asian community, there are several factors that can prevent a person from reaching out for help from mainstream health services, including language differences, gender inequity, stigma, and service inaccessibility. We also know that people within the community are using substances alone, which can have tragic consequences," said Dr. Sharon Vipler, Fraser Health division lead, addiction medicine. "By adding to the options for culturally-tailored services, we can reduce barriers to seeking help and hopefully enhance the family support that is needed for a deeper sense of healing in our community, in addition to offering evidence-based medical care."
The expansion and relocation of the Roshni Clinic is one part of Fraser Health's multi-faceted strategy to address substance use in our region, which includes approaches such as prevention, harm reduction, and treatment. The need for a substance use clinic to support the South Asian population in Fraser Health stemmed from a needs-based planning process that identified specific sub-populations that were underserved in the community.
"Our partnership with Fraser Health and the Ministry of Mental Health and Addictions will enable us to utilize our expertise in working with various immigrant populations, most notably the South Asian population in Surrey in a culturally sensitive lens with first language services provided by registered clinical counsellors. Our extensive experience in working with Fraser Health in various projects over the years in our community lends us to provide these niche services effectively," said Neelam Sahota, chief executive officer for DIVERSEcity Community Resources Society.
For more information about the Roshni Clinic and its expanded hours, visit fraserhealth.ca