Uplifting and connecting women leaders, both emerging and established, was the theme of last week's DIVERSEcity x Minerva Women's Leadership Forum. And it was a hit, according to those who attended the event, a partnership between DIVERSEcity Community Resources Society and Minerva BC, on March 28, 2023, at the Anvil Centre in New Westminster.
From the educational Indigenous presentation by Stacey Ferguson  of Qayqayt First Nation, daughter of Chief Rhonda Larrabee, to the inspiring welcoming remarks by Her Honour, the Honourable Janet Austin, Lieutenant Governor of British Columbia, to the thoughtful DIVERSEtalks panel discussion and group networking activities, the 150+ attendees were enjoying the space to learn and connect.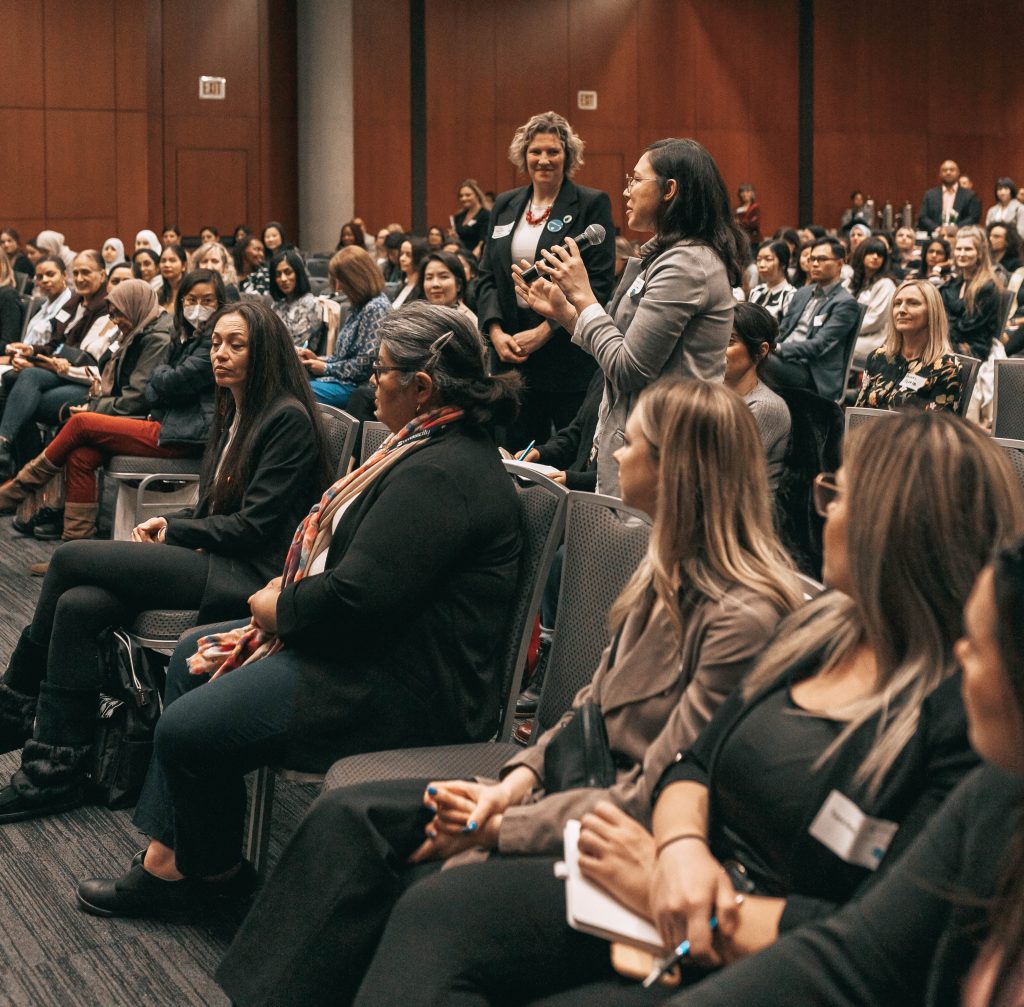 The panel of women leaders represented different sectors and perspectives, and included:
Cyndi McLeod, CEO, Global University Systems Canada; Chair of the Board, University Canada West
Prem Gill, CEO, Creative BC
Shalyma Cambridge, Director, Client Solutions, HRx
Diane Dou, Chief Experience Officer, BlueShore Financial
Efe Fruci, Founder, Coach & Consultant, The Coaching Element & Odihi Foundation
Other highlights included a laughter yoga session by Tarana Kaur of Happyness Yoga, who got everyone out of their seats, stretching and laughing, and a live painting representing the themes being discussed during the panel coming alive as the event progressed. As well, calligrapher Amun Grewall was one of the exhibitors there creating bookmarks for each attendee with words like Uplift, Elevate, Inspire and Lead. Other exhibitors included YWCA, Dress for Success, Big Sisters, as well as local women entrepreneurs exhibiting their businesses.
| | |
| --- | --- |
| Artist Chloe Greenberg captured the themes of the panel discussion. | Amun Grewall (right) sharing her calligraphy talents at the DIVERSEcity x Minerva Women's Leadership Forum. |
Annual International Women's Day donation announcement
The event was capped off by DIVERSEcity's annual International Women's Day donation announcement. Since 2016, DIVERSEcity has been honouring International Women's Day by recognizing women's-focused organizations with a donation to support their work. Past recipients have included Pacific Association of First Nations Women, NISA Helpline, Shakti Society for Women's Empowerment, West Coast LEAF, Jeremy's Memorial Foundation Against Domestic Violence and Surrey Women's Centre.
This year, in the collaborative spirit of the Women's Leadership Forum, DIVERSEcity has chosen to donate a bursary (at a value of $1,500) to Minerva's Emerging Leaders Program to one of the event's attendees. It's a 10-week part-time development program for new managers and early career leaders that improves participants' leadership abilities as well as their confidence to manage people and teams, all while growing their professional networks and power base.
"We're so pleased to sponsor this bursary to an emerging leader who attended today's event," said Neelam Sahota, Chief Executive Officer, DIVERSEcity. "This aligns with our vision to advance gender equality. Equipping women with the education and tools they need to grow into leaders is a meaningful way to embrace equity (this year's International Women's Day theme)."
"The Emerging Leaders program is designed to help new and aspiring mangers make the transition from individual contributor to successful leader," says Tina Strehlke, Chief Executive Officer, Minerva BC. "It addresses a key leadership training gap, and ensures women are ready for those career promotions. Minerva BC is grateful to DIVERSEcity Community Resources Society for sponsoring one of the event attendees to join this impactful program!"
The recipient of the bursary will be announced soon.
Featured photo above (from left to right): Tina Strehlke, Shalyma Cambridge, Prem Gill, Cyndi McLeod, Efe Fruci, Diane Dou and Neelam Sahota. Photo by Kaitlyn Santa Juana.