Self-employment program wins award from the Innovators and Entrepreneurs Foundation
Taiwan-born Florence Kao came to Canada in 2007 with a world of experience as a senior human resources manager, but, like many internationally trained professionals, she found herself starting her career over after immigrating to Metro Vancouver.
Her first job was at the reception desk of a Vancouver-based non-profit immigrant settlement agency, and she was immediately drawn to the passion and good works she discovered in the social services sector. At DIVERSEcity Community Resources Society in Surrey, BC, it would become her new career and true calling.
This year marks Florence's 10th anniversary with DIVERSEcity. She is now the employment specialist in charge of DIVERSEcity's Immigrant Entrepreneur Program, which has just been honoured with the CANIE British Columbia Region Winner for the Enterprise Support Award from the Innovators and Entrepreneurs Foundation.
The award is a tribute to Florence's dedication to the program, funded by TD Bank and supported by BDC, and its clients.
When asked what propels her, she says she never gives up. "I always look for solutions, instead of problems," explains Florence, who helps newcomers explore business ideas, do market research and competitor analysis, write a business plan, register their business, understand financial loan options, learn about marketing, sales and operational plans, and more. "I become their champion and help them as they work toward their self-employment goals."
Championing newcomer entrepreneurs
One of those clients is the pair of entrepreneurial women behind CAE Fashion.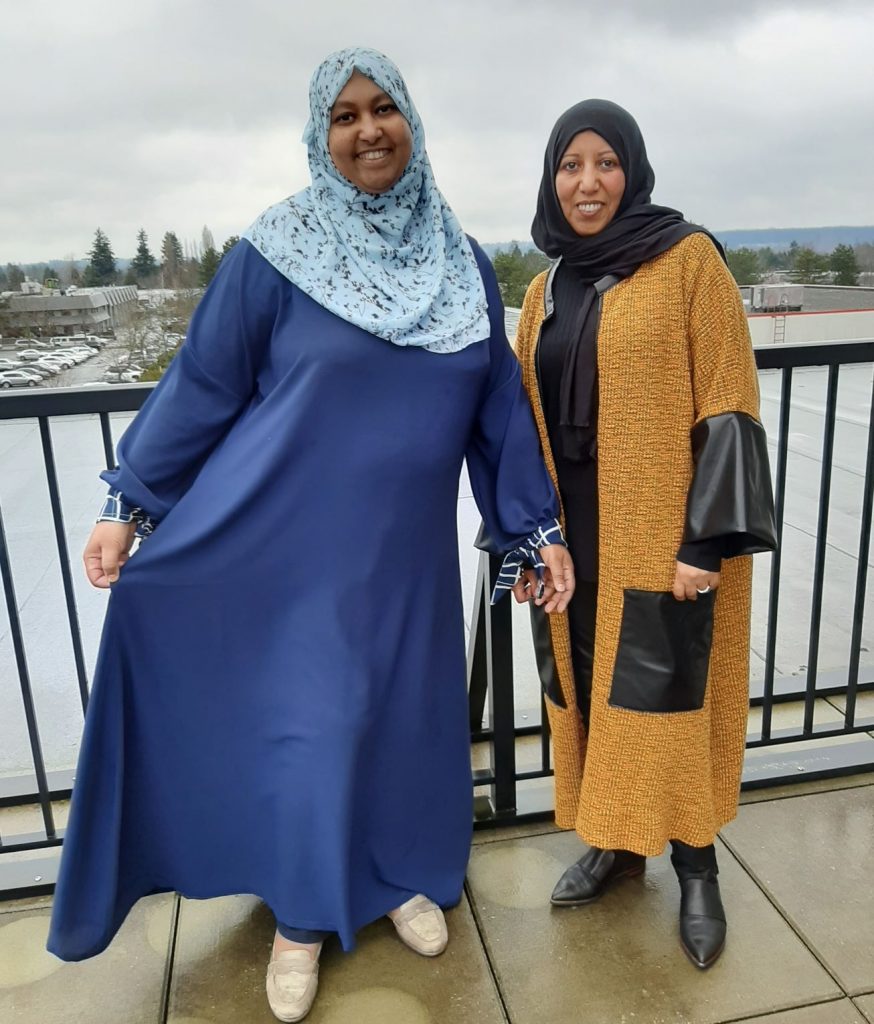 Originally from Eritrea, sisters-in-law Zahraa Alkorde and Bekhita Mohamed both have backgrounds in teaching, but decided to pursue fashion as a small business idea in Canada.
"I wanted to do something with fashion," says Bekhita. "I've always liked dressing up and shopping for clothes."
Zahraa adds: "My mom used to sew my clothes growing up, and sewing became a hobby for me. I also began sewing for my kids and myself."
With their Muslim faith, modesty in fashion has always been important, but often difficult to find. The duo saw a gap in the fashion market — elegant and stylish, but still modest, clothing for women. CAE — which stands for Confident and Elegant Fashion — was born, focusing on custom design fashion for women like themselves.
"Wearing a beautiful dress makes me feel confident," says Bekhita. "But I didn't know how to start the business. With Florence, I learned a lot about business and am gaining more confidence [as an entrepreneur]."
"Now, we want more people to know about us and wear our fashions," says Zahraa.
The business is still in its infancy, and a much-anticipated fashion show scheduled for April was put on hold because of COVID-19.
Florence is now (virtually!) supporting them and all her self-employment clients, during these difficult times, including the Sewmates Craft business collective, which has been busy with its Cloth Facemask Initiative (read more about that here).
"DIVERSEcity's Immigrant Entrepreneur Program has had a substantial impact on the business dreams of so many newcomers, thanks to Florence and our funder TD Bank," says Garrison Duke, director, Employment and Language Programs at DIVERSEcity. "Receiving the CANIE Award is a wonderful testament to the work we do, and the amazing entrepreneurship of our clients."
Photo above: Florence Kao and Garrison Duke at the fourth annual DIVERSEcity Entrepreneur & Small Business Fair, an initiative of the Immigrant Entrepreneur Program.