Looking back at this time last year, Janaka Rathnayaka is proud of what he's achieved since then – thanks, in part, to DIVERSEcity Community Resources Society.  The proud owner and managing director of Surrey-based Clayton Glass Inc., Janaka was one of DIVERSEcity's 2018 Immigrant Entrepreneur Grant recipients at last year's Entrepreneur and Small Business Fair. "DIVERSEcity helped me secure funding that was vital to starting my business," he says. And, after winning the grant, Janaka went from strength to strength, steadily building his business and receiving other accolades from the local business community.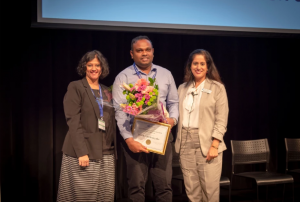 Looking back further now, to late 2017, Janaka had no idea what his future in Canada would hold as a recent immigrant from Sri Lanka.
But he felt positive about his prospects, as he had always been determined and hardworking — he had two MBAs, a bachelor's (hons) in mechatronics engineering and a very successful career in the construction industry back in Sri Lanka.
But Canada presented him with a multitude of obstacles. Simple tasks became a hundred times more difficult due to language and cultural barriers. Fortunately, by July 2018, he had found a full-time job with a company that was willing to take a chance on the young immigrant. Unfortunately, this achievement was shortlived — the company unexpectedly closed a few months later.
Launching Clayton Glass with DIVERSEcity's help
As devastating as this was, it prompted him to take a huge risk and pursue his lifelong dream of running his own business. He spent four months dedicating himself to market research, planning, establishing industry contracts and understanding the BC construction industry before launching Clayton Glass, specializing in glass and aluminum work.
Janaka sought guidance at DIVERSEcity Community Resources Society and its Immigrant Entrepreneur Program, which then led him to applying for – and winning – one of three $1,000 Immigrant Entrepreneur Grants.
At the 2018 DIVERSEcity Entrepreneur & Small Business Fair, he had the opportunity to showcase his business. "For the first time, I had a chance to speak to the public about my business. I was also deeply inspired by the stories of other immigrant entrepreneurs. When I was chosen as one of the grant recipients at the event, it was very unexpected. I always believed in my dream, but the fact that other people believed in me too gave me the final push I needed to fully launch my business."
Since then, Clayton Glass has won the prestigious 2018 Innovation Award by the Surrey Board of Trade and been nominated for a Small Business BC Award. He was also awarded the 2019 Professional Achievement Award from Applied Science Technologists & Technicians of BC (ASTTBC). "And I was just notified that I was selected as a finalist for the 2019 Young Entrepreneur of the Year Award at the Surrey Business Excellence Awards."
Following the success of Clayton Glass, Janaka and his wife recently launched Nine Arch Technologies, a general contracting firm under his wife's leadership.
"Starting my own business in Canada was very challenging, but I learned that if you are willing to put in the hard work and effort, you stay determined and dedicated to your dream, and you make use of the valuable resources and settlement services offered by organizations like DIVERSEcity, there are no limits to your success."
DIVERSEcity is pleased to welcome Janaka back to the 2019 DIVERSEcity Entrepreneur and Small Business Fair, where he will share more of his journey since winning the award last year. Learn more and register for the fair here.