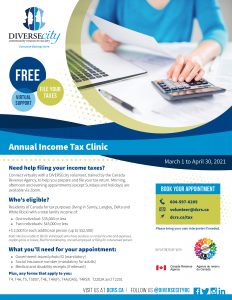 Need help filing your income taxes?
Connect virtually with a DIVERSEcity volunteer, trained by the Canada Revenue Agency, to help you prepare and file your tax return. Morning, afternoon and evening appointments (except Sundays and holidays) are available via Zoom.
Who's eligible?
Residents of Canada for tax purposes (living in Surrey, Langley, Delta and White Rock) with a total family income of:
One individual: $35,000 or less
Two individuals: $45,000 or less
+$ 2,500 for each additional person (up to $52,500)
Note: We are unable to file for individuals who have business or rental income and expenses,
capital gains or losses, filed for bankruptcy, are self-employed or filing for a deceased person.
What you'll need for your appointment:
Government-issued photo ID (mandatory)
Social insurance number (mandatory for adults)
Medical and disability receipts (if relevant)
Plus, any forms that apply to you:
T4, Statement of Remuneration Paid
T4A, Statement of Pension, Retirement, Annuity and other Income
T5, Statement of Investment Income
T5007, Statement of Benefits
T4E, Statement of Employment Insurance
T4A(P), Statement of Canada Pension Plan Benefits
T4A(OAS), Statement of Old Age Security
T4RSP, Statement of RRSP Income
T2202A, Tuition, Education and Textbook Amounts
T2201, Disability Tax Credit Certificate
If you have any other questions about the tax clinics or resources to help you file your taxes,  please email volunteer@dcrs.ca