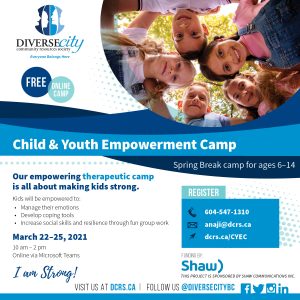 Our free empowering therapeutic camp is all about making kids strong.
Online Spring Break camp for ages 6–14
March 22–25, 2021
Between 10 am – 2 pm (exact timings to be determined)
Online via Microsoft Teams
Kids will be empowered to:
• Manage their emotions
• Develop coping tools
• Increase social skills and resilience through fun group work.
For more information, please call 604-547-1310 or email anaji@dcrs.ca.