In honour of Black History Month, join us for our first DIVERSEtalk.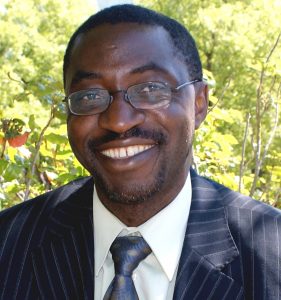 Summary: 
Prejudice and discrimination, whether in their form of racism, ethnocentrism, religious bigotry, gender-based, xenophobic, homophobic, misogynistic, are prevalent in Canadian societies. Many studies have found that racial prejudice and discrimination against Blacks, Asians people, Indigenous people, Jews and other marginalized people, are crude realities in Canadian society and institutions.
Systemic racism does not only kill, but it also hinders BIPOC people's capability to effectively and equitably contribute to a healthy, sustainable and inclusive institutions and society. Therefore, it is not only crucial to engage in courageous conversations that denounce racism but also to go beyond being an ally to becoming a co-conspirator.
More about the Speaker:
Dr. Moussa Magassa, PhD, IDI.QA, is the University of Victoria's Principal Strategist, Community Engagement, JEDI and Anti-racism Education. Dr. Magassa is also an associate faculty in the UVic Social Justice Diploma program and diploma program in intercultural studies and practice. He is also associate faculty in Royal Roads University M.A in Global Leadership program. For the last 17 years, Dr. Magassa has also been teaching at the UBC Centre for Intercultural Communication, where he designed a sought-after course "Organizational Equity and Inclusion: A Strategic Roadmap."
For the last 18 years, Dr. Magassa (as the CEO and sole owner of the well-known consulting company, the Intercultural Capacity Building Inc.) has lead numerous institutions and organizations to develop their EDI and anti-racism strategic plans.
Dr. Magassa holds a PhD in Curriculum and Instruction (UVic) with special focus on critical race theory, anti-racism education, Islamophobia, human rights education, diversity, equity and inclusion, and immigrants and refugees' integration and adaptation in host communities. He also holds an MA in human security & peacebuilding (Royal Roads University, Canada); a BA (Hons) in conflict resolution and peace studies (Kwazulu Natal University, South Africa); a diploma in forced migration and refugee studies; and various advanced certificates in human rights and humanitarian law, conflict mediation, and intercultural communication and development.
Currently, Dr. Magassa is an advisor to various organizations, including BC Ministry of Education Anti-racism curriculum committee; City of Vancouver EDI & Anti-Racism policy development committee; Resilience BC Anti-Racism Network Hub strategic planning advisory committee; among many others.
Dr.  Magassa was born in Senegal and speaks many languages ​​in addition to English and French.