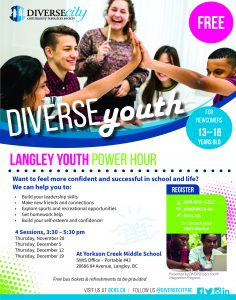 Want to feel more confident and successful in school and life?
Our DIVERSEyouth Sessions can help you to:
• Build your leadership skills
• Make new friends and connections
• Explore sports and recreational opportunities
• Get homework help
• Build your self-esteem and confidence!
4 Sessions, 3:30 – 5:30 pm (Yorkson Creek Middle School, SWIS Office Portable #43)
Thursday, November 28
Thursday, December 5
Thursday, December 12
Thursday, December 19
Free bus tickets & refreshments to be provided.
To register, please call: 604-547-1317, email: yip@dcrs.ca or contact your SWIS Worker.