Learn what Employment Insurance benefits you are eligible for.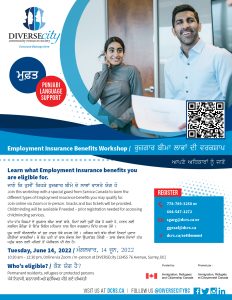 Join this workshop with a special guest from Service Canada to learn the different types of Employment Insurance benefits you may qualify for.
Join online via Zoom or in-person. Snacks and bus tickets will be provided. Childminding will be available if needed – prior registration needed for accessing childminding services.
Tuesday, June 14, 2022
10:30 am – 12:30 pm
Online via Zoom / In–person at DIVERSEcity Surrey Community Campus (13455 76 Avenue, Surrey, BC)
Who's eligible?
Permanent residents, refugees or protected persons
Register today! Please call 778-789-3258 or 604-547-1272, sgarg@dcrs.ca or ggosal@dcrs.ca, or visit dcrs.ca/settlement.