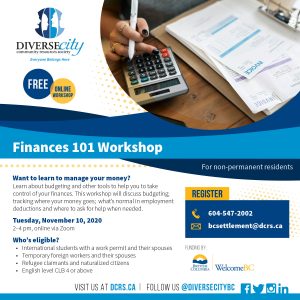 Want to learn about budgeting and managing your money?
Learn about budgeting and other tools to help you to take control of your finances. This workshop will discuss:
• Budgeting
• Tracking where your money goes
• What's normal in employment deductions
• Available support systems
• Where to ask for help when needed
Tuesday, November 10, 2020
2–4 pm, online via Zoom
Link will be provided after registration.
Who's eligible?
• International students with a work permit
• Temporary foreign workers (TFW)
• Refugee claimants
• Naturalized citizens
• Spouses of international students and TFW
• English level CLB 4 or above
For more information or to register, contact bcsettlement@dcrs.ca or call 604-547-2002.