Experiencing loss can be difficult, but you don't have to do it alone.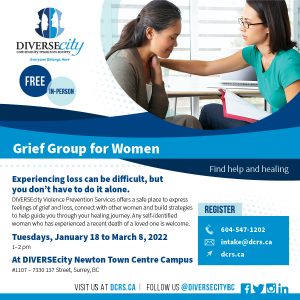 DIVERSEcity Violence Prevention Services offers a safe place to express feelings of grief and loss, connect with other women and build strategies to help guide you through your healing journey. Any self-identified woman who has experienced a recent death of a loved one is welcome.
Tuesdays, January 18 to March 8, 2022
1–2 pm
At DIVERSEcity Newton Town Centre Campus
#1107 – 7330 137 Street, Surrey, BC
To learn more or to register, please call 604-547-1202, email intake@dcrs.ca, or visit dcrs.ca.