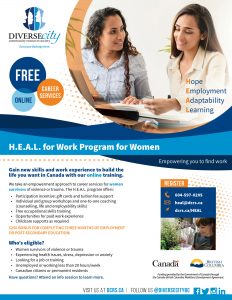 Gain new skills and work experience to build the life you want in Canada with our online training.

We take an empowerment approach to career services for women survivors of violence or trauma. The H.E.A.L. program offers:
Participation incentive: gift cards and tuition fee support
Individual and group workshops and one-to-one coaching (counselling, life and employability skills)
Free occupational skills training
Opportunities for paid work experience
Childcare supports as required
$250 BONUS FOR COMPLETING THREE MONTHS OF EMPLOYMENT OR POST-SECONDARY EDUCATION!
Who's eligible?
Women survivors of violence or trauma
Experiencing health issues, stress, depression or anxiety
Looking for a job or training
Unemployed or working less than 20 hours/week
Canadian citizens or permanent residents

For more information about the program, please email heal@dcrs.ca or visit www.dcrs.ca/heal.