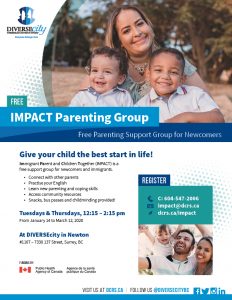 Give your child the best start in life!
Immigrant Parent and Children Together (IMPACT) is a
free support group for newcomers and immigrants.
• Connect with other parents
• Practise your English
• Learn new parenting and coping skills
• Access community resources
• Snacks, bus passes and childminding provided!
Tuesdays & Thursdays, 12:15 – 2:15 pm
From January 14 to March 12, 2020
Register
604-547-2006
 impact@dcrs.ca
dcrs.ca/impact