Learn how government benefits for seniors can help reduce your cost of living.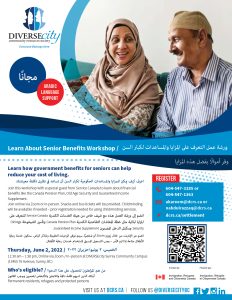 Join this workshop with a special guest from Service Canada to learn about financial benefits like the Canada Pension Plan, Old Age Security and Guaranteed Income Supplement.
Join online via Zoom or in-person. Snacks and bus tickets will be provided. Childminding will be available if needed – prior registration needed for using childminding services.
Thursday, June 2, 2022
11:30 am – 1:30 pm
Online via Zoom or at DIVERSEcity Surrey Community Campus, 13455 76 Avenue, Surrey, BC
Who's eligible?
Permanent residents, refugees and protected persons
Register today! Call 604-547-3258/ 604-547-1363, email akareem@dcrs.ca / nabdulrazzaq@dcrs.ca, or visit dcrs.ca/settlement.