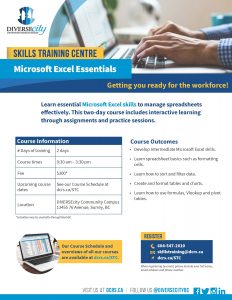 Learn Microsoft Excel essentials with this two-day course, offered by DIVERSEcity's Skills Training Centre.
Course Outcomes
• Develop intermediate Microsoft Excel skills.
• Learn spreadsheet basics such as formatting cells.
• Learn how to sort and filter data.
• Create and format tables and charts.
• Learn how to use formulas, Vlookup and pivot tables.
2-day course fee: $300
For more information, call 604-547-2010 or email: skillstrainingcentre@dcrs.ca.