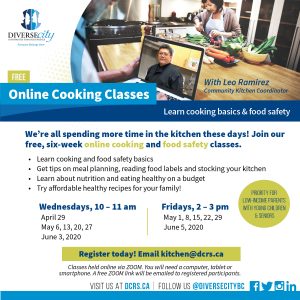 Learn cooking basics and food safety.
We're all spending more time in the kitchen these days! Join our free, six-week online cooking and food safety classes.
• Learn cooking and food safety basics
• Get tips on meal planning, reading food labels and stocking your kitchen
• Learn about nutrition and eating healthy on a budget
• Try affordable healthy recipes for your family!
Fridays, 2 – 3 pm
May 1, 8, 15, 22, 29
June 5, 2020
Classes held online via ZOOM. You will need a computer, tablet or smartphone. A free ZOOM link will be emailed to registered participants.
Priority for low-income parents with young children and seniors.
Register today! Email kitchen@dcrs.ca