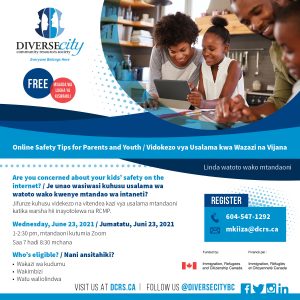 Are you concerned about your kids' safety on the internet? Learn about online safety tips and resources in this workshop presented by the RCMP.
Je unao wasiwasi kuhusu usalama wa watoto wako kwenye mtandao wa intaneti? Jifunze kuhusu videkezo na vitendea kazi vya usalama mtandaoni katika warsha hii inayotolewa na RCMP.
Wednesday, June 23, 2021 / Jumatatu, Juni 23, 2021
1-2:30 pm, mtandaoni kutumia Zoom
Saa 7 hadi 8:30 mchana
Who's eligible? / Nani ansitahiki?
Permanent residents / Wakazi wa kudumu
Refugees / Wakimbizi
Protected persons / Watu waliolindwa