Learn how to talk to your children so they will listen!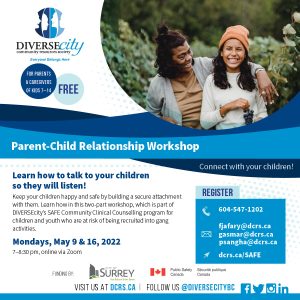 Keep your children happy and safe by building a secure attachment with them. Learn how in this two-part workshop, which is part of DIVERSEcity's SAFE Community Clinical Counselling program for children and youth who are at risk of being recruited into gang activities.
Mondays, May 30 & June 6, 2022
7–8:30 pm, Online via Zoom
To register, please call 604-547-1202, email fjafary@dcrs.ca, gasmar@dcrs.ca, or psangha@dcrs.ca, or visit dcrs.ca/SAFE.