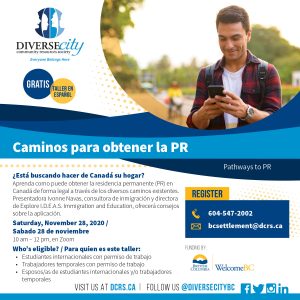 ¿Está buscando hacer de Canadá su hogar? / Looking to make Canada your home?
Aprenda como puede obtener la residencia permanente (PR) en Canadá de forma legal a través de los diversos caminos existentes.
Presentadora Ivonne Navas, consultora de inmigración y directora de Explore I.D.E.A.S. Immigration and Education, ofrecerá consejos sobre la aplicación.
Learn how you can obtain permanent residency (PR) in Canada using one of the many pathways to PR. Guest speaker, Ivonne Navas, immigration consultant and director of Explore I.D.E.A.S. Immigration and Education, will offer tips and advice on applying.
Sabado 28 de noviembre / Saturday, November 28, 2020
10 am – 12 pm, online via Zoom
Link will be provided after registration.
Para quien es este taller / Who's eligible?
• Estudiantes internacionales con permiso de trabajo / International students with a work permit
• Trabajadores temporales con permiso de trabajo / Temporary foreign workers (TFW)
• Esposos/as de estudiantes internacionales y/o trabajadores temporales / Spouses of international students and TFW
• Taller en Español / Workshop conducted in Spanish
For more information or to register, contact bcsettlement@dcrs.ca or call 604-547-2002.