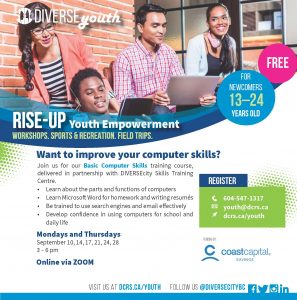 Want to improve your computer skills?
Newcomers 13–24 years old are invited to join our FREE Basic Computer Skills training course, delivered in partnership with DIVERSEcity Skills Training Centre.
• Learn about the parts and functions of computers
• Learn Microsoft Word for homework and writing resumes
•Be trained to use search engines and email effectively
• Develop confidence in using computers for school and daily life
Mondays and Thursdays, 3 – 6 pm
September 10, 14, 17, 21, 24, 28
Online via Zoom
Funded by Coast Capital Savings.
For more information, call 604-547-1317 or email youth@dcrs.ca.