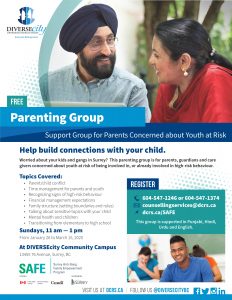 Help build connections with your child. Worried about your kids and gangs in Surrey? This parenting group is for parents, guardians and care givers concerned about youth at risk of being involved in, or already involved in high-risk behaviour.
Topics Covered:
• Parent/child conflict
• Time management for parents and youth
• Recognizing signs of high-risk behaviour
• Financial management expectations
• Family structure (setting boundaries and rules)
• Talking about sensitive topics with your child
• Mental health and children
• Transitioning from elementary to high school
For more information, call 604-547-1246 or 604-547-1374 or email: counsellingservices@dcrs.ca.