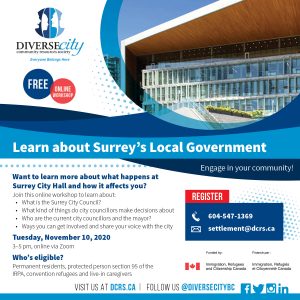 Want to learn more about what happens at Surrey City Hall and how it affects you?
Join this online workshop to learn about:
• What the Surrey City Council is
• What kind decisions city councillors make
• Who the current city councillors and the mayor are
• Ways to get involved and share your voice with the city
Tuesday, November 10, 2020
3–5 pm, online via Zoom
Who's eligible?
• Permanent residents
• Protected person section 95 of the IRPA
• Convention refugees
• Live-in caregivers
For more information or to register, contact settlement@dcrs.ca or call 604-547-1369.