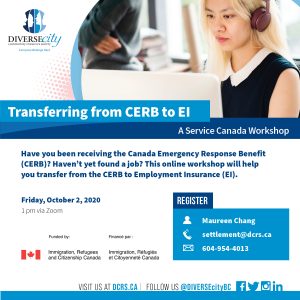 Do you have questions about how to transfer from CERB to EI? This Service Canada workshop may be for you.
If you've been receiving the Canada Emergency Response Benefit (CERB) and have not yet found a job, you may wish to switch over to Employment Insurance (EI).
If this is the case, this online workshop can help with the transfer process as well as answer questions you may about it.
Friday, October 2, 2020
1 pm via Zoom
To register, contact Maureen Chang at 604-954-4013 or by emailing settlement@dcrs.ca.