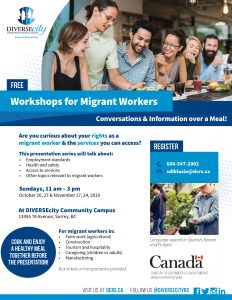 Conversations & Information over a Meal!
Are you curious about your rights as a migrant worker and the services you can access?
Let's cook and enjoy a meal, while talking about:
Awareness of your rights as a migrant worker
Preventing abuse and exploitation as a migrant worker
Other topics relevant to you
With a guest speaker from New Hope Outreach Services that provides services to survivors of human trafficking all across Canada.
Sunday, March 1, 2020
11 am – 2:30 pm
For migrant workers in:
• Farm work (agricultural)
• Construction
• Tourism and hospitality
• Caregiving (children or adults)
• Manufacturing
• Other
Bus tickets or transportation provided.  Language support in Spanish, Korean and Punjabi.
For more information, call 604-547-2002, or email: bcsettlement@dcrs.ca