Are you an immigrant parent trying to navigate your own settlement journey, while also raising kids?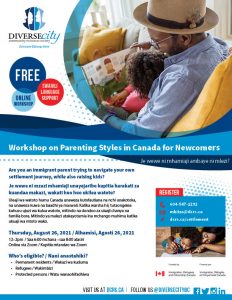 Parenting may be different in Canada than in your country of origin, and you may have some questions. In this workshop, we'll talk about parenting skills, styles and tips for positive parenting and healthy families. The parenting styles you adopt play an important role in your child's overall development.
Thursday, August 26, 2021
12–2 pm
Online via Zoom

Who's eligible?
Permanent residents
Refugees
Protected persons
To register, call 604-547-1292 or email mkiiza@dcrs.ca.