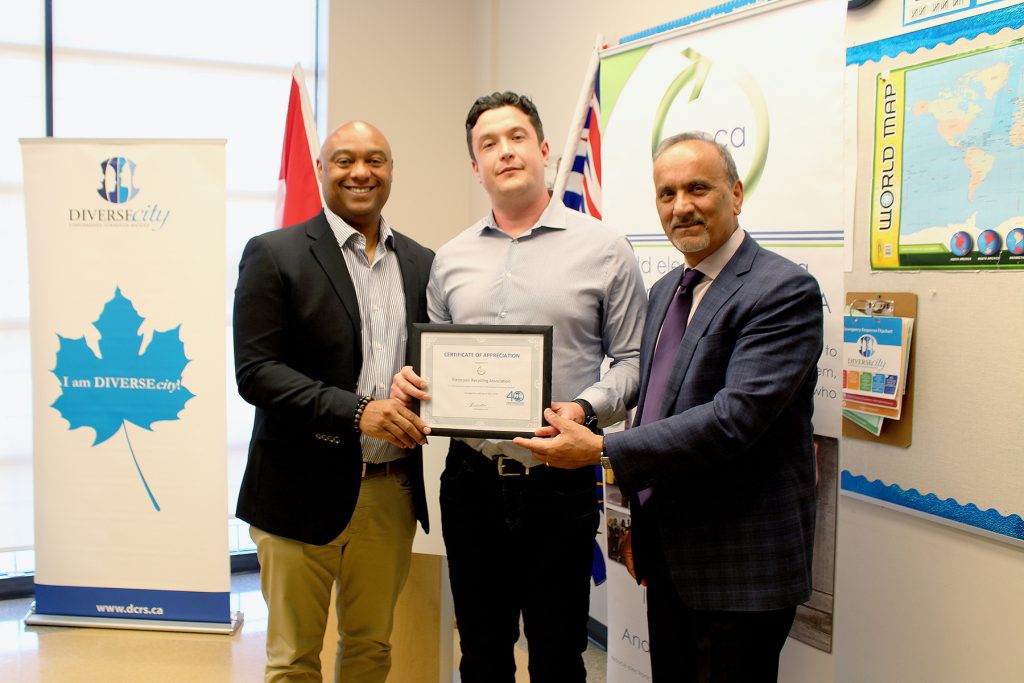 Two BC non-profit organizations have come together to enhance the delivery of services to newcomers with innovative technology, while also doing something good for the environment.
On Friday, May 10, 2019, DIVERSEcity Community Resources Society welcomed a subsidized donation of desktops, laptops, tablets and headsets from the Electronic Recycling Association (ERA) at an announcement event at DIVERSEcity's Community Campus in Surrey.
"DIVERSEcity is grateful for the generous donation of technology assets by the Electronic Recycling Association," said Neelam Sahota, CEO of DIVERSEcity Community Resources Society.
"This donation will support DIVERSEcity's delivery of English language training and settlement programs by ensuring that our classrooms will be outfitted with learning tools such as laptops, desktops and tablets. Our partnership with the Electronic Recycling Association is a prime example of how businesses can support local charities."
Andy Wesolowski, director of operations for ERA's Vancouver facility, delivered the computers to DIVERSEcity today. "It's a great honour to be here presenting this donation," he said. The ERA is a non-profit organization that has been reducing unnecessary electronic waste since 2004.
Garrison Duke, director, employment and language programs, at DIVERSEcity Community Resources Society, welcomed the ERA's donation in one of DIVERSEcity's classrooms, where they will be put to use the most. Some of DIVERSEcity's language students were also present for the donation announcement.
"Technology can expedite the transition period for newcomers, that's why this generous donation from Electronic Recycling Association is important to the clients we serve," said Duke. "Access to computers will empower our clients and increase their digital literacy. Our clients will be able to source valuable information and resources that will extend their learning."
This donation also teaches the importance of recycling, which extends the lifecycle of electronic products and creates less waste. "Recycling is now also a module we have incorporated into our program curriculum," added Duke.
Minister of Labour Harry Bains, the MLA for the Surrey-Newton, was present at the donation event today and remarked on the importance of organizations like the ERA and DIVERSEcity in supporting sustainability through the recycling and reuse of technology.