Local artist Amun Grewall shares her inspirational word art with women from DIVERSEcity's H.E.A.L. for Work program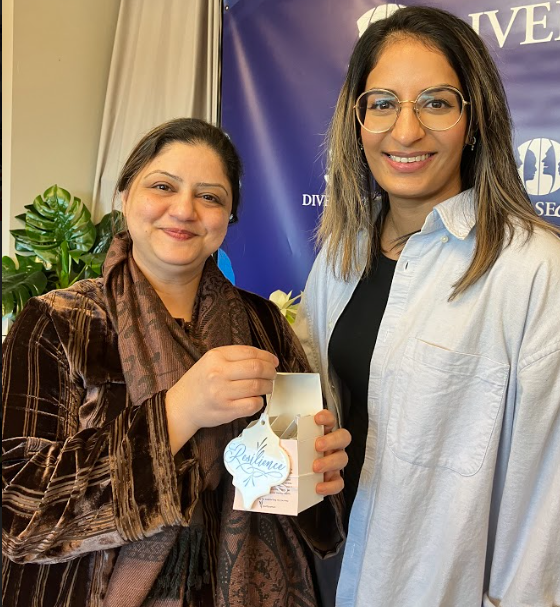 New Westminster-based artist Amun Grewall visited DIVERSEcity this week to spread hope for the holidays with women from our H.E.A.L. for Work Program for women survivors of trauma and violence. She gifted each of the women a Christmas ornament she made with inspirational words and quotations from other women survivors she has met in her own healing journey.
"In my own experiences of physical and emotional abuse, I felt alone and isolated myself," Amun says. "Today, I want to share with other women that we're not alone in this."
A first-generation Canadian of Indian heritage, Amun shared with women of the H.E.A.L. program, her own story of overcoming violence. With such experiences often not discussed openly in the South Asian community, Amun said that she had felt alone and looked for ways to cope with her emotional pain. After years of hiding, isolating herself and numbing her pain, she found healing in calligraphy art.
"I used felts and paper and just started to write down inspirational quotes over and over," she says. "It allowed me to disconnect from what I was going through."
She eventually turned them into a side business of ornaments and personalized gifts. After sharing her art on social media, she connected with other women experiencing similar experiences of gender-based violence. "They gave me more strength to share my story," she says. "I never imagined I would be in a room like this with others sharing so openly."
Golnoosh, a violence prevention counsellor at DIVERSEcity who supports women in the H.E.A.L. program, welcomed everyone to share their thoughts and discuss how art can help in healing.
The women spoke of art as a tool for expressing yourself and your feelings.  One participant said, "If I have a feeling or sadness or joy, art helps express it."
One woman said art helps express "what's in your mind and what you feel."
Another woman said, "art is different for everyone, but it comes from our soul."
After handing out ornaments to the women, Amun said she didn't know spaces of support for women like this existed. Golnoosh explained that DIVERSEcity's programs for women survivors, whether it's H.E.A.L. or Stopping the Violence counselling or the It Happens Here Too… Sexual Assault Response Coordination Program, are about creating a safe space for women to get the support they need.
"Our goal is to learn from you and give you the space to share your strength and resilience," Golnoosh told the women.
Thank you to Amun for your visit and gifts today! Follow her on Instagram at @artbyamun.
Learn more about H.E.A.L. for Work program and our Violence Prevention Services here.