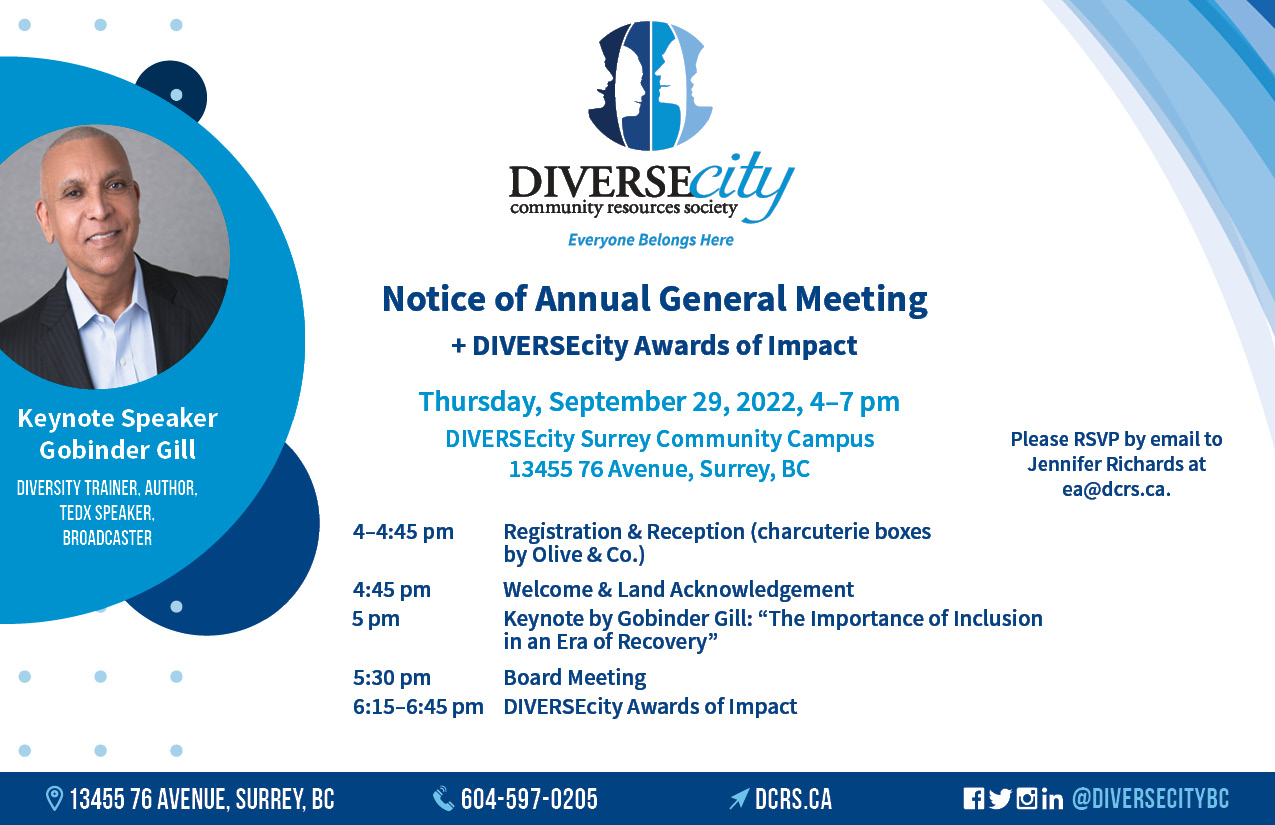 Notice of DIVERSEcity's 44th Annual General Meeting
DIVERSEcity Community Resources Society is pleased to invite our members, community partners, stakeholders, funders and other guests to our 44th Annual General Meeting, on Thursday, September 29, 2022, followed by our annual DIVERSEcity Awards of Impact.
Keynote speaker Gobinder Gill
We are thrilled to welcome Gobinder Gill as the keynote speaker at our 2022 AGM, on the topic of "The Importance of Inclusion in an Era of Recovery."
A #1 best-selling author on Amazon for his book Achieving Prosperity Through Diversity, Gobinder trains organizations in the art of diversity, equity and inclusion to bring greater cultural harmony, productivity and profitability in the workplace. Since the mid 1980s, Gobinder has worked in many facets of the media dealing with cultural diversity issues. His experiences cover all facets of radio, television, film and print.
In 2013, he spoke at the TEDx Stanley Park in Vancouver (now on YouTube) Diversity: Evolution of the Unthinkable. As a program director for TEDx Stanley Park in 2015/16, he assisted in selecting and coaching speakers.
As a journalist he has interviewed high profile personalities such as noble prize winner Mother Teresa. Gobinder has also been featured on the front cover of Canadian Immigrant magazine. In 2016, Gobinder was voted as a "World Class Speaker" at the High Impact Speaking event in Ottawa.
Gobinder's purpose and passion is to motivate and inspire others to embrace our differences and similarities. He teaches his clients to make a shift in their attitudes toward others by approaching them with the recognition that we are all different, gifted and follow different journeys — and that there is much we can learn from each other.
He also urges businesses, CEOs, HR personnel, managers and supervisors to view diversity in the workplace as a business opportunity and not as a hindrance.
DIVERSEcity Awards of Impact
Following the keynote and the business portion of the AGM, we will be presenting our annual DIVERSEcity Awards of Impact. We will present five awards in the following categories: youth leadership, food justice, community champion, strengthening safety and inspiring seniors.
Register today
Email ea@dcrs.ca to learn more about the event or register your attendance.