DIVERSEcity's Community Gardens help immigrants learn gardening skills
When settling into a new country, cooking the food you grew up eating can bring some needed comfort for newcomers, but your favorite vegetables may not be native to the region. The way you buy fruits and vegetables may also be different and more expensive here than back home.
A good solution to get familiar with local produce and save costs on groceries is to start gardening. To encourage newcomers to stay healthy while connecting with their new communities, DIVERSEcity created two community gardens with 100 plots serving about 400 clients in Surrey, BC.
Since the start of spring, DIVERSEcity's Community Gardens coordinator Sasikala Sridar has been busy in the gardens, renewing and registering the plots, and handling seed distribution and manure delivery. "We are excited to get back in the garden with the nicer weather," Sasikala says. "Our gardens follow COVID-19 protocols such as staggered delivery of the manure for this whole month. This way fewer members come on one particular day, and we can all stay safe and socially distanced while enjoying the gardens."
DIVERSEcity's Hazelnut Meadows Community Garden (at 140th Street and 68th Avenue) has 80 plots, a greenhouse and an orchard. The Lionel Courchene Growing Roots Garden (at 9839 155th Street) has 21 plots and a community tool shed.
DIVERSEcity clients using the gardens join for a variety of reasons; primarily to address food security issues and feed their family with healthy vegetables. They also get a sense of community inclusion, social wellness. It promotes a healthy lifestyle and many also like the sense of accomplishment they get from growing their food.
"Our clients feel fortunate in having the space to grow organic food and address their food insecurity," says Sasikala. "They can feed their children healthier choices. If not for the garden, some clients tell us that they would skip buying veggies to cut the cost of groceries."
Not only do the community gardens increase food security, but they also keep everyone connected. Whereas parents want their kids to learn new skills and value outdoor activities, seniors come to the garden to stay active — physically and mentally.
"Many seniors are advised by their doctors to the garden as a part of their physical therapy. Especially during this pandemic, the gardens are a much safer place for them to go because all the seniors center's activities are on hold right now," says Sasikala.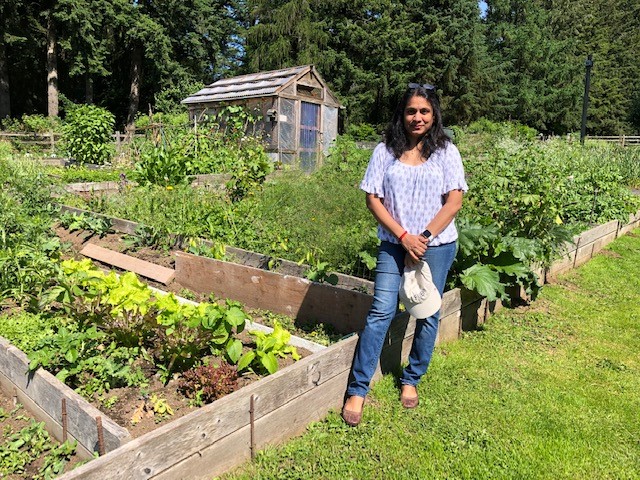 Spring gardening tips for your home
If you enjoy gardening in your spare time, here are some spring gardening tips from Sasikala to take care of your plants, herbs and vegetables.
"For patio gardening, I recommend discarding the old soil from previous years and buy new soil for planting. Nutrients would have been depleted from the old soil and the plants would have been root bound," she says.
To keep your indoor and outdoor plants happy, changing the soil every spring is ideal as the plants go from dormant state during winter to regrowth during spring. For potted plants, make sure to use potting soil instead of garden soil. "Potting soil holds good moisture and has room for roots to develop. Most potting soils have added nutrients for three to six months, so it is the best one for your potted plants. Slow-release organic fertilizer is also ideal for new gardeners, as this does not burn the plants."
Whether at your home or outside in a community garden, gardening is a great way to learn more about and enjoy the beautiful nature in Canada and to appreciate the seeds you planted to settle here.
For more information about our community gardens, check our Food Security Programs page.