First Steps' outreach worker Wasan Abdulrazzaq shares her journey of resilience
June 20 is World Refugee Day, a day to recognize the need to help those experiencing the difficult reality of being a refugee. Taking the time to spread awareness, donating time and resources or volunteering can make a difference in easing another person's journey.
Someone who has walked this path firsthand is Wasan Abdulrazzaq, a refugee from Iraq who now works as a multicultural ECD (early childhood development) outreach worker with DIVERSEcity's First Steps Early Years Refugee program. The road to her newfound career and passion was not easy. In fact, Wasan now looks back in awe at how far she has come.
A tough transition
In 2008, Wasan came to Canada as a single mother with her three children, two boys then aged nine and 11 and a three-year-old daughter, and her elderly mother.
With a bachelor's degree in business and economics and a specialization in accounting, Wasan knows how to work hard. That being said, starting over again in a brand new country brought many obstacles and challenges that no one should have to face on their own.
Completely responsible for her family, Wasan pushed her own trauma and fears aside in order to provide for them. "When I came to Canada, I was just thinking of my kids and worried about everything in my new life," says Wasan.
It was around this time that she discovered First Steps. Managed by DIVERSEcity Community Resources Society, Options Community Services and Umoja Operation Compassion Society, First Steps serves newly arrived refugee families with children up to five years old. The program works to help children as well as their parents. From parenting workshops to drop-in groups to crisis counselling, there are a variety of programs for every step of the way.
After trying it out, Wasan immediately felt a connection. "I saw that they were very welcoming. It is a safe place. I saw many families speaking my language, coming from my situation. I felt very comfortable," Wasan remembers.
From First Steps client to staff
After that, the new chapter of her life began, first as a client of First Steps, and then as a volunteer.
"[First Steps] supported me a lot," Wasan states. "When I met other women and saw their stories, it gave me all the confidence I needed to start my new journey in Canada. I was grateful for the support I received at the First steps program and the great connections I built."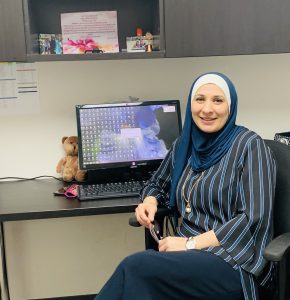 In 2012, a full-time position as an Arabic multicultural ECD outreach worker with First Steps opened up. Wasan, having already earned her Good Beginnings certificate from Kwantlen Polytechnic University, applied for the job and got it.
Years later, with the help of her supportive manager and colleagues, Wasan is just as passionate about her work today. She went on to say, "what is really unique about this job is that I get to meet newcomers who also, like myself, might have encountered disturbing and horrific life events, yet they become resilient and thrive here." Wasan has also attended various workshops and received many certifications to enhance her ability to provide the support that clients need as they begin their new journey in Canada.
"I have had the privilege to work alongside Wasan since 2013," says Jessica Forster Broomfield, manager, Children's Programs. "She brings compassion, honesty, gratitude and dedication to her work and to those around her every day."
It is no surprise that Wasan received both the Heart of DIVERSEcity Award in 2017 and the Shakti Award for Resilience in 2020.
"My story is not unique as many of the families that come to this country also have been through tough journeys," Wasan says. "But what is unique about my story is the support I received through this organization that helped me bloom and thrive. I am hoping that with my current position, I also help women who are also very vulnerable and face endless barriers to stand on their feet, heal and flourish as they settle here."
First Steps is a great resource to connect families to helpful refugee services and programs at DIVERSEcity and beyond, especially with wonderful staff members like Wasan there to help.
Photo: Wasan and the First Steps' team and other DIVERSEcity programs are currently helping clients virtually.