Bringing together diverse entrepreneurs, small business owners and supporters, the seventh annual DIVERSEcity Entrepreneur & Small Business Fair was a celebration of the courage and ambition that comes with starting your own business.
Held October 18, 2023, during Small Business Week, DIVERSEcity Community Resources Society hosted more than 200 people at Surrey City Hall. Emerging, local entrepreneurs showcased their businesses alongside exhibitors who offered information and resources to help small businesses prosper in the local economy.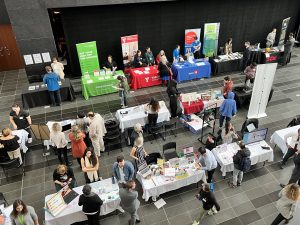 "It's been amazing to see how this event has evolved over the last seven years, while making an impact in the local entrepreneurial community. Small businesses are the backbone of the local economy, and it's important to support and encourage immigrant, BIPOC and women entrepreneurs with the right tools and information to succeed," says Garrison Duke, Chief Operating Officer, DIVERSEcity.
A highlight of the night was the DIVERSEcity Business Pitch Competition, held Dragons' Den style. After receiving 36 submissions, four entrepreneurs were shortlisted and presented their pitches in front of five judges. Check out all 36 submissions in the video below.
The business pitch participants were awarded as follows:
DIVERSEcity Business Pitch Competition Winners
Benjamin Achache of MARPHYL Marine Phytoplankton Company was thrilled to receive the Best Business Idea Award after presenting his pitch to the "Dragons."
"We're a local company from Vancouver Island harvesting phytoplankton and making organic plant food. I love being an entrepreneur because it's a great balance of freedom and craziness. It changes all the time and every day brings something new," said Benjamin.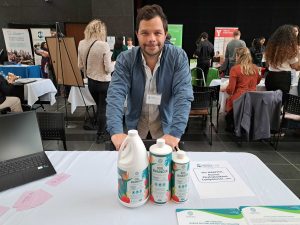 P.O.P. Victoria Snack Mixes, a business collective of women graduates from Camosun College's ProSIT Maker-to-Market program in Victoria, BC, won not only the Best Business Implementation Award but won over the crowd as the Audience Favourite after a live vote.
One of the women of the collective, Wingie Yam, shared the inspiring story of P.O.P., which brought together five women from different parts of the world, building on each of their individual passions and strengths, to create their designer popcorn. "P.O.P. stands for power of passion. This business allows us to follow our dreams," she said.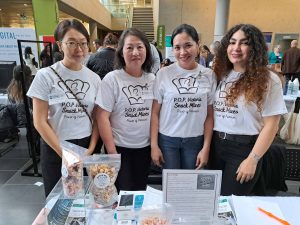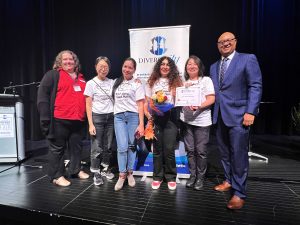 Lucile Denys of Lucile Orthopédagogie won the Best Francophone Business Award, sponsored by Société de développement économique de Colombie-Britannique (SDECB), which supports francophone entrepreneurs in BC.
"I'm a reading and writing specialist in French and help kids who have learning disabilities such as dyslexia," said Lucile. "The biggest lesson I have learned since starting my business a year ago is to take risks. Whatever happens, even if it's a bad thing, we'll always learn from it, so go and see what happens."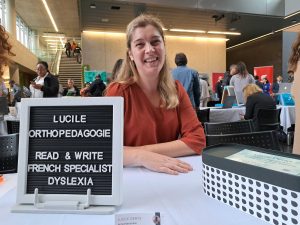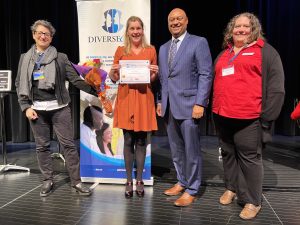 "It was an inspiring evening, and we at DIVERSEcity thank all the sponsors, exhibitors, and business pitch participants, as well as the DIVERSEtalks panellists and moderator Nick Noorani, for coming out to the 2023 DIVERSEcity Entrepreneur & Small Business Fair," says Garrison. "We look forward to continuing to support emerging entrepreneurs in 2024 in Surrey and beyond."
We will share more from the DIVERSEtalks panel discussion, featuring Viridiana Perez, CEO and Co-Founder of NANOSentinel Technologies; Shobna Kannusamy, Founder and Principal Coach at Soirette Coaching & Consulting and VJ Terzic, Founder of MOST Connected, a boutique consultancy firm, soon! Meanwhile, check out our event recap below.