It's National Volunteer Week 2020! Here's a volunteering success story and tips on volunteering
It was 2008 when Maureen Chang first arrived in Canada from Taiwan with her young family. Like many newcomers, life in Canada was an adjustment. While her husband found work, she decided to stay at home with their two girls.
"I realized that the school day here is very short so I couldn't really work at first," says Maureen, who worked in marketing for a pharmaceutical company in Taiwan.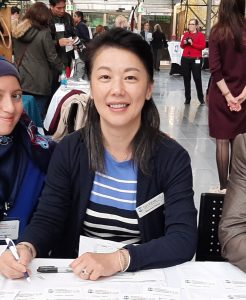 But while her kids were at school, she started to volunteer.  "I want to learn about Canadian culture through interacting with other people here in my neighbourhood. So I started volunteering with a local neighbourhood house as well as with DIVERSEcity, which I noticed was very friendly to newcomers."
She was trained to be a volunteer coordinator for DIVERSEcity's then Host Program, which matched newcomers with Canadians.
"Before, I was sitting at home and not doing anything. Volunteering helped me get out beyond my household; I only knew my husband and two kids!" says Maureen. "Volunteering helped me connect with my community where I lived."
Although it wasn't her intention, volunteering also led to her first job in Canada, less than two years after landing. When a part-time job opened up at DIVERSEcity on its settlement team, Maureen was ready to re-enter the workforce. "The manager and staff sort of knew me already, so they encouraged me to apply," she says. Maureen was offered the job, and, with her kids now older and settled in at school, she readily accepted.
Maureen is today a newcomer settlement and support worker with DIVERSEcity, helping new immigrants find their footing in Surrey, BC, helping them in both English and Chinese.
What does Maureen's experience tell us about volunteering? It can lead to many positive things — community, connection and opportunity.
Want to volunteer? Here are some things to consider
Where to look for volunteer opportunities
Non-profit organizations
Professional associations and councils
Educational, governmental, religious or community agencies
Professional, educational or community boards
Events, fairs and conferences
What you should look for in a volunteer opportunity
Clear job description of what you'll be doing and other expectations
Understanding of how many hours you will be committing
Proper orientation and training
Tasks that allow you to practise your skillset in the Canadian context or learn new skills
Benefits such as a reference letter, training and certificates
Tips to make the most of the volunteering opportunity
Be punctual, accountable and committed
Be professional: dress and behave appropriately
Show your skills but be open to listening and learning
Treat it like a job: don't miss a shift without informing your supervisor and give them notice if you have to quit
Use the opportunity to network and make new professional connections
Be open about your employment goals — maybe volunteering will lead to a job with the organization
Have fun and make friends!