DIVERSEcity's Immigrant Entrepreneur Program is helping Philippines-born Rhona Doria bring textiles by women artisans in her homeland to Canada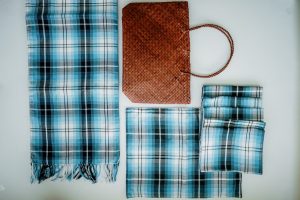 In the Philippines, there is a centuries-old Indigenous style of weaving called hablon.
Coming from the Hiligaynon word "habol," which means "to weave," these intricate, colourful textiles are popular in the Philippines and help support women weavers and artisans, especially now during the pandemic. They turn these cotton and rayon fabrics into home linens and décor, face masks, fashion accessories and apparel.
Philippines-born Rhona Doria, a participant in DIVERSEcity's free Immigrant Entrepreneur Program in Surrey, BC, wants to help her countrywomen by sharing their cultural products in her adopted country of Canada.
"After the pandemic hit, my old roommates from college called me up and invited me to be part of this business in the Philippines," says Rhona, who had 20+ years of business and operations experience before immigrating to Canada five years ago. "The idea of the business is to bring Filipino products here, handwoven by artisans and weavers. I found the business idea interesting because it's going to help those women and their husbands who lost their jobs during the pandemic."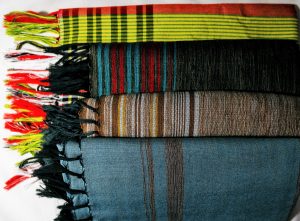 While her associates in the Philippines coordinated with the co-operative of weavers, Rhona, quarantining in Canada, started thinking of ideas for distribution in Canada and beyond. But life during a pandemic isn't easy, and Rhona juggled her full-time job — she's the events and sponsorship coordinator at the Surrey Board of Trade — and a busy family, along with trying to launch this business idea.
"I showed some samples to a few friends, but I didn't know how to start a business here in Canada. My network is not that wide," she explains.
When she heard about DIVERSEcity's Immigrant Entrepreneur Program, sponsored by TD, this past November, she immediately applied. "Luckily, I got accepted and started the program on December 5," says Rhona.
The program, which offers guidance on business planning, operations, marketing and more, runs for 18 weeks, and Rhona's cohort is coming up to graduation this month.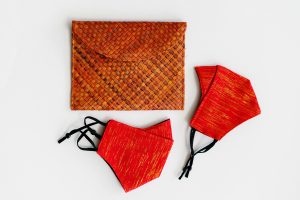 "The program is a self-employment training program, networking and support system, and business incubation platform rolled into one. Participants take part in a business plan writing circle and business startup bootcamp," says Florence Kao, the Immigrant Entrepreneur Program coordinator. "Rhona's cohort will graduate on April 17, where all the participants will showcase their business ideas with formal business presentations."
"This program has helped me a lot because of the many resources, help and support I received," says Rhona. "At first, I was running around with ideas in my mind, but I didn't know how to put them into a clearer picture. This program walks you through from business idea to launching of the product."
She adds that Florence guided and mentored them the whole way. "From how to present an elevator pitch to how to identify your target market. She even helped me create my survey, which helped a lot in finding out what kind of products would be of interest to potential customers."
Rhona was able to prepare a solid business plan and develop plans for marketing, including setting up an e-commerce website and social media pages under the brand Hablon Styles and Hues, all of which she plans to launch in a few weeks.
"There are just so many things that Florence taught us. She's like a cheerleader!" says Rhona. "I've also expanded my networks and bonded with my cohort. After April, I thought that the program is complete, but Florence has promised to keep us together to share ideas and keep supporting us. If I didn't sign up for this program, the idea would still be an idea. Now I'm happy that I'm already about 75 percent ready to launch."  (We'll share her website here when she does!)
Want to take part in DIVERSEcity's Immigrant Entrepreneur Program and get support with your business idea? The next session starts May 1, 2021. Learn more and register by calling 604-547-1662 or email selfemployment@dcrs.ca.