Announcing inspiring winners in five categories
DIVERSEcity Community Resources Society is pleased to announce the recipients of our 2022 DIVERSEcity Awards of Impact, honoured at our 44th Annual General Meeting on September 29, 2022.
"The DIVERSEcity Awards of Impact recognize and celebrate inspiring clients, volunteers or community partners, who are making an impact through leadership, community building, innovation or inspiration, in areas or fields that relate to DIVERSEcity's charitable work," said Garrison Duke, Chief Operating Officer, DIVERSEcity.
DIVERSEcity offers five annual awards in the areas of food justice, youth leadership, seniors, violence prevention and community engagement, which each include a financial award of $500.
Food Justice Advocate Award
The Food Justice Advocate Award is awarded to an individual who has worked in supporting poverty alleviation or food security issues in the community as a volunteer, student or professional, in connection with DIVERSEcity. This award is presented in connection with our Food Security programs.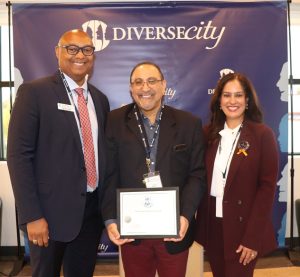 The winner is Mainu Ahmed. Mainu is a cofounder and volunteer director at Muslim Food Bank and Community Services in Surrey, BC, which offers food bank programs that serve clients with special dietary needs, along with other social services. His advocacy around culturally appropriate food security is inspiring and impactful, and he has been a longstanding community partner of DIVERSEcity's Food Security programs. Unsurprisingly, Mainu has donated the $500 financial portion of the award to Muslim Food Bank.
"I'm a volunteer director at the Muslim Food Bank and we're very passionate about food and food injustice and making sure that the people around us have access to the right food. We make sure that newcomers, refugees or others have religiously and culturally appropriate food, be it kosher, halal or vegan. We provide welcome food boxes for all refugees coming into the city [of Surrey], as well as emergency food boxes. We are also now doing prepared meals, which isn't something that food banks generally get into, but we're handing out meals on the Downtown Eastside on a daily basis," said Mainu.
"I'm proud to be a partner of DIVERSEcity, and thank for the support you've given us, and for giving us the opportunity to refer our clients to your programs."
Youth Leadership Award
The Youth Leadership Award is awarded to a rising star (19–30) who has taken their experience with DIVERSEcity to transition successfully into a career, showcasing leadership and courage in their journey, while inspiring others. This award is presented in connection with our Youth Employment programs.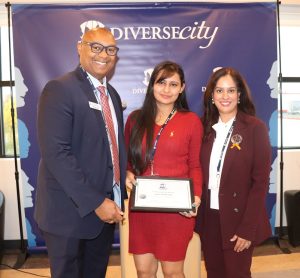 The winner is Jyoti Sheokand. Jyoti is a past client of DIVERSEcity's Future Troopers Youth Employment Program. A trained physiotherapist, she came to Canada as a permanent resident in 2022, alone and seeking a better life and a career. With the help of DIVERSEcity, she found a job at UBC, is leading by example and is now preparing to challenge the physiotherapy competency exam in BC so she can return to her profession. Her determination to not give up on her original profession, despite the barriers of the foreign credential recognition process, serves as an inspiration to any newcomer who is daunted by the challenges of resuming their career in Canada.
"I came to Canada just four months back and didn't know a single person. I was excited that I would fulfill my dream, but I was anxious that I don't know anyone if I would need something, adapting here, finding a job and other stuff. But when I met DIVERSEcity team, I felt like God has sent a genie to help. I am really thankful; thank you for making me feel like home," said Jyoti upon receiving the award.
"DIVERSEcity proved to be a blessing for me as I received help like employment coaching and counselling, Canadian workplace culture awareness, interview preparation and tips, job search tips, financial support, transportation support and laptop support."
Strengthening Safety Award
The Strengthening Safety Award is awarded to an individual who has overcome multiple barriers, violence or trauma, and inspired others through their journey or contributions to creating safe spaces for others. This award is presented in connection with our Violence Prevention Services, and Refugee and LGBTQ+ newcomer programs.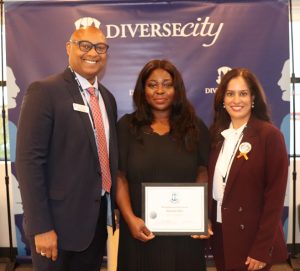 The winner is Mojisola Allen. Originally from Nigeria, Moji fled to Canada with her two children, one boy and one girl, escaping domestic violence. Her journey with DIVERSEcity started by accessing counselling services and through healing later became a member of the Survivor Advisory Panel for DIVERSEcity's Roots of Safety Program, which is guiding the creation of a culturally appropriate framework for violence prevention services.
"This is huge to me and especially my kids seeing this [award] happen. It's such an honour to give back to my community and give back to DIVERSEcity in the little way that I can because they've been tremendously helpful. I came to Canada in 2018, but coming here I have faced a lot of stuff like violence. I was in place that I can't even begin to describe; no one can know unless they've been there. I was at a point of losing it. I didn't know who to turn to for help. DIVERSEcity came to my rescue. Thankfully I was able to have a wonderful counsellor, Golnoosh. She was everything to me," said Moji.
"It's been a long journey, but I'm better now. Thank you to DIVERSEcity for giving me a safe space to grieve and heal and to give back to the community, giving them advice from my experience, where I'm coming from on how to support women like me."
Inspiring Seniors Award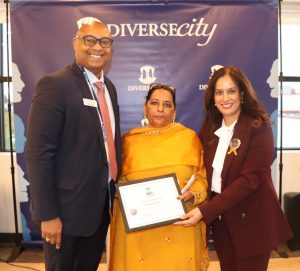 The Inspiring Seniors Award is awarded to an inspiring older adult (55+) who is empowering other seniors to live happier, healthier and more independent lives, either through volunteering, community building, working, sharing their culture or talent, or caregiving. This award is presented in connection with our Seniors Services.
The winner is Jaswant Lohat. At 77 years young, Jaswant came to Canada in 2009 and is a caregiver for her husband, a stroke survivor. Other than the emotional and informational support she receives from DIVERSEcity's Newcomer Family & Friends Caregiver Support Program, she has little other support. Despite this, she dedicates time and energy to actively participate in the community, is always ready to volunteer and supports other seniors in need.
"This award is very important to me. Thank you for appreciating for my work as a community supporter and being a caregiver for my husband, who had a stroke the last seven years. Being a caregiver, I have a very busy life, making sure my husband has healthy meals, medicine on time and taking him to the doctor's. Although I'm very busy, I make sure I volunteer for the community. I love to participate in different community events and helping seniors whenever they need. It just makes me feel good and brings fulfillment to my life," said Jaswant.
Community Champion Award
The Community Champion Award is awarded to an individual who has positively impacted newcomers in their community through their work or volunteering.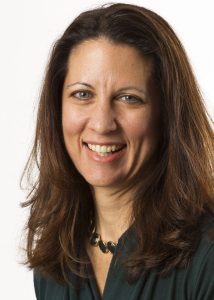 The winner is Tammy Huston. Tammy has been volunteering with DIVERSEcity since the start of the pandemic started. She has spent countless hours grocery shopping and delivering food for our diverse clients. DIVERSEcity is truly grateful for her selfless time and care. Her commitment and dedication continued through her organization's generosity by giving an annual donation to our seniors' program, which has helped many low-income clients with food hampers.
"I have been volunteering with DIVERSEcity for two-and-a-half years and am in awe of the amazing work the organization does. I am delighted to support the seniors program in making our community a more liveable one," said Tammy.
Learn more about the awards here.
Photo above: Group photo of the winners, along with DIVERSEcity's CEO Neelam Sahota, COO Garrison Duke, CFO Gavrielle Tran, Board of Directors and Minister Bruce Ralston. Photo by Mohan Bachra.