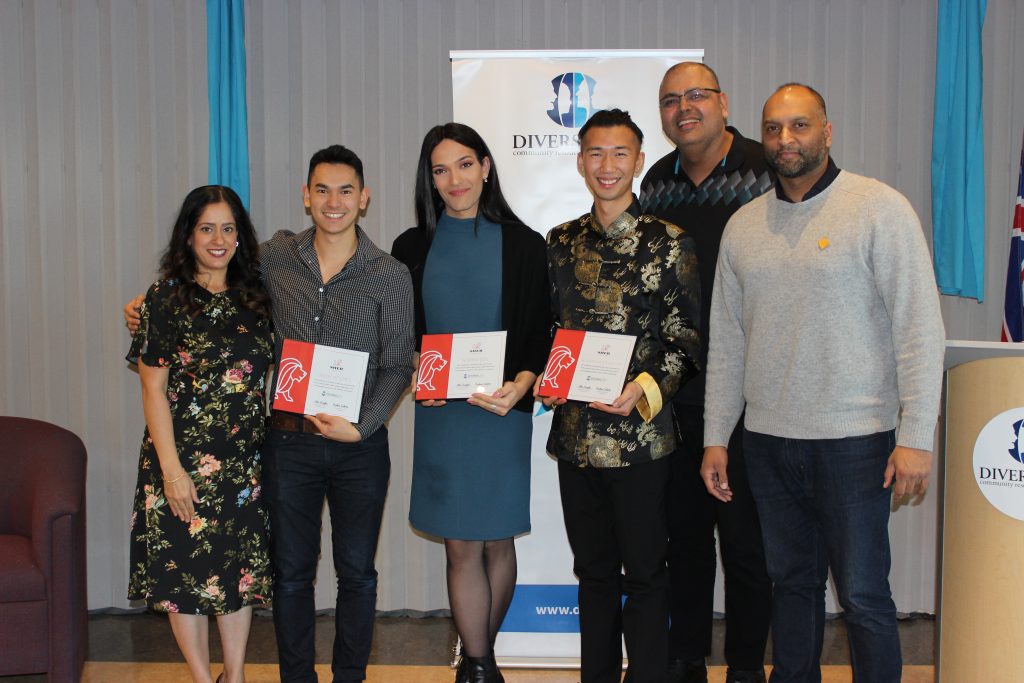 Lebanese journalist and activist Norma Lize of Vancouver has won the January Marie Lapuz Youth Leadership Award top prize for 2019.
For these fifth annual awards, there were applicants from Metro Vancouver, Ontario, Newfoundland and even as far as India. Twenty-seven-year-old Norma Lize was selected as the top prize winner ($1,000 award) by a diverse eight-member jury.
The January Marie Lapuz Youth Leadership Award was created by Sher Vancouver in 2015 to recognize young leaders who are advocates for the LGBTQ+ community. It is named after Sher Vancouver's late social coordinator, January Marie Lapuz, a transgender Filipina woman who was tragically murdered in New Westminster, BC, in September 2012.
"January would be so proud that Norma, who also identifies as transgender, is this year's winner! This is not surprising as Norma was also recognized at the prestigious Paris Prize for LGBTQ+ rights in 2018. We are fortunate to have Norma living in Vancouver now, and continuing her advocacy to benefit the people of Metro Vancouver and British Columbia," says Alex Sangha, Sher Vancouver Founder and Award Coordinator.
In addition to the top prize, several other nominees were recognized at a ceremony today held at Surrey-based DIVERSEcity Community Resources Society, a non-profit organization that came on board as the exclusive sponsor of the award this year.
"We are proud to provide support to Sher Vancouver and its January Marie Lapuz Youth Leadership Award," says Neelam Sahota, Chief Executive Officer, DIVERSEcity. "As a champion of diversity and inclusion, we at DIVERSEcity work to empower newcomers and other diverse or vulnerable communities, including LGBTQ+ members. We have a program called Together Now, a free peer support group for LGBTQ+ newcomers who face many challenges and cultural stigma. Our hope is to encourage acceptance and belonging for all, regardless of their race, religion, gender or sexual orientation."
The full list of winners is as follows:
Norma Lize, Winner ($1,000 prize)
27 years old | Vancouver, BC
Andy Holmes, First Runner Up ($600 prize)
23 years old | Vancouver, BC
Jackson Wai Chung Tse, Second Runner Up ($400 prize)
29 years old | Vancouver, BC
Sonali Patel, Honourable Mention ($200 prize)
23 years old | Oakville, Ontario
Emerging Youth Advocates Prizes
In addition to the top four winners above, this year Sher Vancouver decided to award seven Emerging Youth Advocates $100 prizes to encourage youth who are starting to do great work with their advocacy and contributions to the LGBTQ+ community. The winners are:
Aidan Andrew Pau of Delta, 17
Candy of New Westminster, 23
Gracie Reid of Trinity Bay, Newfoundland, 17
Guildford Park Gender and Sexuality Alliance of Surrey, under 18 years old
Moe Yang of Richmond, 19
Nel Jayson Cruz Santos of Vancouver, 21
Nyx MacKinnon of Surrey, 16
---
BACKGROUNDER
Winners' Biographies
NORMA LIZE, WINNER
Norma Lize is a Lebanese-born journalist and activist living in Vancouver. Before coming to Canada, Norma used radio and TV platforms to raise awareness on LGBTQ+ topics in Lebanon and the Middle East, and worked at the Arab Foundation for Freedoms and Equality, where Norma focused on the trans community. "I don't see my involvement with my community as work that I do every day, as much as I see it a necessity for me to be alive, survive and give a chance to someone around me to feel safe, respected and included.  I moved to Vancouver a year ago and I have been involved with organizations working with refugees and with the LGBTQ+ community, with a focus more on trans newcomers."
ANDY HOLMES, FIRST RUNNER UP
Andy Holmes is queer biracial Canadian with both Chinese and British/Scottish heritage. Currently a master's student at the University of Toronto, researching LGBTQ+ issues, Andy intends on starting a PhD next year with the goal of eventually becoming a professor. "Knowing that January Marie Lapuz was not only a transgender woman living in poverty, but also an immigrant of colour, matters in understanding patterned forms of violence, and in turn, her irreplaceable memory. In my research, I study ways to ensure that our world becomes a safer place for those who are most marginalized." Andy was the youngest person appointed to the City of Vancouver's LGBTQ2+ Advisory Committee between 2017–2018.
JACKSON WAI CHUNG TSE, SECOND RUNNER UP
Jackson Wai Chung Tse (he/she/they) is a media artist and creative facilitator originally from Hong Kong. He facilitates workshops at institutions across the globe, and, in 2018, Jackson created the award-winning mini-documentary, Paul Wong: Breaking the Silence, to highlight the discrimination felt by generations of queer Chinese migrants in Canada. The same year, Jackson was selected as Western Canada's MEC Outdoor Nation Ambassador, taking over the co-operative's social media. He says he "dedicates his life to building relationships, giving voice to the silenced, and reclaiming joy, magic and self-worth back from colonized ideas."
SONALI PATEL, HONOURABLE MENTION
Sonali (Alyy) Patel is a graduate student in Ontario, LGBTQ+ rights activist and co-founder of a national non-profit organization, the Queer South Asian Women's Network. Sonali states she strives to bring visibility to "issues and experiences of queer South Asian women in the LGBTQ+ community through research and advocacy work." Notably, she organized Halton Region's first LGBTQ+ Pride Festival in 2015, was invited to speak at Rainbow Health Ontario's National LGBTQ+ Health Conference, and recently published a peer-reviewed article on the culturally specific ways in which queer South Asian women experience racism in Western LGBTQ+ communities.