April 11‒17, 2021 Prevention of Violence Against Women Week in BC
Each year, 20,000 women in BC experience relationship violence. Statistics have shown that women have been even more vulnerable to domestic violence since the start of the pandemic more than a year ago.
There is simply no excuse for violence against women. Abuse is never the woman's fault because of what she says, wears or does. It is about power, control and coercion. (See the proclamation for the Government of BC's Prevention of Violence Against Women Week here.)
Sadly, studies show that women often feel trapped to stay in abusive situations because their partner may threaten further violence, even to kill them or their children if they leave. Did you know that, according to the Canadian Women's Foundation, a woman in Canada is killed by her intimate partner every six days or so?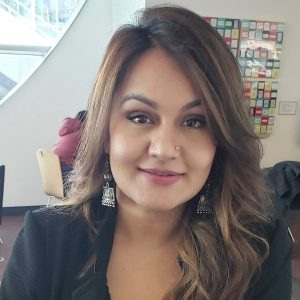 "Everyone deserves to live free of violence, but too many women continue to face it every day, especially with the added isolation we're facing during this pandemic," says Richa Karkee, manager, Violence Prevention Services at DIVERSEcity Community Resources Society in Surrey, BC.
"Immigrant and racialized women face added hardships. They may face cultural stigma in their communities, be sponsored or financially dependent on their spouse, or are worried that their spouse's threat to take away their children will come true," adds Richa. "Even when they leave abusive relationships, they continue to face challenges including navigating the system, language barriers and lack of safe housing."
For example, if they can't communicate well at the shelter or transition house due to language or cultural differences, they may be more likely to return home.
Violence against women also has a profound effect on children. An RCMP report states that witnessing violence is as harmful as experiencing it. Other studies have shown that kids who witness violence face increased risk of psychiatric disorders, suicide, and becoming a victim or abuser themselves.
Violence Prevention Services at DIVERSEcity
At DIVERSEcity, our Violence Prevention Services can offer support and guidance for women and children through our Stopping the Violence Counselling and Multicultural Outreach programs, and our PEACE Program for children who witness abuse.
"All our violence prevention services are guided by our Roots of Safety service planning approach, which uses a women-centered approach to provide culturally safe and respectful safety planning to support the unique needs of newcomer women and their families," explains Richa.
Developed and adapted from its parent model Signs of Safety™, this approach is a collaborative process between DIVERSEcity and the client, empowering the woman to act and make decisions independently, supporting the long-term healing process.
"As we help them navigate the process toward safety, our approach is guided by the women themselves. We look at things from their perspective, and help them leave when they're ready to leave," says Richa. "To women experiencing domestic violence, know that there is help available. Our Violence Prevention Services team at DIVERSEcity can offer support and guidance, and refer you to additional community resources to help keep you safe. You are not alone in this."
Connect with our Violence Prevention Services by calling 604-547-1202 or email intake@dcrs.ca. Learn more here.
Other resources for violence prevention and support
If you're in immediate danger or seriously injured, call 9-1-1.
VictimLinkBC is a toll-free, confidential, multilingual telephone service available 24 hours a day, 7 days a week. Call 1-800-563-0808 or email victimlinkbc@bc211.ca.
Atira Women's Resource Society COVID-19 call-in line: 604-800-8881
Battered Women's Support Services: call 604-687-1867, text 604-652-1867 or email intake@bwss.org
Surrey Women's Centre Support Worker: 604-583-1295
Fraser Health Crisis Line: 604-951-8855
Vancouver Rape Relief and Women's Shelter: 604-872-8212
Women Against Violence Against Women: 604-255-6344
BC211 for referrals to other resources: 2-1-1
See List of Transition Houses and Safe Homes from BC Housing.