It's Pride Month! Let's celebrate our LGBTQ+ community members and support those new to Canada who need some extra help in building their new lives here
Coming from a country in Eastern Africa where being openly queer is impossible, Michelle* says leaving her homeland was one of the hardest decisions she has ever had to make to.  But she wanted to find a place where she could belong. "It's never easy being a refugee. The leaving the known, falling into the unknown. Leaving all the things that were familiar coming into everything strange and new," she says.
Alone in a new country, Michelle found herself in difficult times, dealing with mental health challenges worsened by the uncertainty of her legal status. "Self-doubt, loneliness and the same old feelings of not belonging stayed with me," she says.
Luckily, Michelle found DIVERSEcity Community Resources Society's Together Now peer support group for LGBTQ+ newcomers. Being a member of Together Now was an opportunity for her to make sense of her situation and to find support from people with similar lived experiences. Often, the realization of this universality of challenges has an almost healing effect. Michelle believes that "there's always comfort in knowing that you are not alone and that there are other people going through the same feelings and things you are going through and coming out just fine."
Michelle considers Together Now her home. She says, "I don't think I would have ever made it without my Together Now team. The group helped me in so many ways I can ever imagine."
From navigating the refugee claim process to accessing counselling and health services, members also participate in community events and field trips. The group recently attended an exhibition at UBC, featuring contemporary Black artists from Nigeria, Lagos and Vancouver (photo below).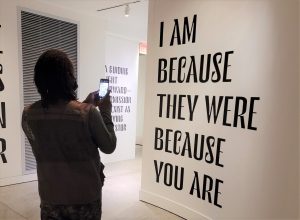 "Together Now to me is home. I never feel like I am a stranger when I am around everyone from the group. I am grateful for the friendships and relationships I have built over time with the members of the group," Michelle says.
DIVERSEcity's LGBTQ+ Support Services for permanent residents and Together Now Peer Support Group for LGBTQ+ newcomers of any immigration status are always accepting new referrals. For more information, please contact togethernow@dcrs.ca, call 604-306-6316, or visit dcrs.ca/lgbtq.
*Michelle's name has been changed for privacy.
Photo above includes Kristi Pinderi (right), LGBTQ+ Support Worker at DIVERSEcity, along with members of Together Now out on a field trip.