Artist Chloe Greenberg's journey to Canada begins in Peru at an orphanage at just two weeks old. It is there where Chloe's parents, who had travelled all the way from Canada, chose her and brought her home.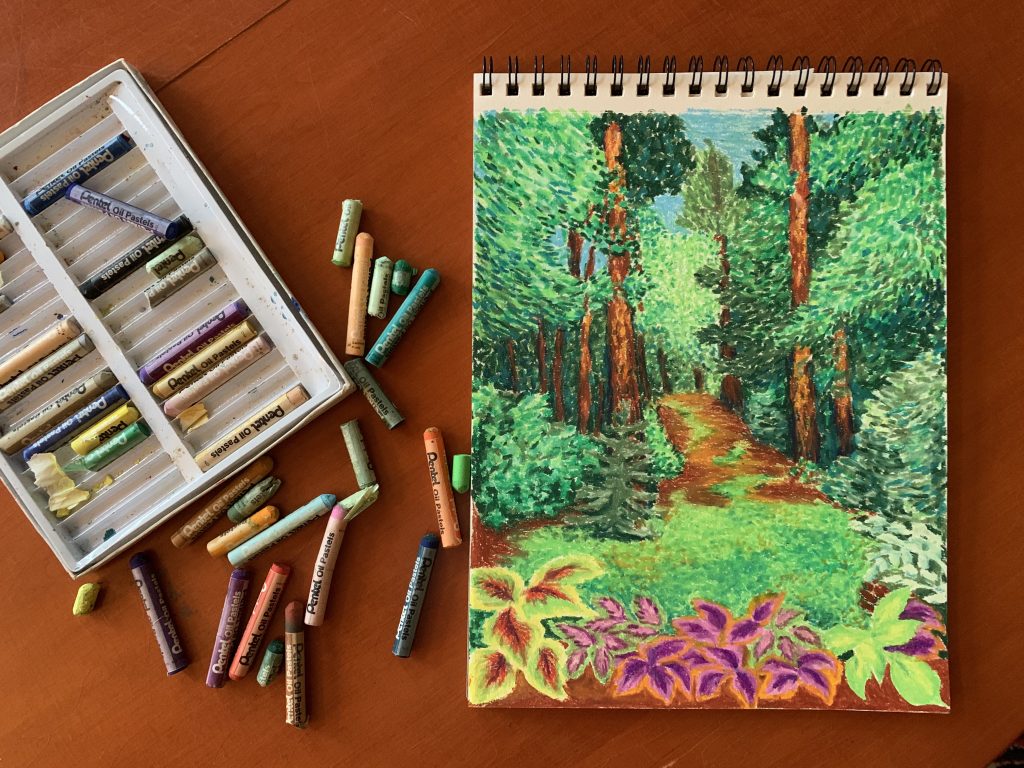 Growing up, art was a constant in Chloe's life. Her mom, an artist herself, made sure to immerse Chloe in all types of art classes. Chloe's artistic avenues include oil pastel, acrylic paint, watercolour paint and more. As she got older, Chloe wanted to keep her artistic side alive but was unsure if it could also be her career. As a compromise, she became a graphic designer. "I thought that the only real way to be both creative and profitable was to be a graphic designer. I never really knew I could make art into a career," says Chloe.
One day, she read an email about having designs printed on materials and other surfaces. "I started to see the world in a different way," Chloe says. "Even something as small as a polka dot on a pillow was designed by someone. This changed everything."
Not long after that, Chloe's journey took her to Europe to take a course on textile design. "It was everything I wanted to know about. I remember there was a big conference in Paris and that is where I was truly able to discover the world of textile design," Chloe says. "You can take anything, a watercolour painting or an image and create a repeated pattern that can then be put on fashion or home décor. That really opened my eyes to what was possible."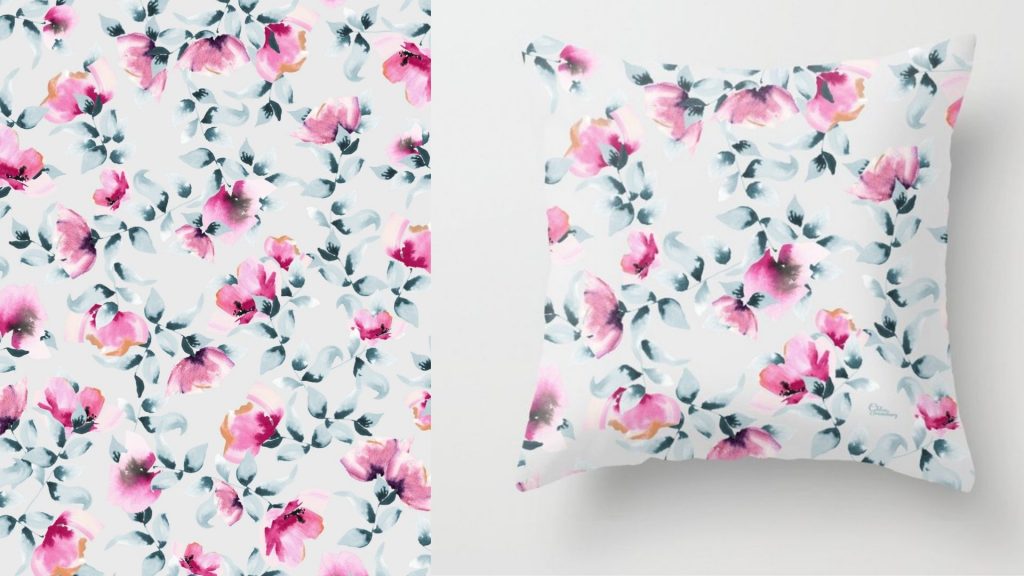 With fresh eyes and a new perspective, Chloe began to believe that there were more ways to make her passion into a career. Back in Canada, she continued to create original designs that were then printed on a variety of clothing and home décor. While doing so, however, she also began to branch out.
Chloe helped bring the concept of Paint Night to Canada. Paint Nights, where nonprofessional painters, with the guidance of a teacher, complete an entire painting in one session, are where Chloe found her other passion — teaching. "Everyone has a different method of creating the same painting," says Chloe. "By teaching, you can help people feel so much more relaxed while they create their work. It is so rewarding, being able to help people."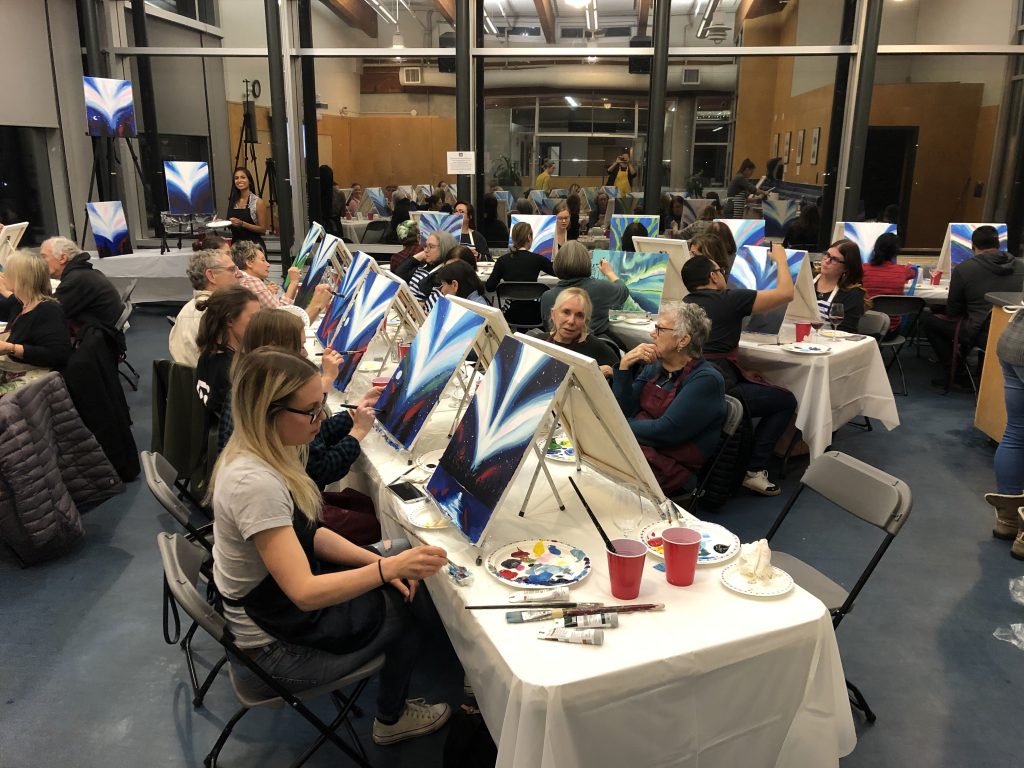 From artist to small-business owner with the CWB Business Incubator
In light of Chloe's newfound desire to build on her talents, a WorkBC advisor recommended the CWB Business Incubator for Women Makers and Creators program. "He recommended a few different things, but this one felt special to me. It felt more personalized and not as disconnected as some other programs," Chloe says.
With 20+ weeks of intensive group and one-to-one support, the free program, delivered by DIVERSEcity Community Resources Society and funded by Canadian Western Bank (CWB), aims to help creative immigrant women grow their talents into a profitable self-employment. DIVERSEcity employment specialist, Florence Kao, knows that with strategic guidance, women creators can unlock their utmost potential. "Every week we work with these talented women to help shape their big ideas into actionable plans," says Florence. "The passion is there. We just provide the support to get them started and the tools to keep them growing."
Although Chloe understood that there was a way to turn her talents into a career, she felt overwhelmed with how to actually start. The CWB Business Incubator for Women Maker and Creators provided the guidance and support she needed.
"I'm really grateful for this program. It's a support system," says Chloe. "You have a team that helps you and a leader who really knows what she's doing. I don't know if I would have pushed myself this hard had I not joined this program."
Having worked in branding and graphic design herself, Chloe was also surprised at how the program was able to add on to her knowledge. "I thought the one thing I would want the most from this is just the financial stuff. But, actually, all the other insights we've learned so far have been so important. Details like who my target market is and rethinking how to reach them. It's been very humbling," Chloe says.
Removing the isolation from self-employment
While juggling creating original designs and prints on-demand, Chloe is also planning to expand on her passion for teaching. She is currently working on creating her own virtual Paint Nights and Vision Board Building program. "I am a creator but also a teacher. Helping people express themselves is something I've discovered is truly important to me," says Chloe.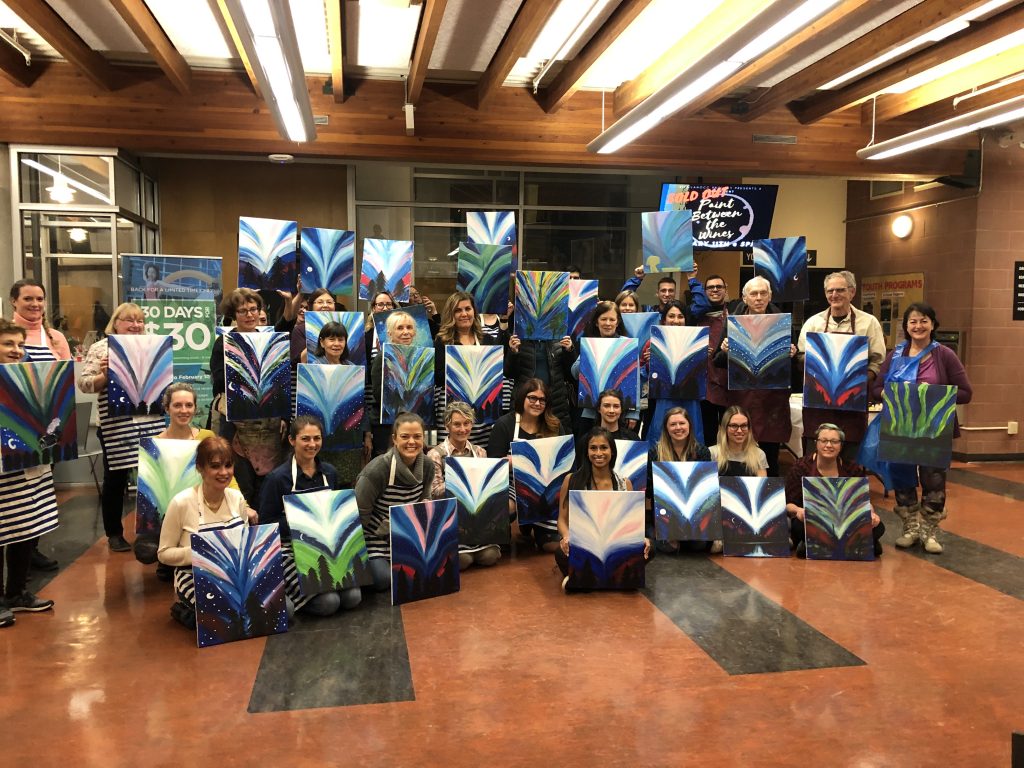 Being someone who has many passions and ideas, Chloe is grateful to the cohort of women in the Business Incubator program for continuing to hold her accountable and keeping her focused. "One thing I want people like me to know is that once you get started and you keep at it, the support system from this group makes it feel like you're not alone. It's always going to be daunting to start your own business, but you have this incredible support that changes everything."
Do you have a creative side that you could potentially turn into a career but are unsure where to begin? The next cohort of the CWB Business Incubator for Women Makers and Creators starts March 17 to July 21, 2021, every Wednesday, from 10 am to 3 pm. Sessions are held online via Zoom and in small in-person groups.
To learn more or apply for the free program, call 604-547-1662 or email selfemployment@dcrs.ca.