Winners announced in inaugural CWB Women Makers and Creators Awards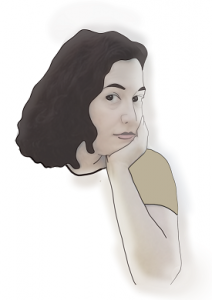 Every immigrant has an emotional story about their journey, and Bita Jamalpour has started up a new small business to capture them in a creative way. Her new business, Logue, is in the business of writing, illustrating and publishing immigrants' stories through books, videos and even merchandise at thelogue.ca.
For Bita, an urban planner from Iran who immigrated to Canada nine years ago, Logue is an entrepreneurial venture close to her heart. "My idea is to help immigrants like myself have a voice," she says. "Many services are available in Canada to help immigrants get the support they deserve and have a full life. But there is another side of immigration often untold or ignored; there are many emotions involved in the process of immigration. Immigrants need space to share their stories."
Bita is just one of about 25 immigrant and intercultural women who started business ventures during the pandemic with help from an exciting new program, the CWB Business Incubator for Women Makers and Creators, delivered by DIVERSEcity Community Resources Society in Metro Vancouver and funded by Canadian Western Bank (CWB). And Bita was recently celebrated as one of the winners of the program's inaugural CWB Women Makers and Creators Awards, winning for "best business idea."
Bita had previously tried other business ideas since coming to Canada, but she says, "I realized I wasn't ready to start a business alone in Canada. I had an idea, I was creative, but didn't know how to sell my idea and to make it into a business. That's why I started with DIVERSEcity Community Resources Society. They helped me understand the business side of my creative business idea."
Bita's business is just in its infancy, but she is following a long line of immigrant entrepreneurs in Canada. Studies show that immigrants to Canada are more likely to be entrepreneurs than people born in Canada, often due to being shut out of the labour market as internationally trained professionals. According to Statistics Canada, immigrant-owned businesses make up about 25 per cent of small and medium enterprises in Canada. Yet studies also show that immigrants who turn to entrepreneurship also face many barriers, including language barriers, limited access to financing, lack of networks and lack of information on the way of doing business in Canada.
DIVERSEcity's self-employment programs aim to help immigrant entrepreneurs overcome such obstacles, and the CWB Business Incubator for Women Makers and Creators was launched during the pandemic with a focus on women with marketable talents.
"The 20+ week program, launched virtually, supports intercultural women to turn their talents into entrepreneurship," says Garrison Duke, Director, Employment & Language Programs at DIVERSEcity. "Through this unique program, the participants receive one-on-one support from our self-employment specialists, learn business basics and test out their product or service in the marketplace."
Programs like this are the important missing link for immigrant entrepreneurs, and celebrating the women entrepreneurs with the inaugural awards ceremony was icing on the cake. In addition to Bita's logue, a collective business made up of nine immigrant women called Mosaic Tastes, won for best business implementation for their spice blend business, based in Victoria, BC. Honourable mentions were given to Jaycika Grewal, of jewellery company Soufflé Studio, and Phoebe Chua, of Forest Fox Press, a stamping product company.
Other award applicants included a business that imports handcrafted items from Peru; a sustainable fashion brand for pets; a children's book publisher; arts licensing businesses; fashion design; skincare company; graphic design; photography; and even Indigenous handicrafts from an Indigenous participant.
At the virtual awards ceremony, Dylan Watson, Vice President and District Manager of the West Fraser Valley District, CWB, said: "We're committed to making meaningful impacts by working with organizations who are helping to create equal opportunities so all Canadians can achieve success. That's why we partnered with DIVERSEcity for the CWB Business Incubator for Women Makers and Creators. This program is aimed at removing barriers for intercultural women to turn their skills into sustainable self-employment business opportunities … these ambitious women were supplied with everything they needed to know about turning their ideas into entrepreneurial opportunities."
Perhaps just as important as learning the ins and outs of starting in business in Canada is the peer network that participants end up building together. Taiwan-born Florence Kao, the self-employment coordinator at DIVERSEcity, understands that the journey for the immigrant entrepreneur doesn't stop when they complete her programs, which won a CANIE Award in 2020.
Kao has created peer networks and collective business platforms to maintain that ongoing support and connection. For the women makers and creators program, she launched Infinity Womenpreneurs, an e-commerce marketplace (infinitymarketplace.square.site) where graduates of the program can promote and sell their products and services together.
"We want these amazing immigrant entrepreneurs to be seen and heard, and we'll try our best to grow their business," says Kao
As for Bita, she's excited about what the future holds as part of the Infinity Womenpreneurs network. "Being part of this group gave me more courage," she says. "If it was still just me alone, I would still be brainstorming what I should do!"
To other immigrant entrepreneurs, she has this advice to offer. "I would say as an immigrant, coming from another world to this world, as much experience or education as you have, you need to rewire your brain and point of view, especially as an entrepreneur," she says. "For the longest time, I was just struggling. What I learned in Iran was not working here. I needed to open my mind and open my eyes to the way to do things in this country. And being part of Infinity Womenpreneurs has helped."
To learn more about the CWB Business Incubator for Women Makers and Creators, call 604-547-1662 or email selfemployment@dcrs.ca or see dcrs.ca/makers.
+ Coming up on October 20, 2021, is the DIVERSEcity Entrepreneur and Small Business Fair, held during Small Business Month.
Photo above: CWB Women Makers and Creators Award winner Bita Jamalpour at the virtual awards ceremony.