Two DIVERSEcity clients from the CWB Business Incubator for Women Entrepreneurs have been hitting the craft market circuit with their products
It was a weekend full of exciting possibilities for women entrepreneurs Jaycika Gill and Erika Torrejon, clients of our free CWB Business Incubator for Women Entrepreneurs, as they showed their products at local craft markets in Vancouver and Fort Langley. For emerging entrepreneurs like Jaycika and Erika, these markets are a chance to connect with new customers and network with fellow small business owners in the community.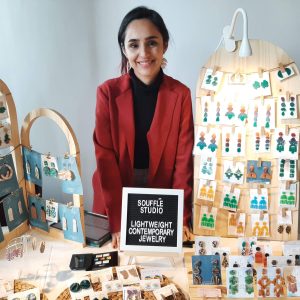 Indian-born Jaycika first started as a graphic designer, but it was her passion for hands-on making that  led her to create her own handcrafted jewelry brand, Soufflé Studio, during the early days of the pandemic.
Originally from Peru, Erika immigrated solo to Canada at the young age of 25 to follow her love for travel and adventure. In November 2021, she launched Pasos Fashion Co. But for many newcomers to Canada, the journey of an immigrant is not easy. Erika struggled with loneliness and rejection due to a lack of local experience, knowledge and support.
The CWB Business Incubator for Women Entrepreneurs is designed to support entrepreneurial intercultural women overcome these barriers and empower them to use their creative skills for self-employment.
"Without them I wouldn't know what to do. This program was very important for me from the beginning to the launching phase of my business," says Erika. She attributes her success to Florence Kao, the self-employment coordinator at DIVERSEcity, who taught her every aspect needed to turn her ideas into reality.
Participants of the free 20+week CWB Business Incubator for Women Entrepreneurs have the opportunity to explore and develop business opportunities for their creative talents, while getting one-to-one support from self-employment specialists. They learn business basics and operations, and get to test out their product or idea in the marketplace.
Yet their journeys as immigrant entrepreneurs do not just stop when they graduate from the program. Community connections have shown to be important more than ever now in a post-pandemic world, and this is what Infinity Womenpreneurs, a collective business model created by Florence to keep supporting the women graduates, is all about.
"We are all here for each other. No matter how far we are in our journeys, there's always something we can learn from each other," says Jaycika. "This is a great program for any woman trying to start their own business who needs that motivation and push."
The program, made possible by Canadian Western Bank, holds weekly session from 10 am to 3 pm. The next program start date is May 4, 2022, and will run every Wednesday until July 6, 2022.
"As an immigrant woman from Taiwan myself, I know how overwhelming it can be to settle in a new country, so to start a business here on top of that is a daunting feat," says Florence. "But DIVERSEcity is here to help women entrepreneurs toward business success."
Want to take part in the CWB Business Incubator for Women Entrepreneurs? Registrations are open for the next session starting May 4, 2022. Please call 604-547-1662, email selfemployment@dcrs.ca or visit dcrs.ca/makers.